When Your Bright Child is a Struggling Reader
Lots of things come easily to some children.
Having a child who loves to be a read to, who has a high school level comprehension and vocabulary,  and who eats science projects for breakfast is a wonderful, if sometimes exhausting, thing.
When this same child cannot sound out simple words, processes things slowly, and mirror writes without meaning to, it can turn something you thought would be simple into a mountain to overcome.
Moving mountains, also known as finding tools to help your child succeed in learning, is a beautiful part of homeschooling. Finding tools that work and actually facilitate progress is something to celebrate.
Nessy has a fantastic Parent Pack to help parents of struggling readers to do just that!
I received a complimentary subscription to Nessy and was compensated for my time. All opinions are my own and I was not required to post a positive review. As always, we only recommend products that work for us and we believe will be of benefit to your homeschool, too.
Dyslexia Screening Online with Nessy
According to the International Dyslexia Association:
Dyslexia is a specific learning disability that is neurobiological in origin. It is characterized by difficulties with accurate and/or fluent word recognition and by poor spelling and decoding abilities. These difficulties typically result from a deficit in the phonological component of language that is often unexpected in relation to other cognitive abilities and the provision of effective classroom instruction. Secondary consequences may include problems in reading comprehension and reduced reading experience that can impede growth of vocabulary and background knowledge.
Dyslexia and Apraxia often go hand in hand.
Mr. T loves to be read to. He's bright, he's creative, he tells amazing stories and has an exceptional vocabulary. He will also tell you he can't read, at least not well. His confidence took quite a beating when Mr. F popped up and started putting sounds together and reading CVC words in a week's time just from sitting in on Mr. T's lessons.
Mr. T has dyslexia. This means everything we do for reading is multi-sensory or Orton-Gillingham based including Nessy! Nessy is a multi-sensory program and offers an awesome free ebook for further learning about dyslexia you can download here. Dyslexia is so much more than just reversing letters!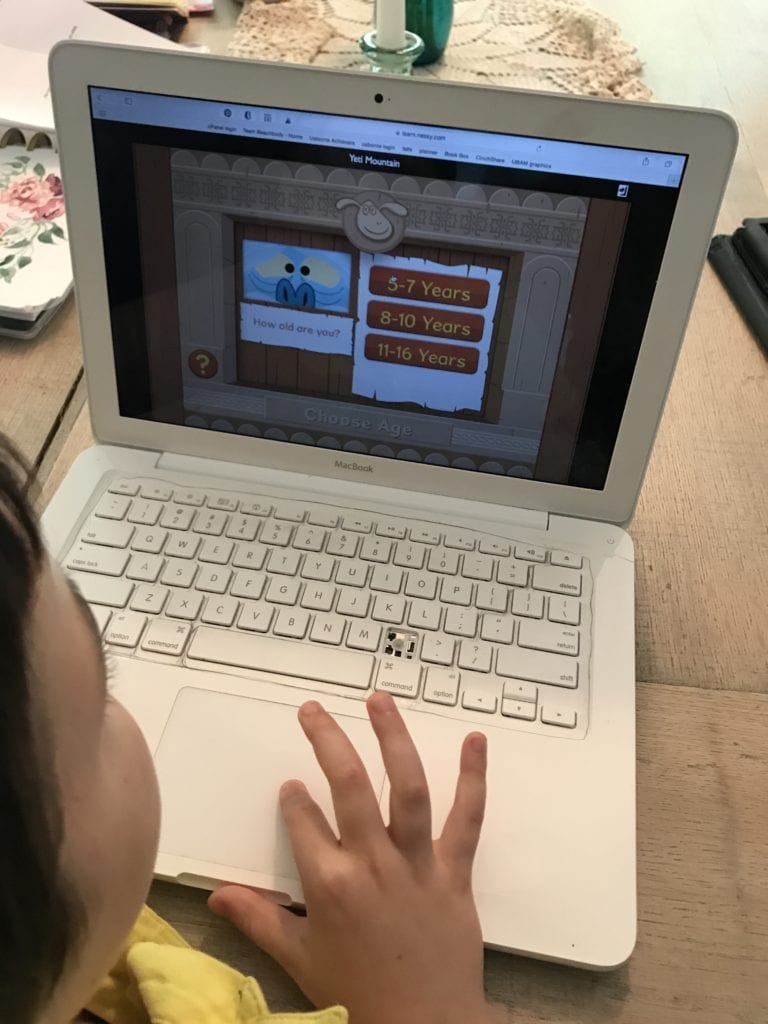 Yeti Mountain is the game that screens for dyslexia warning signs. This is not a substitute for a professional evaluation, but if you are concerned about your child's reading skills it can help you decide if you really need to pursue an evaluation or not. It's fun and Mr. T didn't mind doing it at all. In fact, it was difficult to get him not to go back and do it over and over again.
Nessy has a parent pack available for parents and homeschoolers at a fantastic price for the entire year! This Parent Pack include the Yeti Mountain screening, Nessy Reading and Spelling, Writing Beach, and Nessy Numbers. Your student only has access to their game scores while you get access to all the reports, progress, and can set goals for them in the report section of the site.
Each of these programs may be purchased separately, but after seeing them working together in action, I would highly recommend purchasing the Parent Pack.
We have had great success using the Nessy Parent Pack. Mr. T doesn't think he's doing "work" at all. I actually have to set his visual timer so that he will get off the games. I count that as a win!
The "magic number" for Nessy use is just 20 minutes four times a week! In twelve weeks of use, on average most students had improved by the equivalency of a whole year! Those are excellent results.
Nessy Parent Pack also comes with lots of extras like printable worksheets, fun videos, and an excellent reporting system for you to track your child's progress. We are big fans of the mnemonics videos!

So tell me, do you have a struggling reader? What has been the most beneficial tool for them?
Save on Nessy Parent Pack!
Discount of 15% on Nessy Parent Pack with the code PPBLOG15
This code is good through October 16th, 2017. 
Note: Anyone purchasing the monthly subscription with a discount code will receive a discount only on the first month. All subsequent months will be at the regular monthly rate. Thus the best deal is to use the discount code with the year long license.
Find Nessy on Facebook