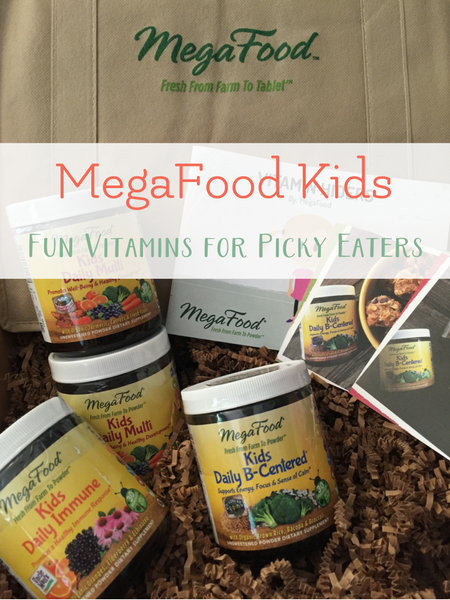 Vitamins for Kids
You know how you always want to make sure your kids are eating their veggies, fruits, and good proteins and you work hard to make sure each meal has a little of everything they need and how they NEVER seem to want to eat it? Or maybe they only eat parts of it like Mr. T who is a meat and carb lover but isn't fond of fruits or veggies. Whatever the reason, most of us feel like our children would benefit from vitamins.
But gracious! Have you seen all those sugary, gummie, artificially colored "healthy" supplements marketed to kids? Allergy families really have to watch because there is such a prevalent use of soy and gluten. What is a parent to do?
We happened upon MegaFoods vitamins about a year ago when our pediatrician suggested a B complex vitamin for Mr. T. The Kids B Complex are gluten free, soy free, vegetarian, dairy free, and NonGMO. Mr. T can swallow pills and has since he was 3 so that wasn't an issue. Mr. F cannot at all, so we were delighted to partner with Moms Meet to try these new MegaFoods Kids Vitamin Powders! All the same awesome whole food vitamins, none of the junk, and an easy to swallow powder. And the extra bonus is how easy they are to "hide". Check out our B-Centered Apple Pie Energy Bites below to see just how easy they are to add!
MegaFoods Kids Vitamin Powders
The MegaFoods Kids Vitamin Powders come in 3 varieties.
Kids Daily Multi – promotes well-being and healthy development, with organic turmeric, carrots, fresh fruits and 23 essential vitamins and minerals per serving.*
Kids Daily Immune – featuring oranges from Uncle Matt's Organic and elderberry & echinacea, promotes and helps to strengthen a healthy immune response year round.*
Kids Daily B-Centered – featuring Lundberg Family Farms organic brown rice, provides daily support for mental focus, cognitive function, and a sense of calmness.* Formulated with a full spectrum of FoodState® B Vitamins, this blend supports healthy mental and physical energy levels.*
*This statement has not been evaluated by the Food and Drug Administration. This product is not intended to diagnose, treat, cure or prevent any disease.
You can add these to juice, smoothies, and favorite recipes with ease. And your kids will never know! Everyone wins.
MegaFoods Kids Apple Pie Energy Bites
These awesome little bites paced full of fiber and B vitamins will have your little learners helping out in the kitchen and snacking on a super healthy treat!
Ingredients:
12-15 fresh pitted dates
4 scoops of MegaFoods B-Centered
1 cup of Gluten Free Rolled Oats
1 package of dried un-sulfured apples (not freeze dried!)
1 tsp of cinnamon
Add everything into a high powered food processor or blender.
Blend it until it starts sticking together like a "dough".
Scoop out teaspoon fulls and roll them into balls. This is the part the kids will love helping with! Then enjoy! These keep well in a sealed plastic bag for up to 1 week.
[amd-zlrecipe-recipe:5]
They are Mr. F approved!
*Disclaimer: I received this product for free from Moms Meet (momsmeet.com), May Media Group LLC, who received it directly from the manufacturer. As a Moms Meet blogger, I agree to use this product and post my honest opinion on my blog. The opinions posted are my own.
You can find MegaFoods online at: