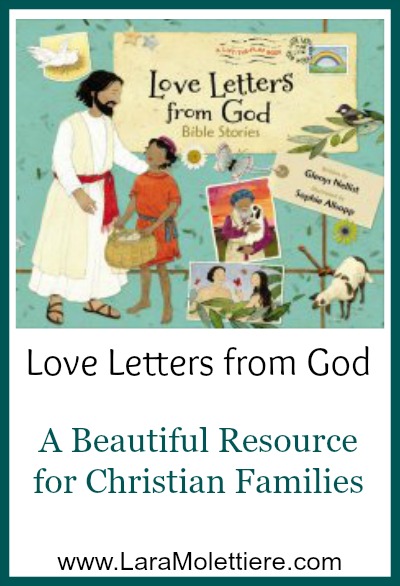 Finding beautiful, interactive, and scripturally sound books for young children can be challenging. We have found a book that combines all those and so much more! I am delighted to introduce you to this lovely book.
Disclosure of Material Connection: I received this book free from the publisher through the BookLook Bloggers  book review bloggers program. I was not required to write a positive review. The opinions I have expressed are my own. I am disclosing this in accordance with the Federal Trade Commission's 16 CFR, Part 255 : "Guides Concerning the Use of Endorsements and Testimonials in Advertising."
Love Letters from God by Glenys Nellist and illustrated by Sophie Allsopp is a beautiful book that covers Bible stories from Creation through the Resurrection and ends with an invitation to accept Christ. Each story segment is told in an engaging story-type manner and includes a love letter from God to the child. There is a text box with "God's Wonderful Words to You" that includes a scripture verse for the child.
The Bible stories included are:
Creation
The Fall
Noah
Joseph
Samuel
David
David and Goliath
Daniel
Jonah
Jesus' Birth
The Twelve
Feeding 5,000
Jesus calms the storm
The Parable of the Lost Sheep
Zacchaeus
The Last Supper
The Crucifixion
The Resurrection
And after the invitation to join Jesus' team, there is a place for your child to write a love letter to God.
We love how pretty the illustrations are. They are bright and engaging and really add to the stories. And Mr. T loves anything that is lift-the-flap. It's very nice how the letters "from" God are written in first person, and though the scripture references are not give, the main ideas in the letters can all be traced back to God's Word.
Love Letters from God is a great book to have for introducing your child to God and how much He loves them. It is geared toward ages 4-8. The sturdy hardcover and quality paper are sure to hold up to years of loving and reading. I think you will enjoy having this in your library!