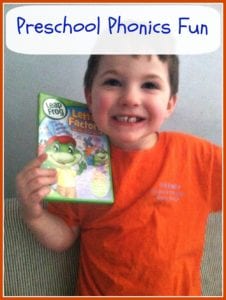 Phonics are fun! And so is learning letters! We have had incredible success with LeapFrog. Even with his Apraxia, Mr. T knows all his letters and the corresponding sounds. He can't make all of them, yet, but he is getting there.
We have been using LeapFrog products since Mr. T was about 14 months old.  He's always been a climber so when I needed 10-20 minutes to get something done (like fix breakfast) I would turn on Signing Time or LeapFrog Letter Factory
and he would sit happily in his playpen watching the "magic screen". I never had to "teach" him letters. And I really think this DVD is why.
We also use the LeapFrog Fridge Phonics set, but they don't make that one anymore. Now they have
LeapFrog Letter Factory Phonics
, which is the exact same thing, just without Scout's doghouse. We use ours on our magnet board and practice speech sounds as well as phonics. It's awesome to have one tool we can use for learning and speech! (That's why we love our
Melissa and Doug toys so much
, too!) When Mr. T has difficulty sounding out a word, we just pull out the letters and let the LeapFrog phonics magnets help. I am working on getting him to do it without prompting so that as we get closer to reading he will think to do it on his own.
The LeapFrog
Phonics Farm
DVD is another great one we watch occasionally, since it is on Netflix. I think it is fun, but Mr. T prefers the Letter Factory. And most of my homeschool mom friends with little ones just a few years older than Mr. T recommend the LeapFrog
Letter Factory
, too, which is how we ended up trying it in the first place!
It is not a substitute for one on one fun time with mom, but it is a great tool for helping your toddlers and preschoolers learn the alphabet and letter sounds. What is one tool you would hate to teach phonics without?
*Disclosure: I am not affiliated with the LeapFrog brand or company. This is not a sponsored or endorsed post. I am sharing products we use and find very helpful. There are affiliate links in this post for products. We do receive a small compensation if you purchase through those links though you are never charged extra.*