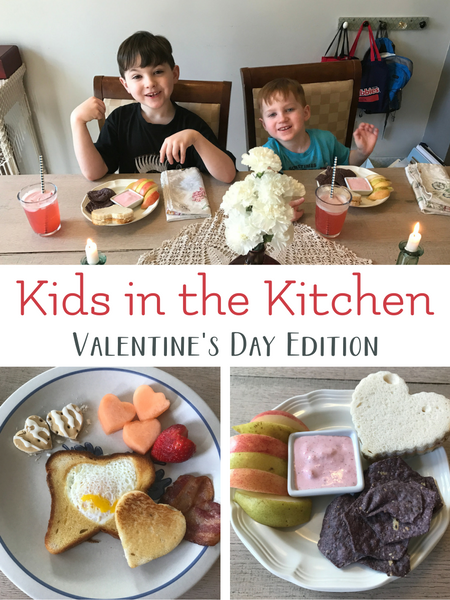 We love cooking together almost as much as eating together! Even with all our food allergies, we have plenty of wonderful things to eat. Today we are sharing our epic Valentine's Day Breakfast and our delightful Valentine's Day tea. And because we love all our dear readers, we are giving you a gorgeous set of Recipe Binder printables for you and your kids in the kitchen! Just scroll to the end of the post to snatch them up!
The recipes shared below are:
Bacon Hearts and Heart-shaped Eggs in a Basket
Dairy free strawberry fruit dip
Raspberry Cream Soda (sugar and dye free)
Valentine's Parfait
Epic Valentine's Day Breakfast for Kids
There must be hearts everywhere. Even for the boys. While it looks really involved, our breakfast was really easy to prepare. I promise!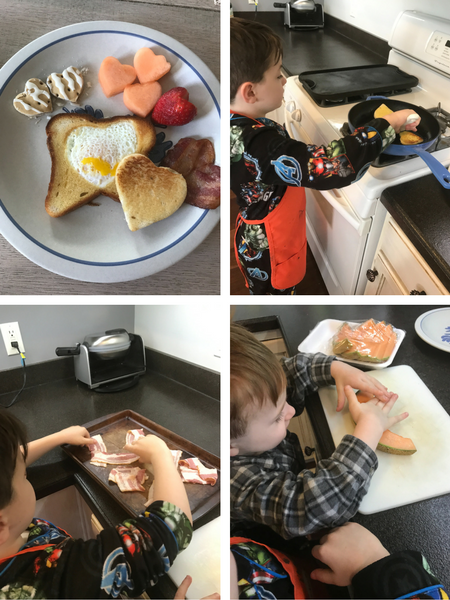 You need:
Small and medium sized heart cookie cutters
1 slice of gluten free bread per person (We just found this amazing Ener-G sourdough at Sprouts!)
1 egg per person
Glutino frosted strawberry toaster pasteries
Melon (pineapple would work, too)
Strawberries
Nitrate free bacon (We like Oscar Mayer Selects)
Directions:
Fix the bacon hearts first! Preheat your oven to 475 degrees. Cut your bacon in half, 1 slice per heart. If you have a tray to lift the bacon off the sheet pan while it is cooking, it will be much less greasy. If not, let it drain on a paper towel before serving. For an extra treat, brush a little maple syrup o your bacon before baking. Take your two halves and make a V-shaped point at the bottom, then fold the top of each side down into the opening. Voila! A heart. Bake for 10 minutes at 475, then turn on the broiler to crisp them up. When the tops reach your desired doneness, flip the bacon over to crisp up the other side.
While your bacon is cooking, it's time to make your heart-shaped eggs in a basket. Simply use a medium sized cookie cutter to cut the heart shape out of the middle of your bread. Oil the skillet you'll be cooking in (we use ghee), add the bread to toast for a minute. While the bread is toasting, crack your egg into a bowl. 1 egg to one bowl. Gently pour your egg into the empty space of your bread and let the egg cook. When it is easily flipped, flip it to cook the top. After you plate the egg in a basket, butter the heart shaped cut out pieces and make toast.
Use a small heart shaped cutter to make toaster pastry hearts and melon hearts, and cap your strawberries with a V cut to turn them into hearts. Serve everything on a big plate and enjoy!
Valentine's Day Tea Party
Having tea is one of our favorite things. This is our low-key Valentine Tea. Instead of poetry or geography, this time we read The Story of Valentine's Day.  Here is our Tea menu and recipes!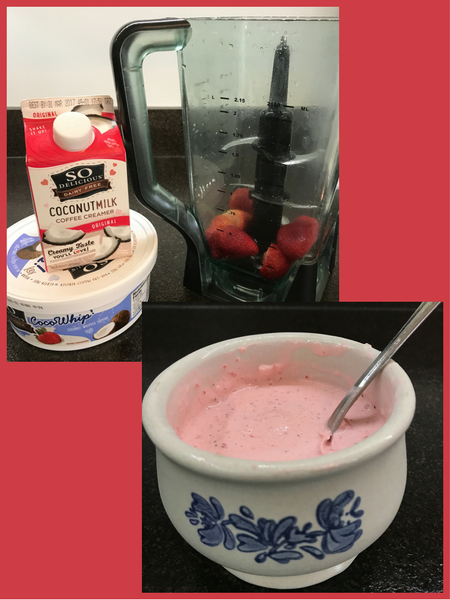 So Delicious Strawberry Fruit Dip
We cut up some yummy apples and pears to serve with our turkey and Daiya cheese sandwiches, and to dress up the fruit we made this delectable dip!
You need:
3/4 cup fresh organic strawberries
1/8 cup So Delicious! original coconut creamer
1 cup So Delicious! coconut whipped topping
Blend the creamer and berries together until thoroughly combined. Add in the whipped topping and blend till it's a beautiful shade of pink. Put in your serving container and refrigerate for 1 hour before serving. The heat from blending makes the whipped topping a bit runny so it has to set back up.
Zevia Raspberry Cream Soda
I had my beloved Downton Abbey English Rose Tea, but the boys wanted something more fun. Soda is not something we get often, but when we do, we get Zevia. It is not colored artificially or otherwise, and it is sweetened with Stevia. For this recipe, we used Zevia Cream Soda. I made a raspberry syrup by boiling 1/4 cup of water with one package of organic fresh raspberries and 20 drops of SweetLeaf Stevia Liquid Sweetener. After it boiled, I pureed it with my immersion blender and then strained out the seeds. For the Raspberry Cream Soda, add two tablespoons of the syrup to a glass with ice and top with the soda. Easy peasy.
Don't Miss Cooking with Chef T!
Chef T is showing us how to create a parfait with our special Valentine's Day Instant Pot Tapioca Pudding and fresh strawberries!
Paleo Instant Pot Tapioca Pudding Parfait
Yes! It is as awesome as it sounds. You can see how Mr. T puts ours together above.
You need:
A heat proof glass bowl that fits inside your Instant Pot
1 cup of water
1 can of organic coconut milk
1/3 cup small pearl tapioca
2 tablespoons of cocoa or carob powder
20 drops of liquid stevia
1/4 cup maple syrup
1 teaspoon organic vanilla extract
1 pinch of salt (I prefer Himalayan)
Directions:
Pour the water into your Instant Pot, set the trivet inside, and put the glass bowl on top of the trivet. Add all the ingredients to the bowl and whisk together well. Seal the pot, set if for 20 minutes on manual and then do a quick release at the end.
Everything will have settled so you will need to stir it rather vigorously. When the bowl is cool enough to remove from the pot, stir it again and put it in the refrigerator to cool for 2 hours to thicken it up. (It will still be hot so put a pot holder between the bowl and your refrigerator shelf!)
Use cups, jars, or whatever your container of choice is. Alternate layering the pudding and fresh berries or melon, and top with whipped coconut cream or (non-paleo but quick option) So Delicious Coconut Whipped Topping. For an extra special treat, top with Enjoy Life mini chips!
Get Your Free Kids in the Kitchen Recipe Binder below!
***Don't forget to tag your pictures with #everydaygraces so we can see what sort of delectable goodies your chefs are cooking up! ***
Because we use the kitchen as part of our homeschool, having a recipe binder is like a subject specific portfolio. If you are helping a teen develop the life skill of cooking, this is also an excellent way for them to learn new cooking methods and encourage them to work on meal planning and budgeting.
Your beautiful recipe binder includes the following pages:
Bright cheerful Recipes cover
Monthly mean planning calendar for you or older children
Weekly meal planning calendar for you or older children
Grocery list (this is an excellent way to practice spelling and dictation)
Recipe Card Page
Recipe section dividers for beverages, appetizers, breakfast and brunch, lunch, casseroles, side dishes, pasta, soups and stews, slow cooker, Instant Pot, desserts, and family favorites.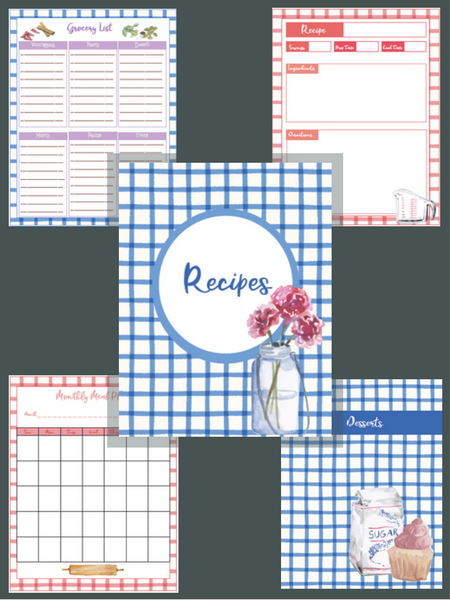 Homeschool Valentine's Day Fun!
Every year I go searching for holiday activities for my kids. Sometimes I spent hours trying to find fun activities for my kids. So this year, I joined forces with some of my fellow homeschool bloggers to bring you some super fun Valentine's Day Activities for Kids. Check them out!
Inspire Creativity in Your Children + Gnome Writing Prompts from In All You Do
10+ Awesome Valentine's Day STEM Activities for Kids from Hess Un-Academy
Chocolate Secrets from Julie Naturally
Valentine's Day Unit Study from The WOLFe Pack
The History Behind Valentine's Day from Homeschool on the Range
Love Songs from Musicals from Music in Our Homeschool
DIY Felt Fortune Cookies Valentine's Day Craft + free Valentine printable from Making Room 4 One More
Valentine's Day Language Arts Resources for Homeschooling Families from Whole Child Homeschool
Make Some Easy Sweetheart Popcorn For Valentine's Day from Our Crazy Adventures in Autismland
How to Have a Valentine's Day Homeschool Party from Everyday Graces Homeschool
Valentine's Chocolate Pudding Cream Cheese Frosting from Homegrown Motherhood
27 Valentine's Day Books for Kids from Heart and Soul Homeschooling
5 Valentine's Day Snacks that Teach About God's Love from Stand Up, Reach Out
Story Time: Somebody Loves You, Mr. Hatch from Orison Orchards
15 Fast and Fun Valentine's Day Snacks for Kids from Thrive@Home
DIY Valentine's Day Craft Ideas – Beautiful Heart-Shaped Upcycled Book Decorations from Geez, Gwen!