Interested in trying Stitch Fix? I'm bringing you the best tips for the perfect Stitch Fix!  
Hey friends! Don't schedule your first Stitch Fix until you read this!  Here's the inside scoop on Stitch Fix, how to get your best fix, and why this thrift-loving mama thinks it's worth the money. As well as lots of awkward I'm-so-not-a-clothing-model-or-stylist pictures for your daily dose of humor. 😉
See another honest Stitch Fix review here.
Who is Stitch Fix For?
Stitch Fix is a personal styling service subscription for women and carries sizes 0/XS-14/XL! It's great for moms who don't want to drag little ones out for shopping, for busy women who just don't have time to shop, and ladies who might be in a fashion rut and need some help to get out. Really it's a service everyone can benefit from and now . . . . drumroll . . . They have Maternity and Petite sizes and now have  Stitch Fix MEN! And all the ladies said "Amen!"
For Maternity, just enter your due date into your style profile, let your stylist know in notes and through your interest board what you are looking for, and get ready for the most fashionable bump ever! (Seriously, their maternity is darling! Look at this board with Pinterest Stitch Fix images.
Stitch Fix Photos of my 2nd (not so successful ) fix
Here's how I learned, both from my and other ladies experiences. The general consensus is if you buy less than 3 of the 5 items, you may or may not get the same stylist for the next fix. I loved my first fix, even though I only kept 2 items. The second fix was just less me. The clothes were still cute, good quality, and reasonably priced but just less my style. And I had a different stylist.
Tip number 1: If you "mesh" with a stylist, you can email Stitch Fix's amazing customer service department and ask to keep that stylist. Which I did with Tina, the awesome stylist from my first and current (3rd) fix. I love her and would totally buy her some Starbucks and sit down to chat if we ever get to meet. Seriously. Customer Service (which is super sweet real people, y'all!) will note your account and as long as your stylist is available when your fix is scheduled, you'll get that stylist! Yay!
Here's the Collective Concepts Maisy Geo Print Dress. First, it's adorable. The modest sweetheart neckline and fabric were very 50's retro, which I love, I just don't love dresses because I like to mix and match, and I can hide my super short torso more with 2 pieces. I also felt like it made me look "hippy", which I don't need any help with. I thought it needed a separation in the middle like a belt, but I didn't have anything to try with it. I sent it back and was specific with my feedback as to why it did not work.
Tip Number 2: Be specific. Don't hem-haw around why you didn't like a piece during check out. If it's the style, fit, fabric, or price, let them know. They have an incredibly cool computer system that takes into account all your feedback to help narrow the selection of items your stylist gets to choose from for your next fix. Make it easier on the computer to make you happy, happy, happy!
Here is the Pixley Wendi Chevron Knit Dress in blue. I kept it, but only after I tried it on the second time and styled it with a wide belt. Without the belt it did nothing for my figure and made me feel a little lumpy. I do love that it's a great dress to travel with because of the fabric. It's not my usual style, but stepping out of my "usual" is also part of what makes Stitch Fix fun. Things I would just walk by at a department store and think "no way" are actually things I might like.
Tip number 3: Use your 3 day window. Unless you just hate a piece, try it on more than once, styled in more than one way. And remember Cher from Clueless? Yep, don't just use a mirror. Take pictures (Polaroid is optional) to see what you really look like in an outfit.
The Collective Concepts Rilo Graphic Tab Sleeve Blouse. I wanted to love this shirt. It's fun and I almost kept it, but it was just too orange for my skin. We are rebels and still have soft white lights in the living room so it photographed more pink, but there was definitely a salmon/orange hue to it. I do now know that I like (some) graphic prints, not something I would have tried before.
The Renee C Huebert Space Dye Cardigan. I really loved this cardigan. Really. It was supremely soft and very versatile. It also had sleeves long enough to pull over my hands to keep them warm, which is just heaven for this hypothyroid mom! I just didn't love it $58 worth, so back it went. I was also specific about that in my check out notes. I love a good cardigan, but generally not for more than $35.
This shirt. Eeeek! The McQue Solid Lace Sleeve Blouse from 41 Hawthorne. I loved it before I put it on. Lace is just fun. You can dress it up, dress it down, and a navy blouse is a perfect neutral to go with just about everything! Yes, I kept it. I also love it with a khaki skirt.
How a Fix Works
Tip number 4: Fill out your style profile. All of it. Update it regularly. Because your stylist and the computer work together using the information from your style profile and your feed back and your Pinterest board to pick your items by size, likes, dislikes, notes, etc.
You are charged a $20 styling fee. Don't worry, though, if you keep any items it goes toward them.
These items are then picked by employees in a warehouse in either San Francisco or Indiana. They are lovingly wrapped in tissue, placed in those delightful StitchFix boxes, and sent on their merry way to your front door! You may or may not begin doing a happy dance when your phone beeps with the email notification "Your Fix Has Shipped." I'll never tell.
After you've hurried the little ones to bed half-an-hour early (I know I'm not the only one), you open the box like it's Christmas morning.  You try it all on the first time. Style it the way you think you would wear it, snap a few pictures. Plan on trying it on again styled a little differently. Stitch Fix also sends you style cards with each fix for every piece. You are shown 2 possible ways to wear each item, just in case you need some inspiration. How cool is that?
Tip number 5: Pinterest is your friend. It is your stylist's friend, too. Keep your board to 50-70 pins, leave notes on the pins about what you like/dislike/preferences. Keep it manageable for both you and your stylist. If there's a style icon you love, pin them to your style board. If you see a blouse on the StitchFix blog you love, pin it. If you want some ideas, here is my Pinterest Style board. You can see where I sign the notes so my stylist knows it's not just a note that's been floating around with that particular pin for the last 74 days.
You decide what to keep and what to send back. *You can contact customer service to exchange size/colors if they have another in stock. IF you do an exchange, though, the item is yours.* Use the handy dandy included envelope with label and shipping already taken care of to send back any items you decide not to keep. Keep in mind, StitchFix is out to find you 1-2 items you love in each fix, if you love more than that, it's just gravy. And if you keep all 5, like I did in Fix 3, then you get a 25% discount on everything!
Fix Number 3
In my notes, I asked Stylist Tina for date night pieces. With my weightloss journey progress, I had run out of things that didn't look like the circus had moved out fit and I like to look nice when my sweetheart gets a rare night off when we can go out together. Boy, did she deliver!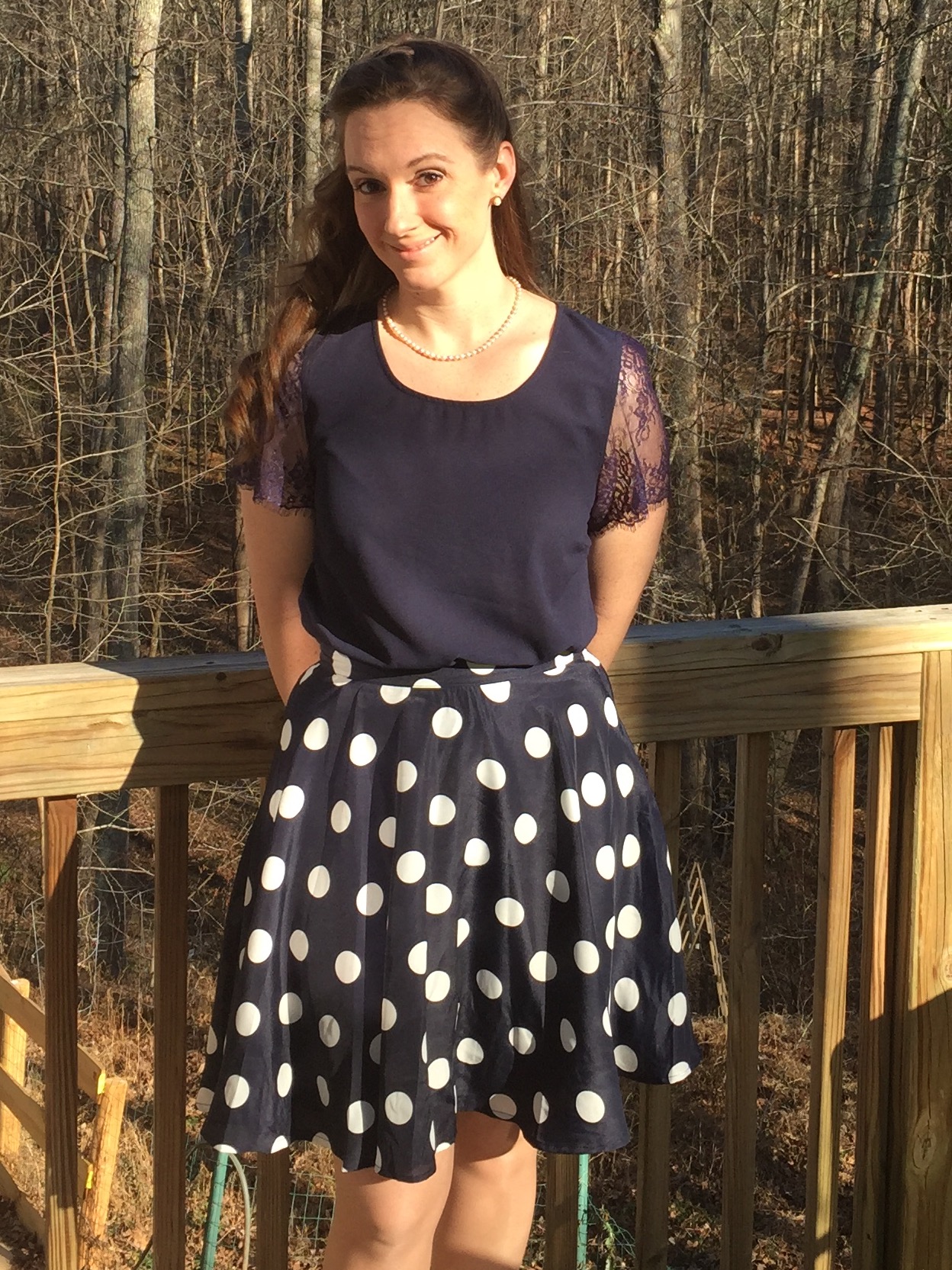 The Hanneli Polka Dot Swing Skirt. It's knee-length, lined, fun, and polka dots! Plus it looks great with my McQue shirt and pearls.  It also looks adorable with a pony-tail, fitted tee, skinny belt, and Akio Vegan Leather Jacket (which was on my Pinterest board). I so need a pair of Converse and you can bet your sock-hop I'll be going out dancing with my sweetheart in this outfit!
The fabulous Sugarlips Reba Sequin Blouse. The color! And I can wear it with my super fun (thrifted) favorite metallic gold heels! But can we get back to the amazing color for just a second? It's somewhere between copper/gold/blush/and perfection. Those are also the Liverpool Ponte Pants from Fix 1.
Skies are Blue Nat Embellished Neckline Blouse. I love the color, had nothing like it, it's lined so no cami needed, and it was $28 before discount. What's not to love?
 19 Cooper Jazz Embroidery Detail Blouse. I love racer back tops for summer, and this embroidery is a gorgeous silver. This top is also going with a pencil skirt and blazer for networking nights. But the day we took pictures just happened to be a very awesome date night. And below is what I wore OOTD. 🙂
To Get Your Best Stitch Fix Fix (in a nutshell)
If you find a stylist you love that "gets" you, request to keep that stylist!
Be specific on your profile and during checkout. Let them know what you do and don't like about a piece so you get better pieces next time.
Use your 3 day window to try on each piece at least twice, styled in 2 different ways. Your style cards are super helpful for this.
Fill out your style profile and keep it up to date, especially on the size information.
Use Pinterest! But keep your board up to date and a manageable size.
Don't be too specific. Let your stylist work to find you new and different things. Step out of your box!
Remember that Stitch Fix is looking to find you 1-2 pieces per fix that you'll love. Don't fret if it's just one, or all 5. Either way, you've tried something new!
Why Stitch Fix is worth it to me, a thrift loving mama:
It costs more than $20 to get a sitter long enough to go shopping.
Nice clothes make you feel better. I am trading quantity for quality, and even though several pieces are hand wash, which takes a bit longer, I'm OK with that.
I want to present myself well. I am a writer, a brand ambassador, a Beachbody Coach working on becoming a certified personal trainer, a homeschool advocate, and most importantly a wife and mother. Taking care of myself allows me to take better care of those in my charge. Part of taking care of myself is getting rid of things that drain me. Shopping with two young boys drains me. Like, a lot.
I needed a push to get out of my usual styles. Aside from losing weight and needing clothes that fit, I was just in a rut of jeans and tees. I'm 33, not 13. I saw this as an opportunity to stretch beyond my comfort zone and so far it's been great!
So, don't forget to sign up for your first style profile then come back by and let me know how amazing it is!