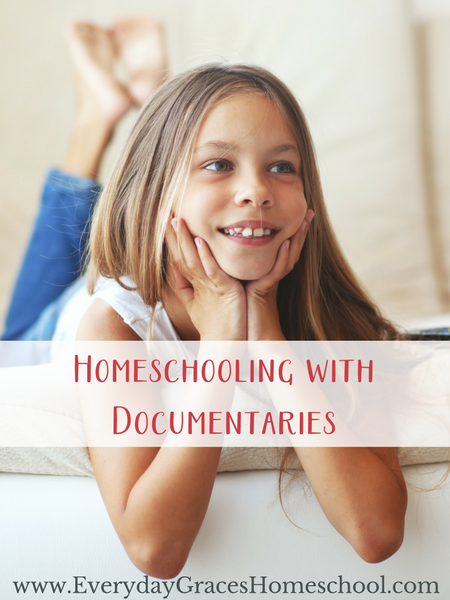 Imagine having a visual learner with dyslexia who often can't remember what you read to him an hour before but can quote an entire movie after he sees it once. Enter homeschooling with documentaries to help add in the visual element he needs.
Imagine this same child after getting the visual aspect then pointing out things he remembers when you're re-reading the text account 3 days later.
I was hesitant to add TV time as part of our learning. I'm a believer in Charlotte Mason's methods but my child needed something more than just great stories. He needs to have multi-sensory learning to help his brain and body process information in a way that makes it stick!
I've fallen in love with having this particular genre of media added into our schooling. Seeing his confidence grow as he is able to learn faster and remember more details is such a gift.
Homeschool with Documentaries
By now, you've heard of homeschooling with documentaries on Netflix through friends on  Facebook, your favorite blogs, or from friends at the co-op. Perhaps Amazon Prime, Curiosity Stream or some other online service, as well as DVDs from the library, were mentioned too. If you have a visual learner, these can be invaluable, but almost all children enjoy the visual aspect of learning through documentaries.
We are living in an age with incredible resources available to us for utilizing documentaries to reinforce learning everything from facts about the Hubble Telescope to the lives of Nate Saint and Jim Elliot. Homeschool documentaries are even out there for helping to show our children why we chose this educational method for our families
We've put together 101 of our favorite reasons to homeschool with documentaries as well as several of our favorites here for you. We do use many documentaries and the occasional movie or show (like Liberty's Kids) to help Mr. T remember more facts about what we are learning. With dyslexia, he needs the visuals and we are super grateful to have these resources!
Homeschooling with Netflix, Amazon Prime, Hulu, and Curiosity Stream
We've included everything from the best American history documentaries to really cool history documentaries about fearsome female pirates! I hope you find reassurance that documentaries do count as learning and find some cool new ones to view with your family. Here are our 101 reasons and resources!
Helps you to think about a topic from a different perspective
Lets you learn something you didn't already know
Teaches a lot of information in a clear, concise way
Opens the mind to other possibilities
Develops reasoning skills
Let's you explore other areas of the world without leaving home
Allows experts to teach your children without a high cost
Let's kids experience learning from someone other than mom/dad
An easy way to introduce new topics
Develops communication skills
Offers topics of conversation
Can change preconceived ideas
Gives a glimpse into possible career opportunities
Builds depth and breadth of knowledge
Keeps the brain active
Safe for the family entertainment
Can be used to develop debate skills
Gives insight into the way other minds work
Let's one experience areas of interest through the eyes/life of experts in the field
Cultivates compassion
Helps to re-think what has been taught inaccurately
According to a recent UC Berkeley & BBC research study, watching nature documentaries can have a positive effect on your mental health.
A way to watch REAL Reality Television
Deepens understanding of the world around you
Helps to develop your own questions about the world
Leads to discoveries
Provides educational experiences without a lot of work
You might discover that the history books are wrong
Brings Scientific exploration to life
It gives you an intellectual break from the mundane television that fills up most channels.
Elements, a documentary on Amazon Prime, teaches us about the world's largest greenhouse and coconut fuel
Genealogy Roadshow, a documentary on Amazon Prime, gives us tips on how to trace our family trees
Manor House, a documentary on Amazon Prime, shows us how 19 modern-day volunteers would survive in Edwardian England
Hunting Hitler a History documentary on Amazon Prime, can serve as a prompt for a more advanced, in-depth study of World War II
Hilarious Helmet History a season of short documentaries on Amazon Prime, teaches you why your historical misconceptions are beyond silly
In The Celts: Blood, Iron and Sacrifice acclaimed archaeologist Neil Oliver shows how the Celts influenced vast areas of the ancient world
In the Amazon Prime documentary, Real Pirates, you'll learn about female pirates who out-plundered and outfought most men
The Secret Life of Books gives us new insights into classic books like Jane Eyre and Great Expectations
If you want to see far-away places like Ireland, the documentary Secrets of the Stones can give you a breath-taking look
Interested in military geniuses like Julius Caesar and Ulysses S. Grant? The Great Commanders will be perfect for you
5 seasons of The Real Story will educate you on the true facts behind some of Hollywood's biggest blockbuster movies, like Indiana Jones and James Bond
The Price of Empire shows us the real cost of war and the rise and fall of great empires
Want to learn How to Build a Planet? This documentary, from top scientists and engineers, will show you just that
From Plymouth to Wounded Knee, the documentary We Shall Remain teaches us about the valiant and resolute native tribes of North America
The TV show How Did They Make That? will keep your family engaged for hours
Watch exclusive and original documentaries with Curiosity Stream including topics about science, civilizations, the arts and more which is now available on Amazon Prime channels
Stereokroma TV on Amazon Prime has almost two dozen 'how it's made' videos including butcher block, maple syrup candy, and Panda candy.
If you want to learn great facts and tidbits about dozens of items from the Slinky to Haagen Dazs ice cream, Wow, I Never Knew That! is the show for you
The Amazon Prime documentary series Continents of the World Series For Kids takes kids around the world, showing them the history and nature of the world
Want to inspire your kids to do great things? Wide World of Kids shows us the incredible achievements of dozens of amazing kids
Let's kids explore ancient civilizations through 3D animations.
STEM exploration, discover technology, possibilities and inventions of those doing the work.
Go on a treasure hunt with those in the world who are actual treasure hunters
Travel the world through documentaries
Travel into outer space through 3d animation
Travel inside the human body to discover anatomy from the inside
Experience incredible music concerts, operas, symphonies, ballets and more.
Explore the theorems of historical and modern-day mathematicians
Explore incredible art from around the globe from the comfort of your own home.
Teach children about modern history through documentary films that document live events that have happened in the last 40 years.
Learn about the foods you eat every day… how they are grown, how they are harvested, and how they end up in your grocery store.
Discover family history through genealogy documentaries… you never know who you'll discover you are related to.
Explore various worldviews
Explore various religions
Learn about world governments
Learn about the US governments and how different branches work
Learn how money is made
Let's children explore their passions…. for example, historical documentaries about cowboys, soldiers or knights, scientific documentaries, about space, or dinosaurs, just to name a few.
Learn about Isaac Newton on Curiosity Stream
Explore Quantum Physics on Curiosity Stream
Discover ancient rulers, kings, emperors, and dictators.
Learn about Hollywood, how movies are made and famous actors through the ages.
Listen to great lectures from Universities around the world.
Explore thoughtful discussions with TED Talks
You can work out or clean house to your favorite get in the groove tunes using Prime Music.
Curiosity Stream is only $2.99 per month
Curiosity Stream has educational documentaries for kids, teens, and grown-ups.
Hulu plans start at only $7.99
Documentaries are perfect for the sports fanatic who yearns to know more about his team or favorite players
Documentaries can take us "behind the scene" of our favorite shows and movies
There are documentaries that exist to show us a day in the life of crime fighters and federal agents
Documentaries can help with unschooling
Need a guilt-free break from teaching? Turn on a documentary
Forensic Files on Hulu is the perfect series for a future criminologist.
Auction Adventures on Hulu is a wonderful show to learn about the history and uniqueness of everyday items
Hulu offers 30+ episodes of The Incredible Dr. Pol, a show perfect for the future veterinarian
Documentaries like Expedition Unknown give us adventure from the comfort of our own couch
You can find several original NASA Television Documentaries on Hulu
Shows like Big Cat Week can give us a glimpse of animals that we will never, ever have a chance to see in real life
Making a Scene on Hulu is a great documentary for movie lovers. It takes us from script to screen.
Find hundreds of documentaries on Amazon Prime Video for any topic of interest
Learn about great composers and musicians through documentaries such as: Maestro Stories of Great Composers available on Amazon Prime
Travel across the pond with the Pilgrims in the documentary "Pilgrims" available on Amazon Prime.
Teach your children about Ellis Island and how it served as the gateway into the U.S. for many immigrants with the documentary "Forgotten, Ellis Island" available on Amazon Prime.
Learn how families are tied together through DNA with DNA Detectives – an Amazon Prime series.
Explore the legend, the curse, of Shakespeare's tomb, with archeologists in "Shakespeare's Tombs."
Explore the Great Pyramids of Giza with "Scanning The Pyramids" on Curiosity Stream
Watch exclusive and original documentaries with Curiosity Stream including topics about science, civilizations, the arts and more which is now available on Amazon Prime channels
Use documentaries to allow your children to see great performances of symphonies, orchestras, musical prodigies and more.
Explore STEM learning utilizing Documentaries that give you insights into science, tech, engineering, and math, with zero mess.
Discover biographies relating to historical figures who brought about change, affected the world, made amazing discoveries and inventions.
Homeschooling with documentaries is truly a great way to help reinforce learning. What is your family's favorite documentary?