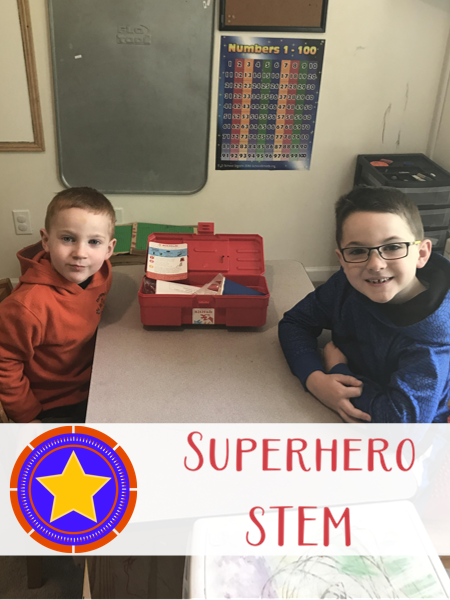 You know what always goes over well here? Anything having to do with superheroes and anything that involves electricity. When you combine the two it's like magic!
Quick FAQ: What's the deal with STEM and STEAM?
Many schools focus on STEM: Science, Technology, Engineering, and Math. There is a movement to include Art, making the acronym STEAM. We love STEAM because art is very mathematical. I used to do floral design, I can vouch that there is actually math used to create perfect arrangements. It's all about symmetry and proportion. The goal of both is to further education at home and in other educational environments.
Disclosure: I received the Future Engineer Kit for review purposes and was compensated for my time. As always, all thoughts and opinions are my own and I was not required to post a positive review. I only recommend products our family uses and I think you will enjoy, too!
KitHub STEAM Activity Kits
KitHub has a fun selection of STEM activity kits for home use. They offer a Dance Party Circuit Kit, The Future Engineer Kit, Motorized Art Bot Kit, Light-Up Superhero Mask Kit, and a STEAM for Homeschool kit. Classroom and Environmental Monitoring kits include Motorized Bot, Super Hero Mask kit, Underwater Microphone Kit, STEAM coding program, and more! Plenty to choose from for an exciting exploration of science.
Here is the unboxing and first impressions of our Future Engineer Kit:
 The kit is very well put together. The fact that it is a toolbox is universally appealing to kids of all ages. Every product in the kit, including the safety glasses, is very high quality. The only issue we ran into was the battery that was included for the Bot was dead. We have lots of AA batteries here so we just popped in one we had.
KitHub Future Engineer Kit
The Future Engineer Kit includes:
Red Toolbox
Light-up Super Hero Mask project
Paper Circuits project (with copper tape which is really neat!)
Motorized Art Bot project
Safety glasses
Electrical Tape
The boys each picked a project to do by themselves and saved the third project to do together. Mr. T picked the Motorized Art Bot and Mr. F picked the Light-up Super Hero Mask. We set everything out and began. The labeled bags and items attached to their instruction cards made this super easy.
Mr. T being a goof and wearing his safety goggles over his glasses. I assured him that since it wasn't a wood working or otherwise stuff-goes-flying project that his glasses would be just fine. He insisted. I am glad he's very insistent, since it took us a couple sawdust-in-the-eyes experiences for him to regularly remember his glasses. The glasses that came with our KitHub Future Engineer Kit are excellent quality and very sturdy.
Here we are with the battery that wouldn't work. Mr. T was afraid the motor wasn't running, but we decided to try a different battery and that fixed it right up. I love how much Mr. T's fine motor skills have improved through his love of futzing with electrical projects. As Mr. T worked pretty independently through his Bot project, I helped Mr. F work on his mask.
Mr. F chose to color his mask with his Dot markers and picked out 4 colors and then only used one. He has two styles of coloring; monochromatic and neon rainbow. His mask ended up brown, but he did add some blue glitter glue and then later glued on a blue nose. We used a push pin to make the holes for the LED wires, and Mr. F taped the battery on himself. His delight at a light up mask was pretty evident.
We have had the mask put together for a few weeks now and because we have always untaped the battery, it still light up and is holding up surprisingly well considering who is playing with it. I will note that there are bulk packs of both the Super Hero Masks and the Motorized Art Bots that would be awesome Birthday party activities/favors for STEAM loving kids.
Mr. T was ecstatic to have his very own electrical tape. He taped the battery on the cup, taped the flag on the motor, and taped the motor to the cup. You can see him testing the motor below. We discussed reversing polarity to  change the direction of the motor by switching the wires. Below is a video of the Bot in action.
See the Motorized Art Bot in Action
And of course, Mr. T had to have a turn with the Super Hero Mask after the nose piece was added.  The boys have thoroughly enjoyed playing with the bot. I know exactly what they are doing when I hear a distinct whirring at 6:30 in the morning.
KitHub Paper Circuits
The last project in our Future Engineer Kit was the Paper Circuit project. Friends, I have never seen copper tape before. It was the coolest thing ever! I should also note that there were plenty of supplies to make a second paper circuit, but Mr. T wanted to use the LED and batter to give his Bot a light-up nose.
Mr. T did an excellent job of following the instructions and being very careful and precise (a task that takes extra focus on his part) with the taping. He explained to me about how the circuit closed when you folded the copper tape over onto the battery and I was delighted that he has retained so much of his electricity studies.
And Mr. F just loved that something else lit up. He has been playing with the lights almost every single day since we built our projects. The Future Engineer Kit from KitHub is an excellent investment for your little engineers and creators.
What this mom loves about KitHub:
Everything is well-constructed. We've used many science kits here, and sometimes the project parts are extremely cheap and poorly made, therefore they break easily. That makes for disappointed learners and unhappy moms. Good materials make this kit worth the investment.
KitHub has a variety of projects that cover many different ages and many different price ranges. There is something for everyone!
The projects for the ages 5 and up group are simple enough for your 2nd-5th graders to do independently, and your younger students can do them with minimal supervision. They also allow for an abundance of creativity on the child's part.