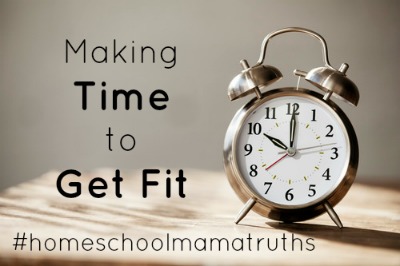 The truth is that a lot of homeschool mamas do not make time to exercise. We make meals. We make lesson plans. We make field trip arrangements. We make excuses. But we don't make time to exercise. We don't make time to plan ahead so we are eating good food. And sometimes we don't make it into the same size shorts as we did last year.
As a homeschool mom with hypothyroidism and a child with special needs, I need energy. I need stamina. I need the strength to be able to pick up and carry my 50 pound 48-inch tall 4-year old when he needs me to. So what's an out of shape and irritable mom to do? You just start.
Making Time to Get Fit:  Start with your doctor
Yep! Start with your doctor. Get a full physical with blood work, including a full thyroid panel if you're feeling sluggish (this tests free t3 and free t4, not just overall numbers). Make sure everything is in working order. If it's not, then address that first. Get a green light to begin exercising. Then start!
Making Time to Get Fit: Just Start
I saw a post on Instagram for a Challenge group for a new BeachBody workout called 21 Day Fix, that was only 30 minutes a day!!! I liked the gal who was coaching the challenge group, so after praying it over with Mr. J, I signed up. I just started.
You don't have to buy a gym membership. You don't have to buy supplements. You don't have to spend $300 on a "system". You have to decide to start. I asked God for the strength to get through one workout at a time. And some days I barely made that 30 minute mark. But I did it.  And I'll keep doing it as long as I am able. Starting is the hardest part, I don't want to have to start (over) again!
Making Time to Get Fit: Why?
My why: I love my kids. I want to keep up with them. I want to be here for them. I want to be healthy for them. I want to set an example of caring for the body God has given me to the best of my ability despite the challenges of having a messed up thyroid, a knee full of scar tissue from 4 different surgeries, and a back that goes out more than most 18 year olds because of a really bad car accident when I was young. I want them to know that being active and strong is part of worship. I want them to understand my motivation is not a size, not a number, and not vanity, but that I simply want to be healthy and strong the way God intended. I want that Proverbs 31 life. And being strong, both physically and in the Lord, is a major part of that.
Pray over it and ask God's guidance to find your "why". Is it to take care of your family? Is it to improve your health? Is it to bring yourself closer to God by taking better care of the temple He has given you? Is it to encourage your children and spouse to take better care of their temples and health? While size and scale can be motivating, it should not be your primary motivation because external beauty fades away and vanity is never fulfilling.
Making Time to Get Fit: How?
This one can be tricky. This is where you have to decide to make getting fit a priority. If you are like me and need a dedicated "work out", be creative. Mr. T has apps he loves for phonics and for speech therapy that he does while Mr. F is napping. I use 20-30 minutes of that time to exercise hard. I know I'm a better mom when I don't skip out to do laundry or dust or fix a big lunch. I also know that all those other things will still be there when I'm done working out.
Maybe you need to work out before the kids get up, or after they go to bed, or maybe you can take them for a jog with you! Get out and play. Have fun. Don't make it a chore. Remember that you are running a cross country race, not a sprint, toward letting God perfect His work in you. Every step, every time you push play, every good food choice you make is a step toward that goal. Be gentle with yourself when you fall short or miss a day, but don't throw in the towel just because you had one slip up. You don't want to have to start again! For at-home super-budget-friendly-ideas try out some on my Fitness board!
Make meal planning a part of your routine. I'm terrible at actually writing out a plan, but I know what meats and veggies my family enjoys so I try to keep that on hand and (unless it's a crock-pot meal) I know just about everything can be thrown into a yummy wholesome meal in 30-45 minutes. If you do better with an actual planned out meal, check out Eat This Much for a simple way to organize you meals and get your grocery list put together for you!
How are you going to make time to get fit?