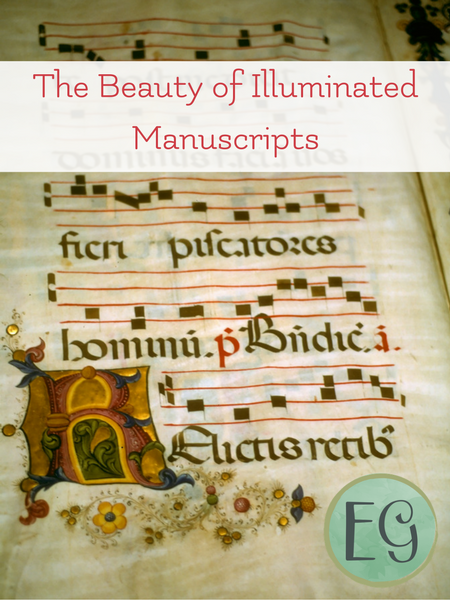 What is an Illuminated Manuscript?
Illuminated manuscripts have a very dear place in my heart. Many of my favorite artists created frescoes after first learning how to illustrate parchment through this beautiful and tedious art form. There is a feeling of reverence for the devotion to detail this task must have required of the artists who created these pieces.
Every single book was hand scribed prior to Gutenberg creating the printing press. Manuscripts were often illuminated, or decorated and painted with tempra paint and real gold and silver. These illuminations include decorative letters and borders, and full scenes called miniatures.
Most of the scribes responsible for these works in the early middle ages were monks. They worked in a section of their monastery called a scriptorium, which served for studying academics as well as the scribing of books.
By the 1100-1200's, many laymen picked up the skill and there were generally 4 workers who built the books. The parchment maker created the parchment (at that time it would have been an animal skin), the scribe who copied the words for the book, the illuminator who decorated the pages, and the book binder who created the final product. These skilled workers were usually part of a guild for craftsmen in their trade. These guilds were similar to modern day unions in that they were created so many people of one trade could work together to improve their social status, prevent excessive taxation on their goods, and the guild cared for it's members if they became ill or unable to work.
Because of the care people took to preserve many illuminated texts, we are still able to enjoy them today.
A wonderful project for your homeschool would be to create your own illuminated illustrations for a favorite story or Bible text. 
Living Books about Illuminated Manuscripts
We are a Charlotte Mason inspired homeschool with a classical bent. These books are incredible for both styles of learning. There is something almost magical in having a story bring a part of history to life. It never fails that my own children ask to go collect things from which we can make colored ink after reading these stories.
Marguerite Makes a Book: In this richly illustrated tale, Marguerite comes to her father's aid. She journeys all over Paris buying goose feathers for quills, eggs for mixing paints, dried plants and ground minerals for pigments. This book was inspired by a remarkable illuminated manuscript in the Getty collection, which you can view in full here.
The Ink Garden of Brother Theophane: Brother Theophane is a young monk during the middle ages who wears a plain brown robe at a plain brown desk and copies the Bible into plain brown books with plain brown ink. Because he struggles to focus, he is moved to the ink making room and soon discovers that all the glories of God's creation can be used to make beautiful colored inks. This story is a delight to read!
The Book of Kells : This particular edition has the most well known pieces in full, and enlarges sections to see the incredible detail. It was written by Bernard Meehan, the Keeper of Manuscripts at Trinity College, Dublin.
 Marguerite Makes a Book

 The Ink Garden of Brother Theophane

 The Book of Kells: An Illustrated Introduction to the Manuscript in Trinity College, Dublin

Using Illuminated Bibles and Manuscripts in Your Homeschool
Art study is a huge component in helping to cultivate a love of beauty, truth, and an appreciation for the talents of others in your children. Illuminated manuscripts are also full of detail work that could only be completed through focus and diligence. Also wonderful lessons for children.
We utilize the study of illuminated manuscripts to also teach about history, especially the history of the middle ages. We use them to teach about colors and nature, learning how the tempra paint is created using things found in nature.
Illuminated manuscripts are wonderful tools for teaching many things. An illuminated Bible is truly a work of art.
Originally, only the most important manuscripts were illuminated. This included many religious texts. Today, illuminated illustrations are mass produced thanks to the development of the printing press.
Disclosure: I received a copy of the ESV Illuminated Bible from FlyBy Promotions for review purposes. All opinions are my own and I was not required to post a positive review.
An illuminated Bible makes a beautiful family heirloom and is also wonderful for art journaling. The beautiful and bright illustrations are intriguing to both young and old and draw the family deeper into the readings. I love having our ESV Illuminated Bible, a beautiful Bible sent to us by FlyBy Promotions to review, to share the Word with my own family.
I also think this beautiful keepsake will be a frequent gift. I know so many people who would love it! It's perfect for weddings, for friends going through a difficult time, for people who enjoy Bible journaling, and for clergy. It really is a stunning Bible.
 ESV Illuminated Bible

 Derwent Inktense Ink Blocks

 Pigma Micron 005/05 Bible Note Pen Kit (Set of 4)

THIS GIVEAWAY IS CLOSED
ESV Illuminated Bible:
The ESV Illuminated Bible places the full ESV text alongside over 500 elegantly hand-lettered gold ink illustrations by renowned artist Dana Tanamachi. Printed on thick cream-colored paper, the Bible's single-column text setting and wide margins provide generous space for additional notes, prayers, and designs—inviting readers to creatively engage with and reflect on the beauty of God's Word.
9-point, Lexicon
Black letter text
2-color printing
64 full-page, custom book opener illustrations
50 full-page verse illustrations
250+ hand-lettered margin verses
100+ other illustrations throughout
Illustrated by Dana Tanamachi, whose work has been featured by Google, The Wall Street Journal, Random
House, USPS, and Target
Thick, cream-colored paper
Wide margins
Single-column, paragraph format
Smyth-sewn binding
Packaging: Permanent Slipcase
Dana Tanamachi is an American lettering artist, graphic designer, and illustrator whose exquisite typographic murals ignited the worldwide chalk-lettering trend.  She has been commissioned by clients such as Instagram, Target, Google, Time Magazine, Nike, and West Elm. Learn more at tanamachistudio.com.