With all the options out there for subscription boxes to "make life easier" for mom, how on earth do you figure out which ones are worth the investment? If you're like me, you go to Google and then read many, many reviews!
So welcome, Googling friend! This is a review of our experience with Harlow's Harvest, a monthly cooking box made for kids.
Disclosure: We received a complimentary Harlow's Harvest box and were compensated for our time. All opinions are our own, we were not required to post a positive review, and as always, we only share about items that we enjoy and think can benefit your homeschool too. 
With Harlow's Harvest, kids cook real food! This cooking kit subscription is so much more than recipes for kids. It teaches about culture and history, helps children track the kitchen skills they are learning, teaches them how to track and budget expenses for recipes, has a fun STEM activity each month, and gives them kitchen tool tips and knowledge.
*Before we get any further into this delightful kit, don't miss the giveaway at the end of this post! It is for one Harlow's Harvest kit and ends April 14th, 2019.*
As the mom, what I love about Harlow's Harvest is that everything is very nice quality. From the laminated recipe cards to the apron and the recipe pin, everything is good quality. Charlotte Mason was adamant about children having excellent tools to work with, and I think she would approve of these whole-heartedly.
The fact that the history and cultural tidbits are included with the recipes is a great way to get some geography studies going in the kitchen. The budgeting and shopping lists help teach our children that food isn't free and that they can, in fact, take ownership of the entire cooking process for a single recipe. It also helps them understand how much work goes into meal planning and grocery shopping.
The kitchen tools and the accompanying tip cards are a fun way to begin helping our kids learn real, necessary skills they will need as adults but in a fun and friendly way. The nutrition information helps our children become more conscious of what they are consuming.
These recipes are geared for ages 4-15! Your littlest chefs will need some help, but your bigger kids can take the lead and these recipes are yummy and nutritious so they can go into your meal rotation and that's one less meal you have to cook, mom. Everybody wins!
If you have been looking for a way to add in an extracurricular, but haven't found the time or the right class, I definitely recommend giving Harlow's Harvest a try! Health is such an important concept to impart to our children and when we begin while they are young teaching them how to make and enjoy healthy food, we help them develop a lifetime appreciation for good nutrition.
Chef Teddy makes dove butter cookies from our Harlow's Harvest Box
Poor Mr. T has been on albuterol and steroids for an asthma flare. They make him a bit spacey, but he has really had a lot of fun with the cooking in spite of not feeling 100%. But don't cookies make everyone feel better?
These cookies are seriously yummy. The boys ate them up in a hurry! (Good thing we only baked one of the discs of dough) And the Japanese history and culture facts on the recipe card are really interesting. I foresee more exploration of Japan in the near future.
Isn't that one of the best parts of homeschooling? All the glorious rabbit trails that can come from a single sparked interest and lead into so much wonderful self-driven education. This is just another reason it is wonderful to try new things with our children.
Harlow's Harvest combines so many fun elements that it is a natural fit into homeschool life skills and works beautifully to inspire lifelong learning. Don't forget to scroll down and enter to win your very own Harlow's Harvest kit below!
STEM in the Kitchen
While we don't often think of the kitchen as a place for science, there is always a chemistry or biology class waiting to happen. In this case, we learned about botany with our avocado seed!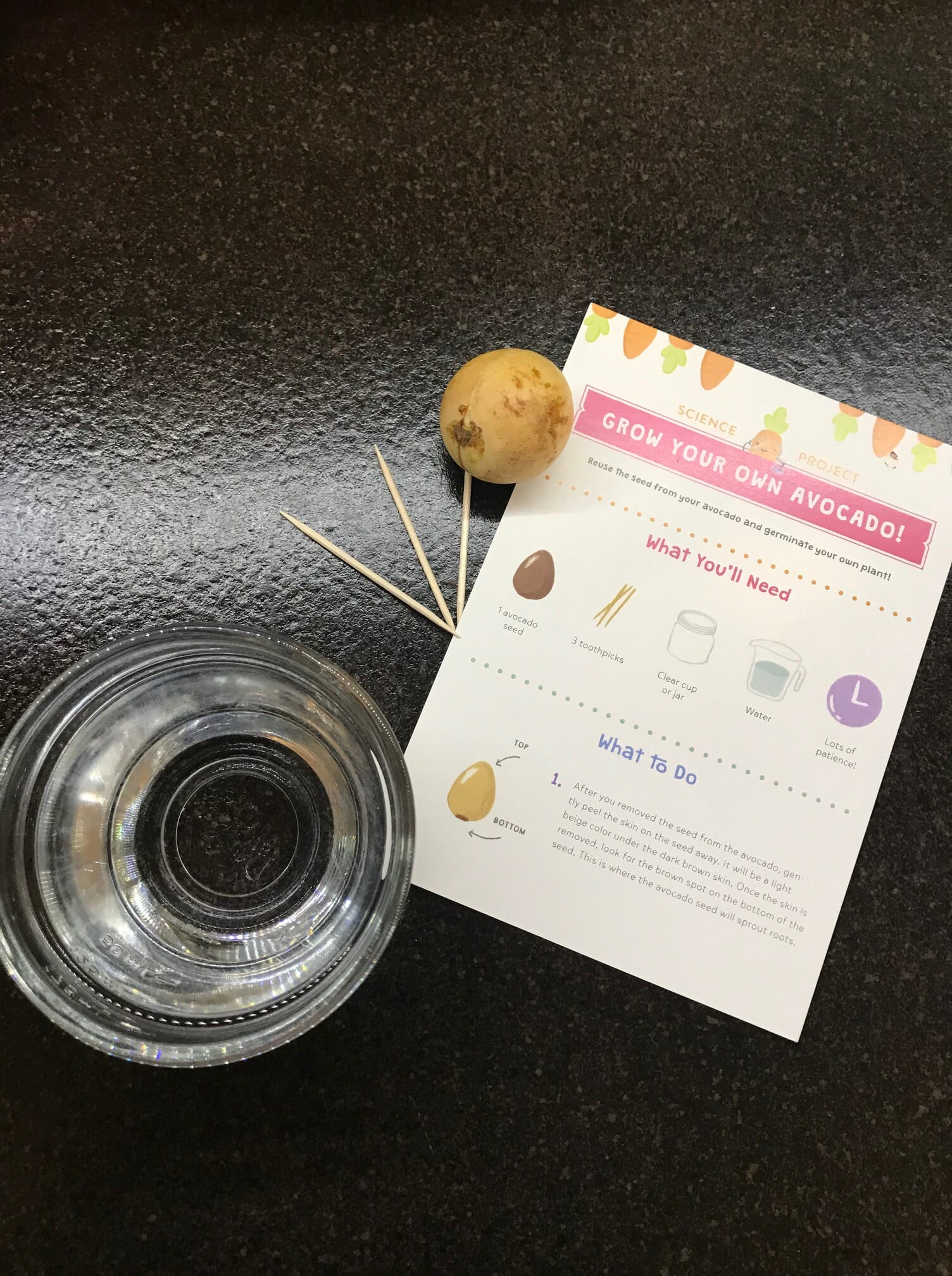 This is one experiment we have done before, but it's been a few years and Mr. F doesn't remember it very well. We ended up with a 2 foot tall avocado tree, but when we potted it outside the poor thing died. Perhaps we'll have better luck this time!
The directions are very simple and the images help explain it to the youngest learners. Mr. F had fun putting the toothpicks in, especially since he's not usually allowed to use them (long story, but let's just say he likes to put holes in things).
And now we just have to wait a few weeks to see the roots sprout and then a few more weeks for the plant to sprout. It's an exercise in patience to grow your own avocado. STEM in the kitchen is fun!
The Overview of Harlow's Harvest