Do you have a preschool with a speech delay or Apraxia? Speech therapy for children can be overwhelming for a mom new to a speech delay diagnosis. That is why  I am sharing some of our favorite toys and resources for speech therapy home exercises.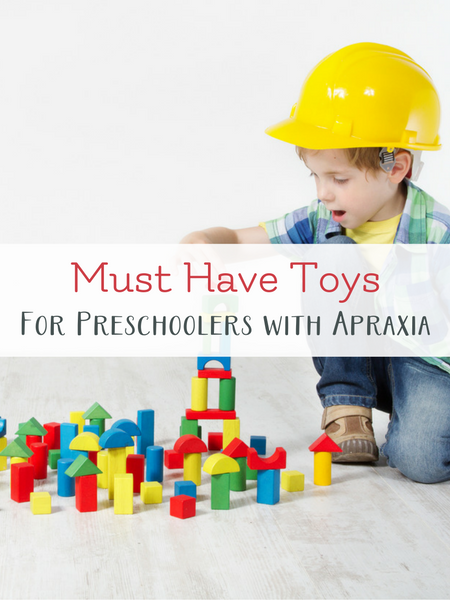 When you are dealing with speech therapy practice at home, toys become tools. These tools are some of our very favorites for helping facilitate speech therapy practice with preschoolers.
We use these in our daily schooling and speech practicing. Tuesday May 14th is the first Apraxia Awareness Day, so I'm hoping to help give ideas to parents who are newer to this diagnosis than we are.
*I am not an SLP ( child speech therapist ), these are just some things that really help us!*
Using Toys for Apraxia of Speech Therapy at Home
Apraxia is a motor planning disorder. Mr. T has fine and gross motor planning issues along with the speech issues. These toys are great motivators for speech practicing! Above, you can see the See & Spell
, the Basic Skills Board
and our flashlight and Stacking Emergency Vehicles
. Mr. T loves his letters and we use the See and Spell to practice letters and words because having tactile cues really helps Mr. T, as you can see below. When he is focused his pronunciation of familiar words is beginning to get very clear!
Notice the awesome Knob Wooden Farm Puzzle
. Mr. T has loved and used this since he was a year old and Mr. F is a big fan, too! Mr. T has been learning about farms and animals lately and he came and got me to show me the farmer milking the cow. He's got quite an imagination! Something that should be encouraged extra diligently in children with speech delays. Imaginative play really helps get the speech juices flowing because they want to tell you the adventure they are having!
The Beginner Pattern Blocks
are great for problem solving and motor development, as are the Floor Puzzles
. A great way to utilize these during at home practice is to give him one piece of the puzzle at a time after he correctly imitates (or tries really hard) whatever sound or word you are working on. Mr. T has an infatuation with firetrucks and he's got the Fire Chief Costume
, too! He regularly "puts out" Mr. F with the extinguisher. Use whatever your child is fond of to help with cooperation and motivation.
Here's our Easel
where we spend lots of time drawing and practicing writing. We've struggled with muscle tone and coordination and are finally getting a good grasp on straight lines and counter-clockwise circles. The quality of this easel is awesome, you should also look at the Accessory Set
. The other big bonus to Melissa and Doug toys is their quality and customer service. We have had nothing but great customer service when we have had an issue (there was a split in one of the easel legs when we received it and they sent us a new rainbow stacker because one of the rings broke) and they are a US company. Double bonus!
Mr. F gets in on all the fun, too. He's got a Rainbow Stacker and a fill and spill toolbox and Fishbowl
he loves, as well as playing with all the toys Mr. T thinks are just his. Mr. T has an Architectural Block Set
that he and Mr. J spend hours building with (that he will also imitate really well to play with) and an awesome Fold and Go Stable
that he and I make up stories about while we practice new words and sounds.
We use all these and more on a daily basis. The benefits to having quality (non electronic) toys are many, and we have found a company and brand we love and will continue to use for a long time!
Benefits of Using Toys for Speech Therapy Home Exercises
Using toys with multiple pieces allows for lots of prompting before the play reward.
Encouraging imaginative play and making up stories provides language enrichment and helps give the child extra motivation to work hard.
Keeping your child engaged while practicing speech exercised can be difficult. Keeping it light and fun with toys helps make it a more productive and pleasant experience for you both.
Choosing timeless and quality toys that are built to last will help see you through the long season of speech practice. Rotating favorite toys in and out of therapy practice will keep things fresh for you and your child.
It's just more fun than plain old Kauffman cards 😉
These are just some of our favorite resources for speech therapy at home. I hope they help your child with Apraxia.