We love tea time! What better way to celebrate our Valentine's Day than by sharing one of our favorite scone recipes with you? These are really fun and if you have a chopping utensil your preschooler like to use (we love the wavy chopper) then have them help chop butter and fruit!
We are also working on tracing our Awana modified verse: 1 John 4:9, "God loved us and sent His Son." I made Mr. T a fun Valentine themed page for him to work on. You can get your copy here.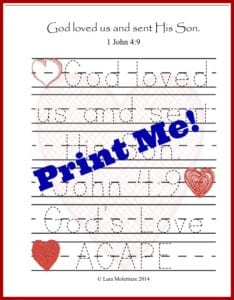 And now for some scone making fun! Check out our pictures and print your recipe from the recipe card below!
Gluten Free Strawberry White Chocolate Scones
Gather all your ingredients before you begin so you don't have to stop and double-check that you have gotten everything into the bowl. Don't ask me how I know this is a good idea 😉
Remember that little hands love to help! Don't worry about the mess, just enjoy the time together.
If you don't have a cast iron scone pan . . . I'm sorry! They are wonderful, though the sweet scones like these are a bit much in regular scone size so we end up halving them when I use the scone pan. The drop scones are much more preschooler sized and to keep the mess down, I drop the spoonful of batter into parchment paper cups.
And then you wait till the baking is done. It seems like forever, but it's really only about 15 minutes and your house will smell divine by the time they are through!
Scones
1 3/4 cup gluten free flour blend (I use a 1:1:1 ration of brown rice, tapioca, and ivory teff)
1/2 cup almond meal
1 tsp baking soda
1/4 tsp salt
1 TBS xanthan gum
1/2 cup unsalted butter, cut into small pieces
3/4 cup gluten free white chocolate chips
1 package of dried strawberries chopped OR 1/2 cup fresh chopped strawberries
1/2 cup honey
1/2 cup cream
1/2 cup plain or vanilla yogurt
1 tsp vanilla
Glaze
1/2 cup powdered sugar
1/4 tsp vanilla
1-2 TBS cream depending on the glaze consistency you want
Instructions
Preheat oven to 425.
Mix flour, almond meal, baking soda, and salt in a large bowl.
Cut butter into the flour with a pastry cutter until it resembles coarse crumbs.
Stir chopped berries and chocolate chips into the flour mix.
In a microwave safe bowl, combine cream, yogurt, honey, and vanilla. Microwave for 30 seconds on high and whisk until thoroughly mixed.
Stir wet ingredients into dry ingredients until well combined.
Use a well oiled scone pan, or drop scone batter on to a greased cookie sheet by the tablespoon for drop scones.
Bake for 12-15 minutes or until a toothpick comes out mostly clean. These are very moist so a few crumbs on the toothpick are OK.
Let the finished scones cool.
Drizzle the cooled scones with glaze if you desire.
Don't forget your free Valentine's Verse Printable!