Back to (Home) School
Going back to homeschool is a yearly milestone. Celebrating yearly to-do's is a wonderful way to establish a loving and life-giving culture in your home. So commemorate this new year with these yummy little chalkboards. They are perfect for tea time or a special treat on your first day back!
Bonus: These can be made with regular Rice Krispies or Gluten Free Crisp Rice Cereal!
Check out the links at the bottom of this post for more ideas for back to homeschool fun.
Yearly Traditions for Your Homeschool
There are so many ways to add traditions to your homeschool and we believe these anchors are a great way to keep your home learning atmosphere delightful and life-giving. Some traditions you might consider:
Adding a special field trip as your first day back
Slowly beginning with a week of just 2 subjects and a tea time, movie study, art project, or other fun activity per day to ease back in
A special breakfast or treat for the first day back after each break (We love these Apple Muffins!)
Homeschool gift bags with new pajamas, field trip shirts, new pencils, math or art tools, and snacks
Those  are just a few ideas to help you get started on creating a delightful tradition with your family! When they look forward to the special days that are specific celebrations of your family, it makes the going back to school much easier on all of you.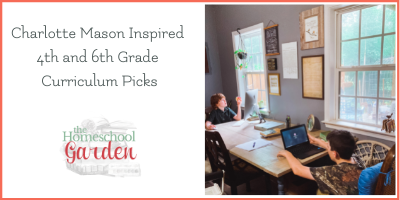 Now, get ready to have a great year back to your family's schooling with these fun little treats!
How to Make Blackboard Rice Krispy Treats (Gluten Free Option!)

This recipe will yield 6 Chalkboard Treats:
INGREDIENTS 
For the treats:
1 cup (2 sticks) butter
Two 10 oz. bags of marshmallows
10 cups crisp rice cereal
Decorations:
1 Tablespoon coconut oil or shortening
1 cup Wilton black candy melts
2 large red Airhead candies
2 large blue Airhead candies
2 large green Airhead candies
White icing tube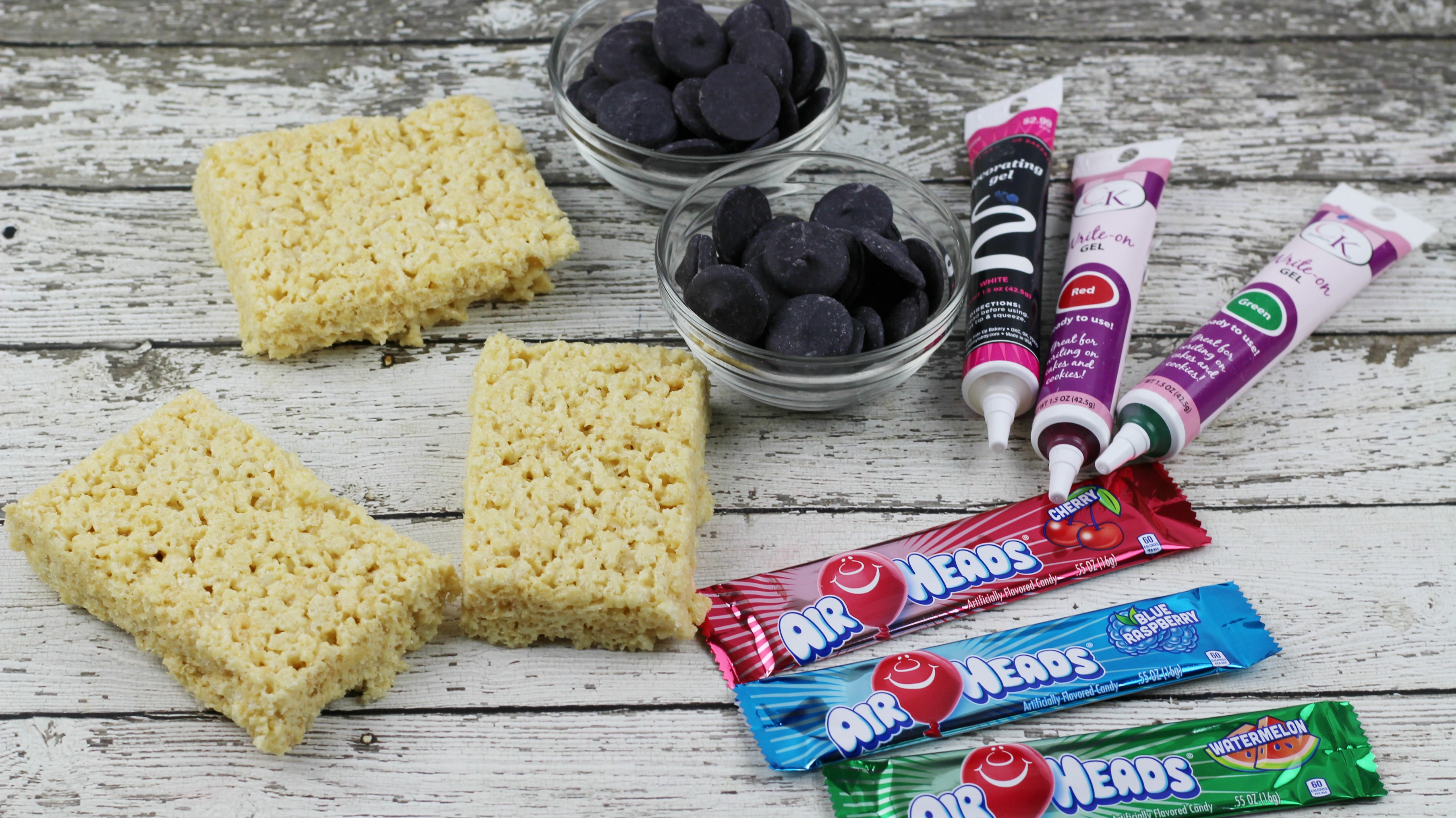 DIRECTIONS FOR RICE CEREAL BARS
1.   Spray a 9×9 pan with a non-stick coating spray and set aside.
2.   In a large sauce pan, melt the butter over low heat.
3.   Add the marshmallows to the butter, stirring constantly until melted.
4.    Remove from heat and stir in the cereal until well-coated.
5.   Transfer the cereal mixture to prepared pan and press down firmly. 
6.   Cool for 30 minutes and cut into 6 large bars.
HOW TO DECORATE
1.   Line a cookie sheet with wax paper and place the 6 rice cereal bars on the sheet. Set aside for later.
2.   In a microwave safe bowl, microwave 1 tablespoon coconut oil for 45 seconds or until melted. Add the black candy melts and stir until melted. (You may have to microwave in additional 10 second increments until the candy is smooth and melted).
3.   Dip the tops of the rice cereal bars into the melted black chocolate and place back  on the cookie sheet for 30 minutes to harden. Or, if you find it easier, you can just use a spatula to spread the melted chocolate on top of each bar.
4.  To make the border around each chalkboard, cut each candy Airhead into 4 strips.
5.  Lay the strips along the outer edge of each Rice Krispies bar and gently press down. (You may have to trim the pieces depending on the size of your bars).  They will easily stick to the Rice Krispies treats thanks to the gooey marshmallows.
6.  With the white tube of icing, pipe your favorite back to school phrases on the chalkboards.
7.   ENJOY!!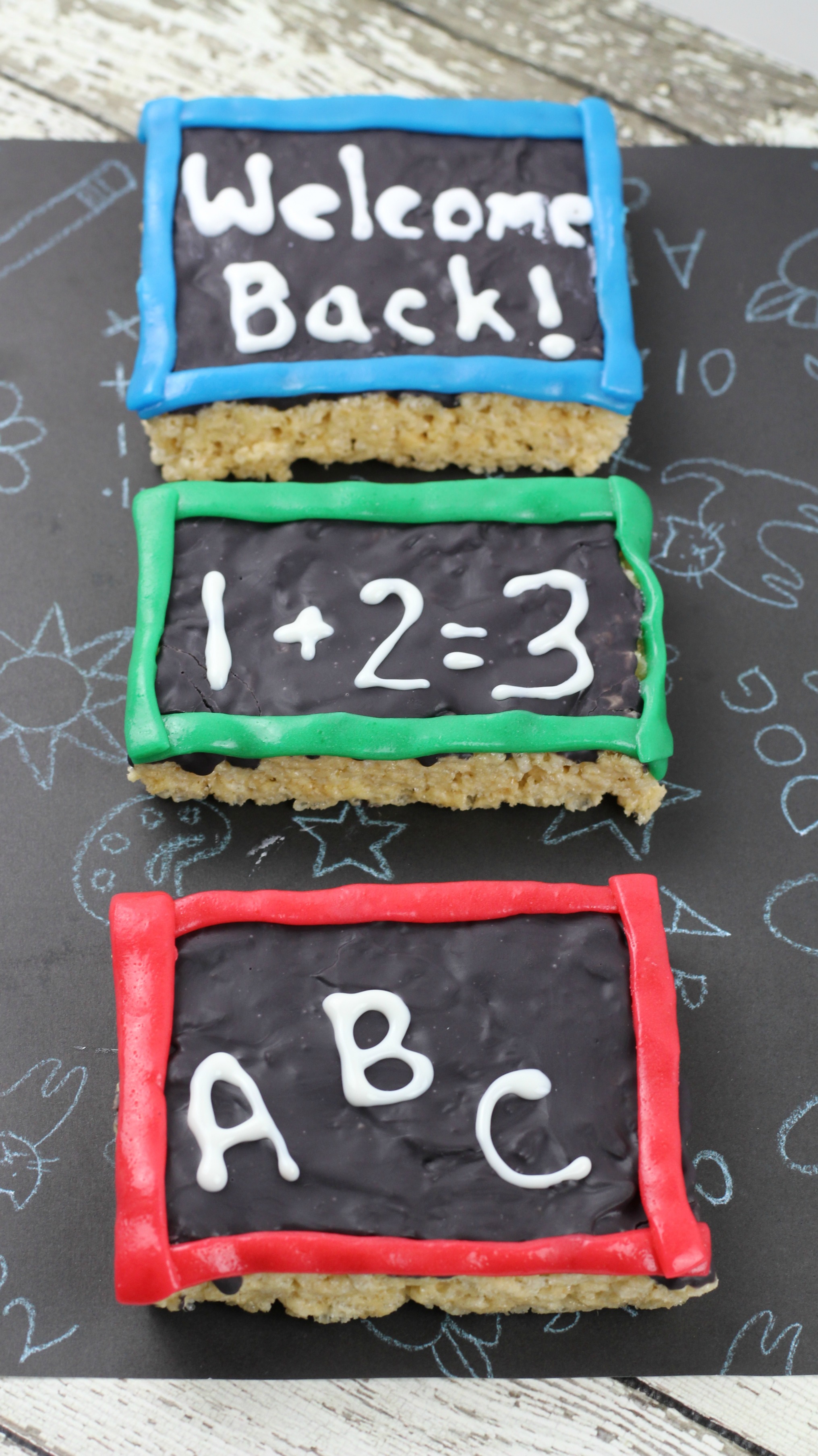 Back to Homeschool Fun from our Friends around the Web