Gifts to Delight Electricity Loving Kids
Mr. T loves electricity. And we've met many other children who share his passion for science and things that (might) buzz with energy. Since I had to do a lot of research to find a big selection of gift ideas for him for us and for family, I decided to compile it all right here for you in case you have a future Edison on your hands as well.
Inspired Gifts for Electricity Explorers
Electricity is a fun, exciting, and history-rich topic. There are so many great ways to learn about it, the discoverers and harnessers of it, and the inventors who use it to make our lives better that this post would be never-ending if I tried to include them all. So I have chosen the ones we love best. Because Mr. T has been interested in electricity and circuitry for over a year now, we have a wonderful selection and a solid wish list for items we just haven't gotten (or that need a bit more maturity before they become part of our homeschool).
These kits and games are the base of most of our studies. Many of these have age ranges well above Mr. T's almost 7 years, however, he loves the subject and demonstrates a great understanding and working with the wires and tiny pieces has been awesome for his motor skill development. You are the best judge of whether a project or kit is suitable for your learner, or your learner plus a little help from you.
Snap Circuits are how we began studying circuitry and electricity and how it works. Then we learned about Ben Franklin and narrated his biography with his action figure, we watched Beyond the Mask (only slightly related to electricity by way of Ben Franklin and Leyden jars in a very charming movie set during the Revolutionary War), and we have learned and experimented with so many kits and wonderful books. Our favorites are listed here.
 littleBits Rule Your Room Kit

 Snap Circuits SC-300 Electronics Discovery Kit

 The Magic School Bus – Jumping Into Electricity

 Potato Clock Green Science Project Experiment

 Electricity and Magnetism

 4M Static Science Kit

 Electric Dragster

&
 Circuit Maze Board Game

 Start-Up Circuits

 Smart Circuits Games & Gadgets Electronics Lab

 Snap Circuits R/C Snap Rover Electronics Discovery Kit

&
Subscription Boxes for Electricity Lovers
Subscription boxes are quite literally the gift that keeps on giving. Our top picks are full of learning fun!
Mr. T love getting our his breadboard and putting together, taking apart, reworking, adding to, and experimenting with all the connections. You can see our full review of EEME here.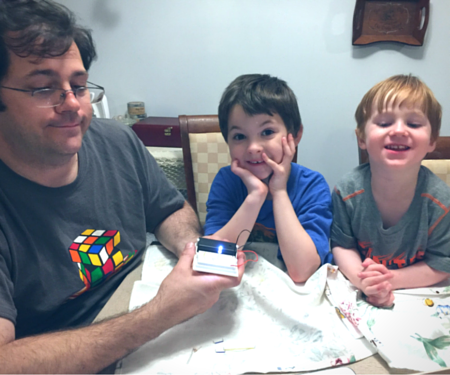 Tinker Crate from Kiwi Crate
We love Kiwi, Doodle, and Tinker Crates! They provide hours of learning fun and have saved us from the "boredom" monster on many rainy and cold days! Tinker Crate is not always about electricity, but if you have a STEM loving kid, Tinker Crate will be well loved.
Groovy Lab in a Box
This is a Christmas gift (Shhhhhhh!) for Mr. T, so we haven't used it yet but it comes so highly recommended from several of our friends who are science loving families that I know it will be a hit! Anything connected with Popular Mechanics is going to be well received in our home, by the boys and the husband. About Groovy Lab in a Box: Because children are natural engineers, Groovy Lab in a Box blends Scientific Inquiry and the Engineering Design Process, which allows children to create ingenious inventions, enhance critical problem solving skills and have FUN!
Books on Electricity for Kids
Because Mr. T is such a big fan, we have tons of books that are about electricity, inventors, inventions, etc. I narrowed down the choices to the ones that are, in our opinion, the very best of the best! Below, Mr. T is creating circuits after reading from our Electricity and Magnetism book.
 Thomas Edison for Kids: His Life and Ideas, 21 Activities

 Electricity and Magnetism

 Electrical Wizard: How Nikola Tesla Lit Up the World

 The Magic School Bus And The Electric Field Trip

 DK Eyewitness Books: Electricity

 Electronics for Kids: Play with Simple Circuits and Experiment with Electricity!

 The Story of Inventions

&