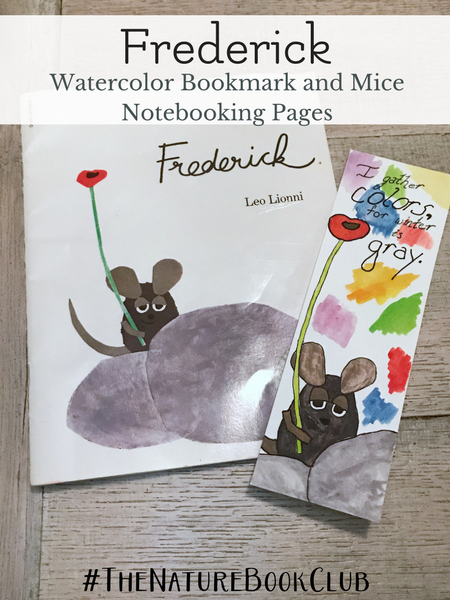 Did you know around 40% of the mammals on earth are in the Rodentia (or rodent) order?
Chipmunks, beavers, hamsters, gophers, and mice are all among the 1,500 plus species of rodents. There are so many different kinds of these incredible small mammals! We are delighted to be joining in with The Nature Book Club linkup this month! Down toward the end of this post is a giveaway and all the other awesome link ups!
Which reminds me that we made a PetSmart visit part of our study so we could view the hamsters, mice, gerbils, and rats. We miss our sweet Peanut but aren't quite ready for another hamster yet. We had fun watching them all play and eat and explore after reading about Frederick.
If you aren't familiar, Frederick is a delightful mouse created by the gifted storyteller, Leo Lionni. Frederick is a unique little field mouse with a penchant for looking at the beautiful parts of life and holding onto those memories until just the right moment.
A perfect book for little ones, this story also covers a habitat and food sources common to wild mice in a way that is a gentle introduction to preschool and early elementary ages. This introduction often leads to more questions and exploration so we have included some notebooking pages and other resources for further reading below. This site has many interesting facts.
Because Frederick is such an artistic Mus (that's the genus for a mouse), we created a lovely watercolor bookmark in his honor. The directions for that and a tutorial video are just a bit further down the page. Leo Lionni crafts are always favorites around here!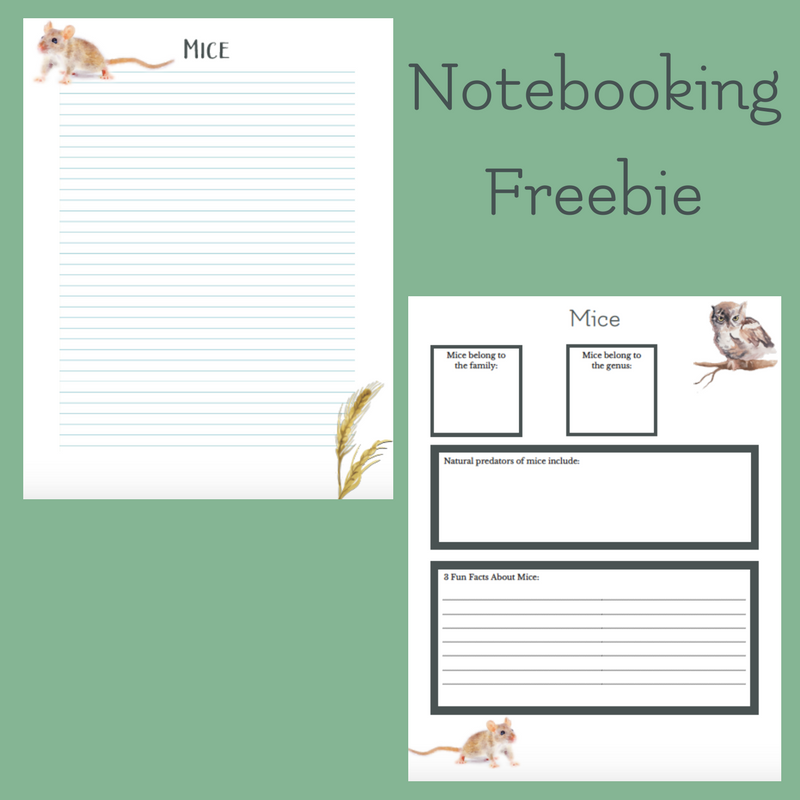 We made a simple but fun set of Mice notebooking pages which you can grab here:
[convertkit form=2290169]
Be sure to check your email (and spam folder just in case) to get your download!
Resources for further study and reading on mice:
 About Rodents: A Guide for Children

 Fantastic Facts About Mice

 Woodland Creatures

 The Tale of Despereaux

 Poppy

 The Gruffalo

Create a Watercolor Bookmark for Frederick by Leo Lionni Activities
To create your own awesome watercolor bookmark, you'll need the following supplies:
Frederick by Leo Lionni
Watercolor paper
Scrapbook paper for backing
Watercolor paints
Archival Ink pen
Brushes
adhesive for the backing
Creativity!
 Frederick

 Watercolor Paper

 Scrapbook Paper

 Inktense Blocks

 Micron Archival Ink Pens

 Watercolor Brushes

 Adhesive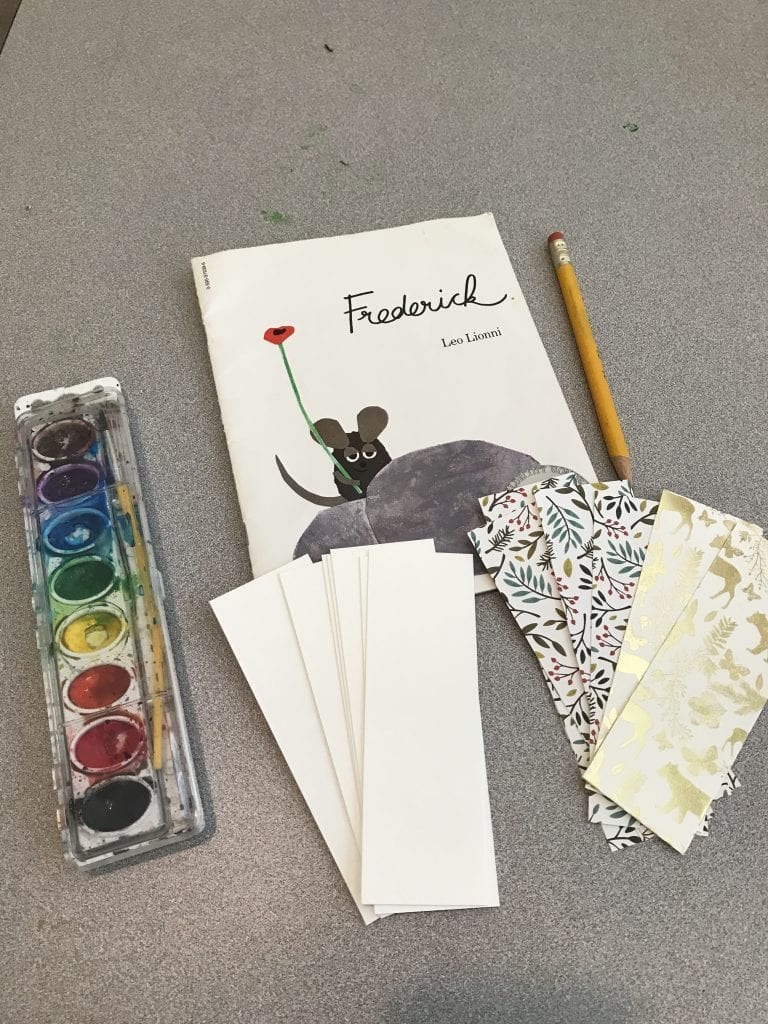 To begin, you need to cut your watercolor paper and scrapbook paper into 2 inch by 6 inch strips. You can do them larger, but going smaller makes it difficult for little hands to make detailed pictures. For our scrapbook paper we chose a beautiful foiled nature scene piece and a piece covered in whimsical greenery from the huge selection at Michael's.
Watercolor paper is important! It's very heavy and created to keep the watercolor where your child paints it. This is also excellent practice for nature journaling. * If your child gets easily frustrated trying to copy nature, having them copy less refined illustrations that are still realistic is a good way to gently work on their drawing skills and build confidence at the same time.
Next, have your children choose the image they would like to recreate from the storybook. Let them sketch that out on their watercolor paper with a pencil. Remember that it is about the process, we aren't trying to get it perfect!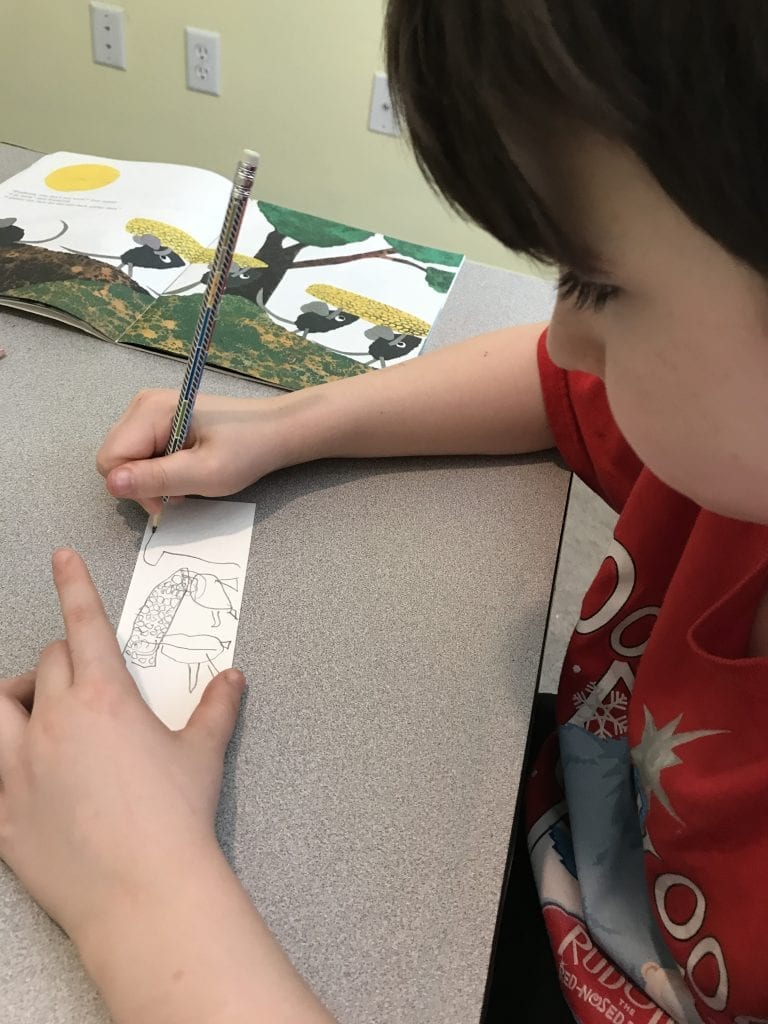 If they need to erase something, use a rubber eraser as gently as possible! If the fibers of the paper get damaged from erasing, the paint will soak in differently in that spot. When they are satisfied with their drawing, it's time to paint!
If your child is older and wants to add a quote, it is best to pencil that in before painting and to fill it in with ink after the paint is dry.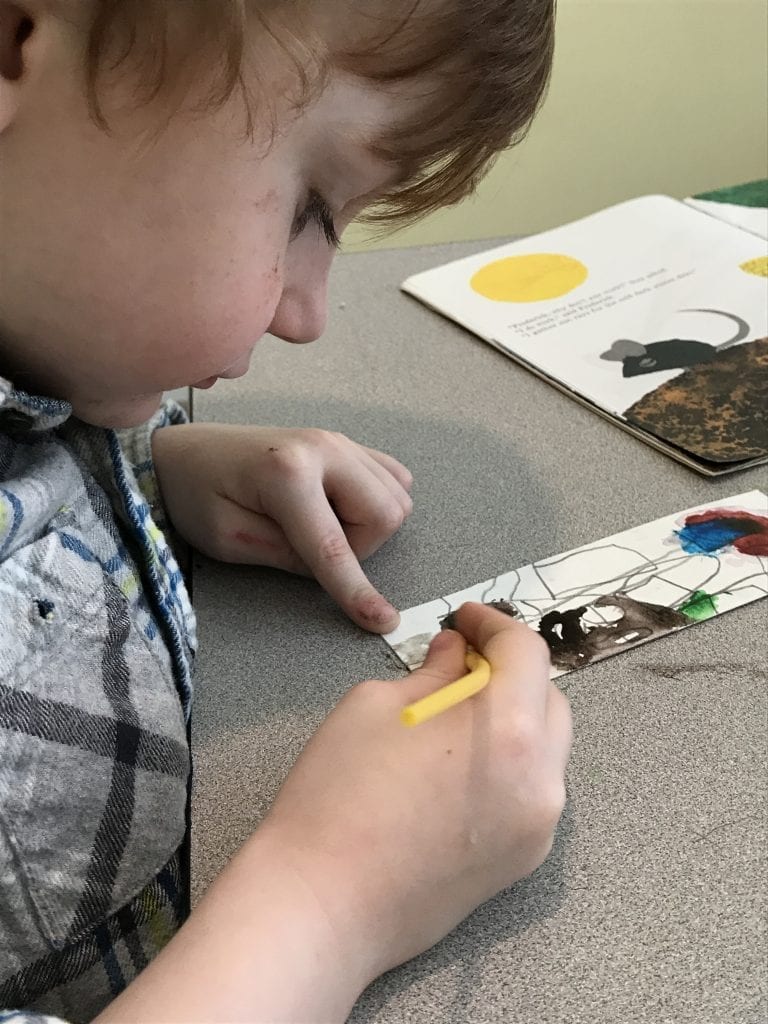 After the painting is finished, leave the bookmarks to dry for a little while. When they are finished drying, add your ink if you choose to do so. Then use your adhesive to attach the scrap paper backing to your bookmarks.
If your kids are rough on things or you just want these keepsakes to last, you might consider laminating their bookmarks prior to using them.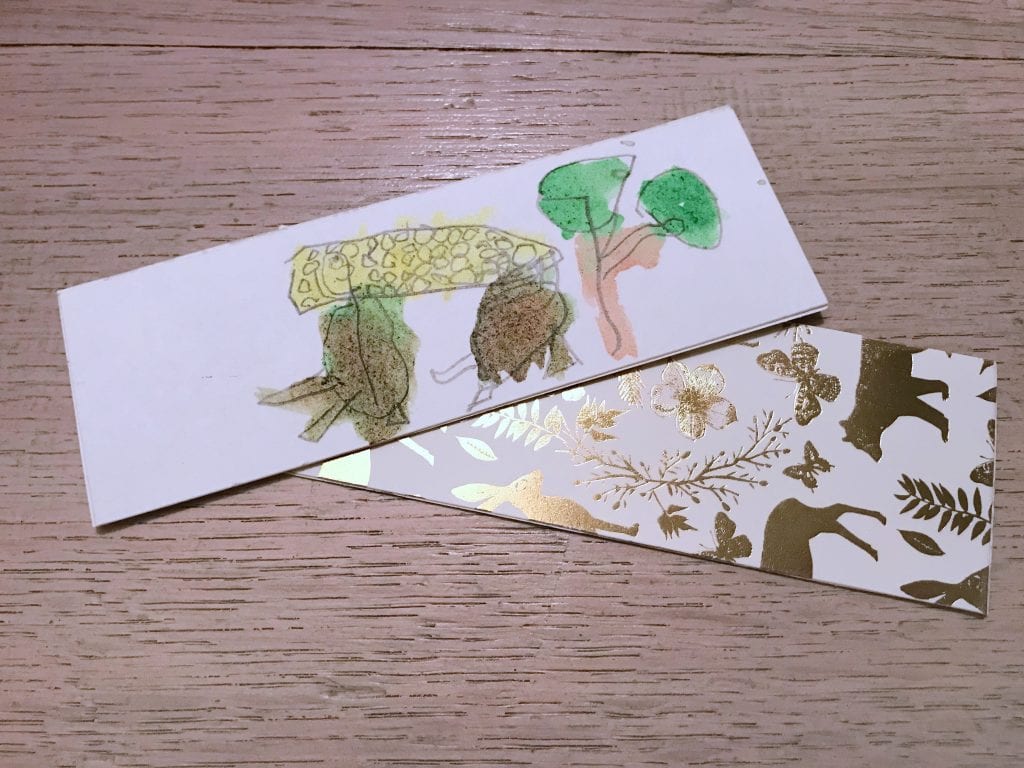 Be sure to share your bookmark art with us!
The Nature Book Club Linkup
Party Rules
Choose an engaging nature book, do a craft or activity, and add your post to our monthly link up.
The link up party goes live at 9:00 a.m. EST on the 20th of each month and stays open until 11:59 p.m. EST on the last day of the month. Hurry to add your links!
You can link up to 3 posts. Please do not link up advertising posts, advertise other link up parties, your store, or non-related blog posts. They will be removed.
By linking up with us, you agree for us to share your images and give you credit of course if we feature your posts.That's it!
Let's party.
Squirrel Nutkin small world play from Small Worlds Preschool
Our Foray Into Squirrel Taxidermy from Eva Varga
Nature Walk: Looking for Tracks from Handbook of Nature Study
Arctic Ground Squirrel Lapbook from Tina's Dynamic Homeschool Plus
Beaver Habitat Building for Kids from Rule This Roost
Good Reads for Fun on Groundhog Day from The Playful Scholar
Meerkat Post Art Activity from Wind in a Letterbox
Easy Watercolor Squirrel Activity from Table Life Blog
Stellaluna Online Book Club from Hide the Chocolate
Beatrix Potter Artist Study printables from Erin at The Ususal Mayhem
Enter to win a Kids Spring EcoJournal from Toni Albert here: