Exciting News: Stitch Fix Has an App! (the fashion for fall is below!)
I just adore Stitch Fix! I tried to take my boys shopping for a purple blouse recently and I was reminded about just how amazing this service is! (No, I didn't find a blouse and I may have lost my sanity by the time it was over.) Getting your Best Fix just got easier, too. I just love these people. Tina (my SSFF – Stitch Fix Stylist Friend Forever) is awesome at finding clothes that are just perfect for my mom-of-two-works-from-home-but-not-always-at-home life. The customer service team is incredible. The tech support is awesome. The collection of affiliates are all so friendly toward each other. It's just a great company and service. Period.
And now there's a Stitch Fix app! You can (and should) add a profile picture, too, so your stylist has even more information and can see the person they are styling. So cool! Here are the details:
– Introducing the Stitch Fix app, exclusively for iPhone. More personal and easier than ever. It's everything you love–now, at your fingertips.
– Easy access to your profile makes sharing notes and feedback with your Stylist effortless.
– For the first time ever, Stitch Fix has profile photos. With the app you can upload a profile picture to share with your Stylist so your Fixes are even more personalized.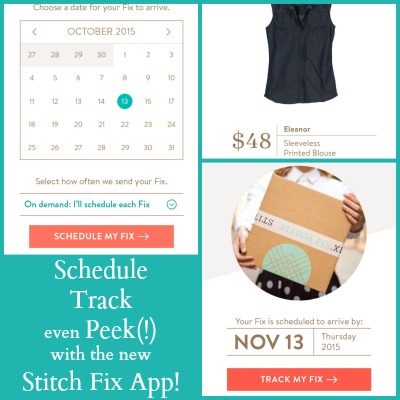 Fall Fashion with my (mostly) Stitch Fix Closet
I just got my 8th Fix in September! It was completely amazing and the leggings. Just wow! You can see Fix 8 here. So at 5 pieces per fix that's 40 pieces of wonderful clothing I haven't had to try and drag the boys through stores to try on. No, I haven't kept all 40, but I have had several boxes where I kept all 5 pieces. I did let go of 40+ pounds so I needed new clothes. Now I'm just finishing out my wardrobe so Fixes are not as frequent. <- Insert sad face here because Stitch Fix is awesome and cheaper than therapy. 
Anyhow, I decided to help myself with the ever lingering "I don't know what to wear" issue and proceeded to flat style my fall wardrobe. If you constantly have this issue, I can't recommend trying out this method enough. I was able to figure out what went with what, down to the accessories, what pieces I loved and had forgotten about, and what odd pieces I could get rid of because I either didn't love them or had (for real) nothing to go with them. My closet is now organized, refined, and I know how many outfits I have. #WinningMomStyle.
I'm sharing some of my favorites here with you. See something you love? Pin it to your Pinterest style board and don't forget to personalize the note so your stylist knows what you love about it. Also, Stitch Fix is dipping it's toes into the world of shoes. I can't even. I'm so excited!
First up, my beloved Market & Spruce (a Stitch Fix house brand) Corinna Dolman and Kut from the Kloth Maribel Distressed Straight Leg jeans. The pink loafers are from Payless and the cuff and necklace are from Stamped with Truth. This is a staple outfit. Comfy, easy to care for, holds up to my two boys, and it looks great!
Having a go-to outfit (or 3) for everyday wear makes pre-caffeine dressing much more tolerable. It also eliminates the "I don't know what to wear" issue if you have a few outfits that are pre-styled.
This is my networking and night out favorite. I love my 19 Cooper Jazz Embroidery Detail Blouse from my Date Night Fix eons ago. The black skinny jeans are Mavi Alexa (another Stitch Fix favorite) jeans, the aubergine blazer is a gorgeous velveteen from Gap brand. Every woman should own a pair of leopard print heels. They are a "dress up anything (with a bit of sass)" item that needs to be in your closet. The earrings and crystal bow bracelet are both Charming Charlie pieces and they go with multiple outfits I have. This outfit with a different blazer and shoes has a completely different feel, which makes it an awesome staple set.
Having 3 or 4 key pieces that can be interchanged with multiple outfits keeps your closet manageable and eliminates "losing" pieces because they get shoved to the back.
Here are the Kut Maribel Jeans again. I should mention the top distressing is not reinforced (though I have plans to because my 3 year old like to "pick" at holes) but the knee is. They are also incredibly soft. The ivory burn out striped henley is Loft and the booties are Soda brand. The scarf is a favorite, but I really don't remember from which online retailer it hails. I know it must have been online because I purchased it after having Mr. F, and I've avoided shopping like the flu since then ;), hence my love of Stitch Fix. Another easy outfit I can warm up with a jacket or cool off by taking away the scarf.
Fall outfits are the best excuse to layer. Have fun with your accessories. A good quality, beautiful scarf can work magic when you feel like your fall wardrobe is less than jumping-in-a-pile-of-crunchy-leaves-awesome.
The Mavi Jeans again. They really make a girl feel good about her behind, if you know what I mean. The blouse is from Fix 8, the Fun2Fun Covelin Cut Out Back blouse. My Clarks booties, good boots are worth their weight in gold. Gold accessories for the warm red blouse and my favorite neutral gray/black and white wrap scarf. It looks great with my black leather jacket, too.
Jewel tones look great on everyone! Not the same jewel tones look great on everyone, I have always wanted to wear emerald green without looking like I have a serious case of jaundice, but I can wear ruby reds and amethyst purple and I love those colors for fall and winter! Find your jewel tones and have at least a few pieces in those colors. They really dress up a wardrobe!
This may be the ultimate winner. For starters, the Kut Marible jeans are ridiculously comfy which is why they keep popping up in my outfit selections. Second, the Market & Spruce Corby "Merci" knit top is soft and adorable. Third, the vintage Aigner leather jacket (it was my moms in college, ladies) is incredible. The color, the finish, the lining was replaced late '80's so it's in good shape, and it's comfy. Best. Jacket. Ever. I also love the contrast of the burgundy leather with my moss green pashmina. Finish it off with my Soda boots, and it's fall perfection.
Pops of contrasting color keep your outfits interesting and on point. Don't be afraid to try new combinations. If you need some help with color, The Style Note has a great post here.
Preppy adorableness. I love this outfit! A soft pink sweater, my Pixley Hanneli Swing Skirt, Bay to Baubles Tamra gemstone necklace, and tall boots.
Swing skirts and tall boots are a great combo. If your swing skirt feels a bit short for breezy fall days, then add some tights. Chunky sweaters are a great contrast for swing skirts, too.
Statement necklaces are a wonderful addition to sweaters. Try it out for a fun new look!
My favorite Gabe maxi and Fate Skrilly top. I've also styled this skirt with a fitted tee and a medium gray cardigan. Maxi's are very versatile and I love bright color, even in the fall and winter. Just because it's dreary outside doesn't mean your closet needs to feel dreary, too.
Maxi skirts are perfect for fall. Add a sweater, long sleeve tee, scarf, knee boots, etc. and you can make a maxi into a favorite fall piece, too.
And those are my tips for having a fabulously fashionable fall. Mom life, and all. What's your favorite fall outfit or color?
If you haven't tried Stitch Fix yet, you can sign up here!