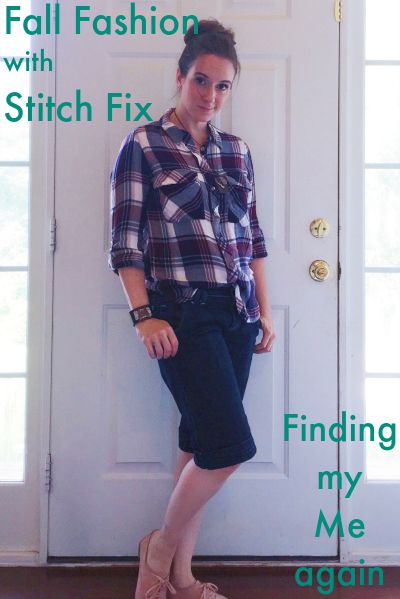 Hey! So I've been slacking on gushing to you about Stitch Fix. With summer fun and homeschool officially beginning again around here, I've fallen behind.
Finding my Me again
Before I get into the fall fashion fun or fixes 6 and 7, I have to tell you something incredible that has happened over this summer. I've been learning how to focus on me again. Not all, or even most, of the time, but enough that I'm not feeling neglected and like I'm drowning. I'm learning to say no. I've also learned that as much as I love my workout time, and it is "me" time to a degree, it is not enough. I need time to write, to paint, to soak in good books, to play in my garden dirt. I don't need copious amounts, but I am learning that an hour or two a week is just as good for my soul as jamming out to praise music while I'm walking.
The changes are gradual and small, but I'm reclaiming my sparkle. The pieces of me that make me unique. The little glints and glimmers that God put in me to make me special.
As mothers, we often focus so much on our families and on homeschooling that we neglect ourselves to the point we lose our spunk. And those gifts, even in a season where we can't use them as much as we'd like, are gifts that we need to nurture just like we do for our children.
Even if it's only an hour painting class every month, take that time to refresh yourself.  Get that Stitch Fix box and a latte and lock yourself away to play dress up for a solitary hour or make it a party and invite some girlfriends over for a group unboxing. Schedule that girl's afternoon/night and don't, for the love of chocolate, feel guilty for taking a little time to fill up your own tank. If you run on fumes long enough, your engine stalls and quits because there is no fuel left to ignite the sparks that make you go. Your car engine will do the same 😉
By investing small amounts of time in myself, I'm also remembering that I love clothes and fashion and well-applied eye liner. Oh, and shoes. I also have a bit of a spunky side that likes to come out from time to time. And it's showing. Yay! Now on to the fashion fun!
Box 6 contained Kut from the Kloth Sienna Red Capris, 41 Hawthorne White Filbert 3/4 Sleeve Popover Blouse, Turk Bow Back Top, Melissa Skirt, and Skrilly Lace Shoulder Knit Top. The white Filbert has gorgeous tulip hemmed sleeves and beautiful hem detail. It goes with everything! I've actually got a black one pinned because I love it so much!
I kept it all because it was more economical even though the Turk top was huge on me and I sold it since customer service wasn't able to do a size swap. I also learned a valuable lesson. While some things outside of my comfort zone I love, I need to follow my first instincts as to whether or not I think I will really wear them.
The red capris that I just loved eventually got sold with the tags attached (I have a hard time wearing red), as did the Melissa skirt which was awesome, but not a print I felt comfortable wearing. Lesson learned. If it's not my usual style but I love it and love how it makes me feel, then I keep it. If it's not my usual style and I love it, but not on me, then I need to send it back. 
The Fate Skrilly Lace Top is awesome! When it first arrived, though, it had a serious hi-lo hem and the clinginess of the fabric made me not love how the back looked. But it's the kind of knit that you don't have to hem. So I took my rotary cutter and "hemmed" the top to the length I wanted 🙂 It also goes beautifully with my Gabe maxi (from Fix 5) that I practically live in. (I should also give credit to my amazing 5 year old photographer who randomly takes pictures of me now every time he finds my phone.)
Fix 7 fun!
Bay to Baubles Tamra gemstone necklace. Kept. It's very versatile and it isn't a huge statement piece. I love how it's so feminine and the sparkle is a plus!
Dona lace top and Mavi Mylee Tulip Hem Skinny Jean. The top was a no. The idea and color are great but the actual cut of the hem went up really far on the sides and there was no way I could maneuver mommy hood without showing my tummy. The drape of the fabric was also a little off. I was really sad about it because the blue color and lace were just lovely, but ces't la vie. The Mavi's went back too. If all 5 pieces had worked, the discounted price would be perfect but I generally won't do $98 for pants. Although the tulip hem made it really tempting! How cute is that?!?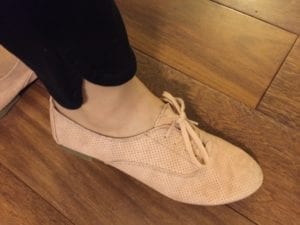 Brixon Ivy Calley Crochet Pencil Skirt. This is a pink skirt with an ivory crochet overlay. I love skirts and have been wearing more of them. This one is just fabulous. It's feminine and a great neutral so it goes with lots!
The Ivy+Blu Mario dress. I sent it back because I just don't wear that many dresses. I will not lie, it was painful to put it back in the envelope. :'( The neckline, length, fabric, and oh my goodness oversized polka dots! Just stunning. But knowing I don't wear dresses, I couldn't justify spending the closet space or $98.
Fall Fun with Stitch Fix Fashion
The Hanneli Swing skirt is still a favorite. And this Market & Spruce Corby knit top was a Stitch Fix BST board find. I'm all about skirts and tees. It's a fun and functional "hip homeschool mom" look that I'm quite happy with.
If you aren't familiar, there is a massive Buy/Sell/Trade board on Facebook for Stitch Fix items. Why is this important? Well, there are only 5 pieces in each fix. There are older but awesome items Stitch Fix doesn't have in stock anymore. You can't pick specific pieces you've seen on blogs and even if you request them, you aren't guaranteed. Like the Turk Bow Back top above, Stitch Fix may not have a different size if an item you love from your fix doesn't fit quite right. All good reasons for your closet, perhaps not so good for your wallet, to join the board and see what you can find.
My Fall outerwear. I may have a thing for moto jackets. The denim is fun and the Akio is still my absolute favoritest ever in the whole world purchase from Stitch Fix. I'm itching for cooler weather so I can wear it again.  I also have a gorgeous vintage Aigner leather driving jacket that was my moms, but it need the lining replaced and I'm not that kind of seamstress. I have to find one stat. Every girl needs a little vintage leather in her life.
Blazers. Oh how I love thee. The navy with contrast lining and the pink I wear often. They both go with the majority of the tops in my closet. The purple is amazing and is a cotton velvet type fabric. I only have one or two tops that really "go" with it, so if you are reading, Tina, I could use one more! 🙂
My 3 favorite shirts. The Corby, my McQue lace sleeve blouse, and my Sugarlips Reba blouse. The first two get worn a lot. The Reba is such a gorgeous color, but it's dry clean so it's special occasion only.
The Staccato Plaid Blouse (another Stitch Fix BST find) is soooooooo soft! It goes so well with my DKNY bermudas. I still can't believe I was anti-bermuda. They are absolutely shorts for people who don't like shorts. I will be living in this top for fall fire nights and (shudder) camping. Which I promised my sweet hubby (the Eagle Scout, so no "glamping" allowed. For real, I'm talking about tents and bugs and rocks, oh my!) that we could do this year. The navy and purple is just gorgeous. I could absolutely go for another of these shirts!
I also acquired a teal Colibri blouse from the BST page because I don't normally wear this color and wanted to see how it looked without spending a request on it. I do love it, but not enough to want another shirt in this color. The Kut from the Kloth Kate boyfriend jeans I sent back with fix 4, I ended up getting a pair online after I lost a few more pounds and the lower mid-rise wasn't such a big deal with my mommy pooch. But without Stitch Fix, I never would have considered them.
I will continue wearing the Mystree Dia Lace Top with jeans and boots until it falls apart. It's so pretty and feminine! I wore it for our family portraits a few weeks ago. Which turned out super cute, if I do say so myself.
For Fix #8, I've asked for some edgier pieces and I can't wait to see what sort of goodies Tina sends this time! Have you tried Stitch Fix yet?