Do you have a lover of inventions or perhaps a Tesla wannabe running around your house? We love studying inventors and inventions. Mr. T has become completely enamored with electricity. He spends hours building Snap Circuits, we are reading aloud from Nick and Tesla's adventure series, and he helps Mr. J every single chance he gets to work on wires, computers, fixing things around the house, etc.
I'm about as electrically proficient as lead. I needed help finding projects to do for my hands-on learner that were at his interest level but that I could still assist with if needed since he's 6. If I could find a subscription it would be even better. What we found – EEME. And it's perfect!
Disclosure: We received this EEME kit for review purposes and I was compensated for my time. All opinions are my own and I was not required to post a positive review.
EEME STEAM Projects
Here you can see the LED circuit, which was the first part of the project. It took Mr. T no time at all to follow the video lesson and get this built. He was delighted and it gave him plenty of confidence to try the Genius Light with more wires.
About EEME:
EEME makes hands-on projects and FREE online lessons to teach kids electronics – to foster their curiosity for how things work and prep them for the STEM opps of tomorrow.
Each project kit is paired with online curricula to not only show your family how to assemble the kit, but more importantly, teach them how it works.
We also have FREE interactive online lessons to teach your family the fundamentals of electronics.
How EEME works:
EEME has standalone projects like Project Amp that are more complex. The Amp kit comes with everything you need – all the components plus wires, batteries, etc. to start building and learning.
We are using EEME's monthly subscription. (There are two different price point plans available.) Each month's project builds on the previous month's knowledge and interactive quizzes, questions reinforce kids' understanding of the why's and the how's. EEME's goal is to provide a curricula that will teach kids the fundamentals of electronics, while fostering their curiosity and critical thinking skills. Like the creative skills this young scholar used to create the LEGO Reed Switch when a reed arrived broken. So cool!
What we learned with our first EEME box:
The EEME Lessons are built perfectly for pausing and breaking up into multiple segments. You can't tell from his intense expression, but Mr. T really loved the video lessons. Being able to pause the video while he shaped and put together the wires was perfect.
All about the breadboard parts – buses and terminal.
We built an LED circuit.
Mr. T can summarize how a circuit works.
What a resistor is and what it does.
What a photoresistor is and does.
How to build a Genius Light.
Even mom can learn how to build a circuit and how it works!
See our Genius Light below!
Additional Learning Opportunities with EEME
EEME has lots of fun free lessons online! And then there are the awesome project box extension activities on the blog. Like making a lemon battery for the Genius Light! We've got lemons on the grocery list and Mr. J is picking up the other supplies at Home Depot so we can try this one out this weekend. Check for an update next week on Instagram! How fun does that look?!?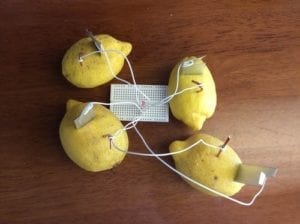 Connect with EEME: