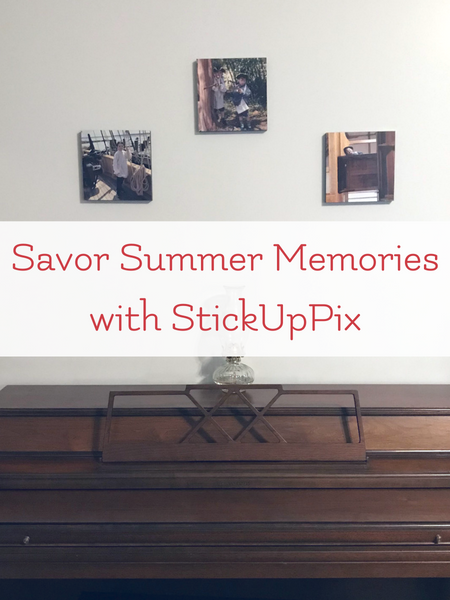 Photo Printing Day Dreams
I have a picture problem.
There, I said it. Like most moms in the iPhone generation, I have thousands of adorable pictures stored in the cloud. Thousands.
And I have the best intentions of getting them printed and put in frames, or at the very least in a random photo album the boys can pull out in a few years and giggle over. Really, I do mean to.
Please tell me you can relate?
All those adorable pictures of red-stained children grinning and eating/picking strawberries in those delightful country fields, the field trip photos from historical towns, the adventures at the aquarium when they sat too close to the dolphin tank, and the day the gorilla at the zoo was posing behind them are all in the cloud. But not on the wall where they really do belong.
So what's an iPhone mama to do?
Enter StickUpPix!
Disclosure: I received a set of StickUpPix for review purposes. I was compensated for my time. I was not required to post a positive review and as always, we only recommend products we love that we think you will, too! 
StickUpPix by Murals Your Way is a fantastic new app and printing service that allows you to choose photos straight from your iPhone and have them printed on fun 8×8 squares that you can stick to your wall, move around, and rearrange all you want!
Memories We Chose
If you follow us on Instagram, you know our family has a love of history and Mr. T is especially enamored with the Revolutionary War. We've been to Williamsburg twice within the last year and the most recent trip we also visited Jamestown historic settlement.
The boys had the most amazing time dressed as little colonials. And we got some of the best pictures. That were still on my phone.
Yes, I can't even get the most adorable ones printed.
Until I added StickUpPix app to my phone.
And then I chose this one: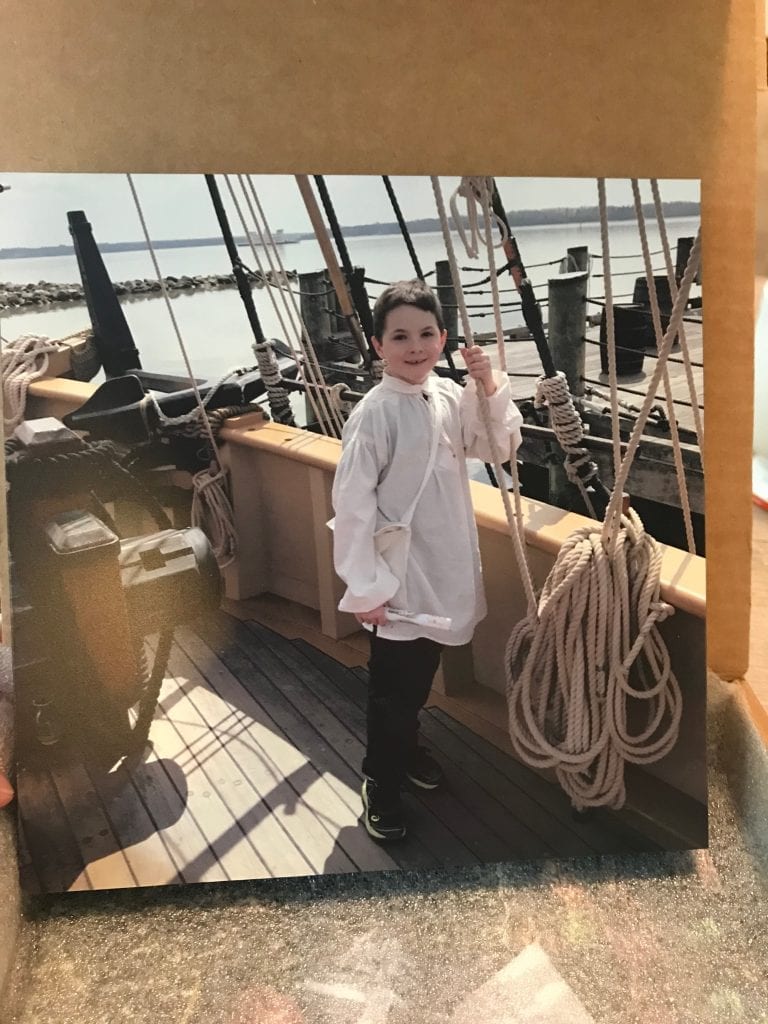 And this one: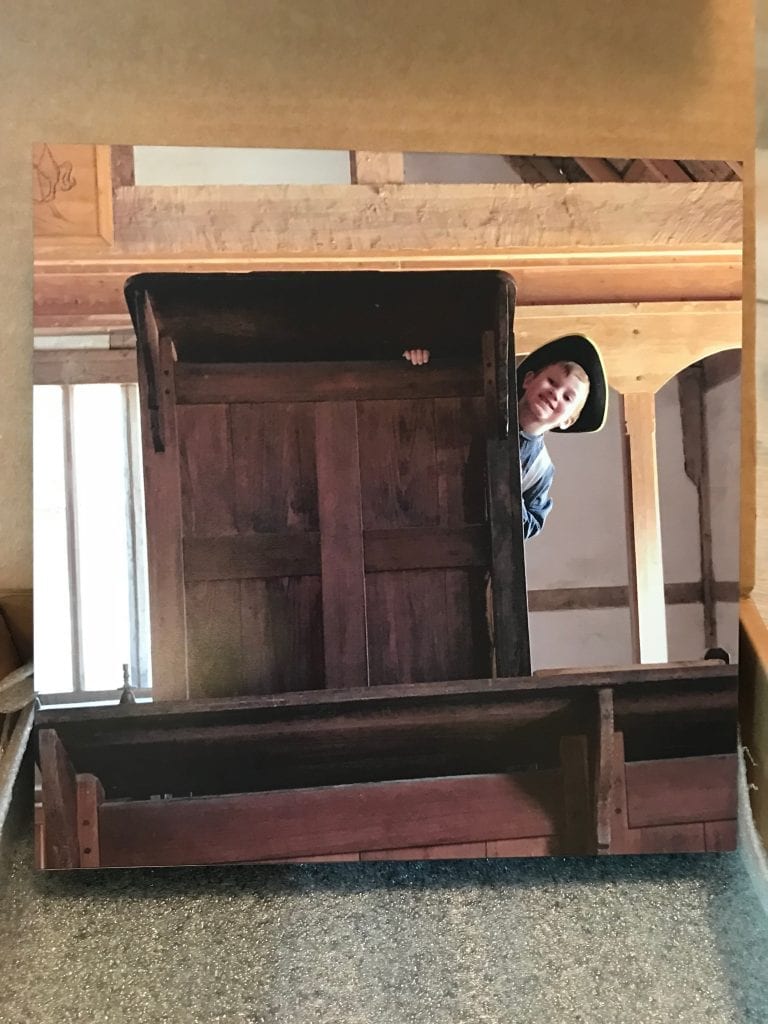 And finally this one: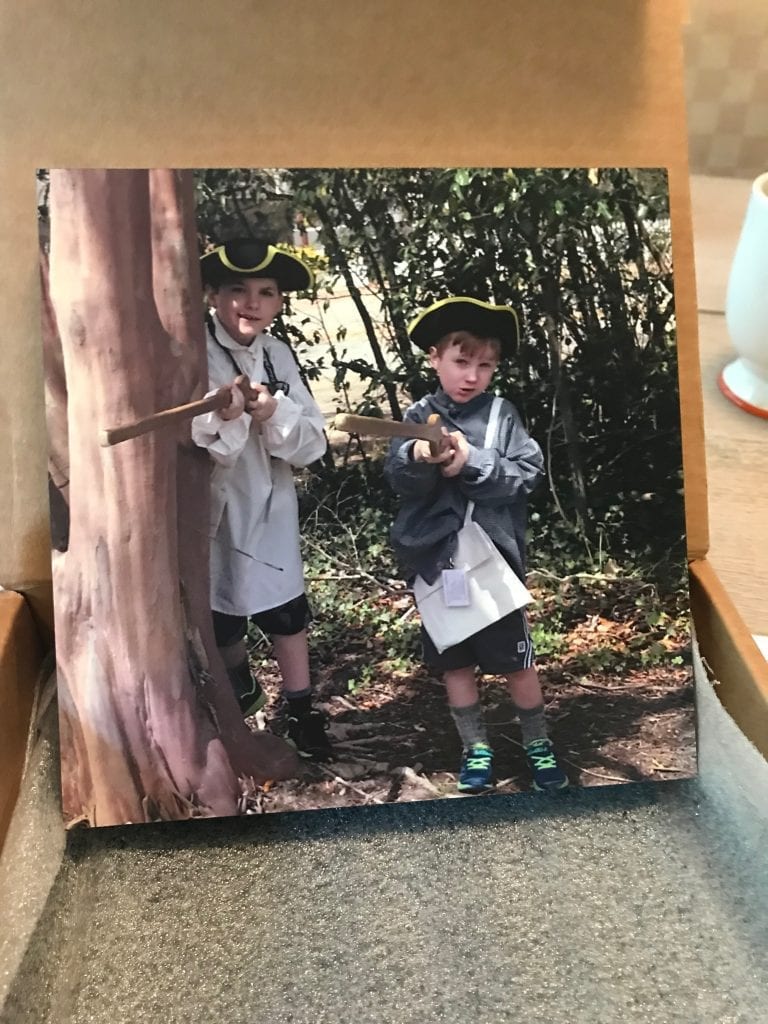 These made up my first set of 3, only $49! After the first three it's only $9 per additional square so you can literally have an entire collage of fabulous prints for less than it costs to have 1 professionally framed.
It took me less than 10 minutes, y'all! Downloading the app, choosing the photos and placing the order. So incredibly easy.
It took just over a week for them to be printed and at our house. I was a little surprised at how light the box was. Never having dealt with gatorboard before, I didn't know it's literally feather weight.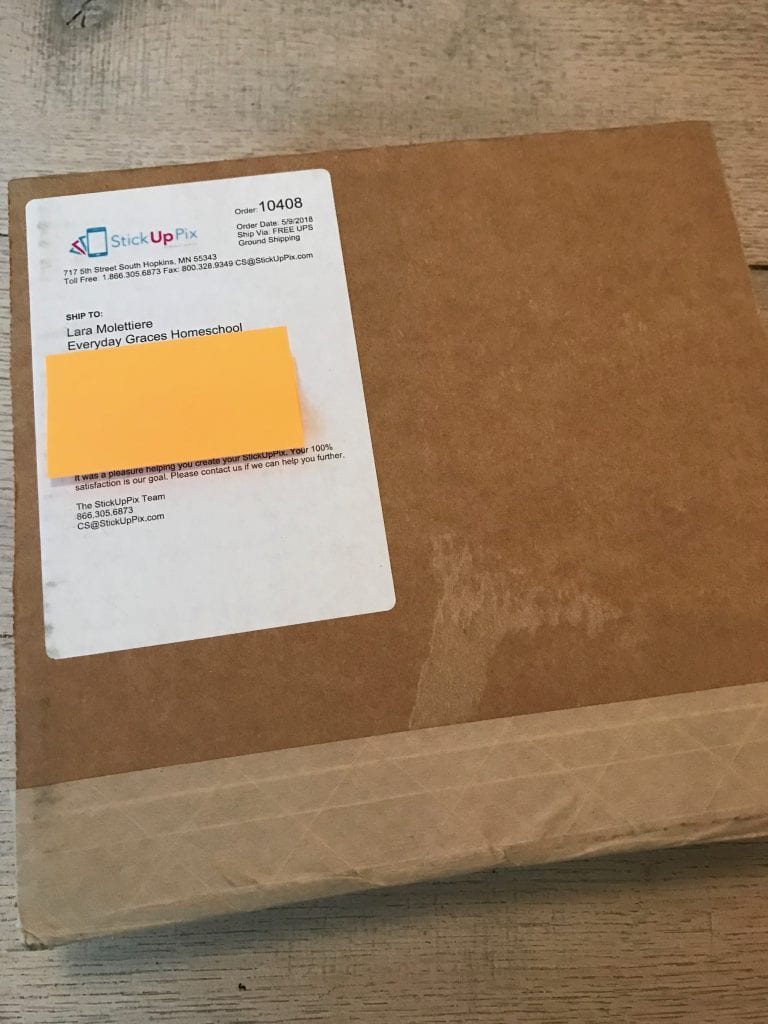 As you can see in the photos above, the finish of the tiles is flawless. They look and feel professionally printed and very chic. The sticky dots are easy to work with, too.
How easy? Well, if you'll notice in the picture below, the photograph on the right is sideways. Yes, I had had coffee, just not enough.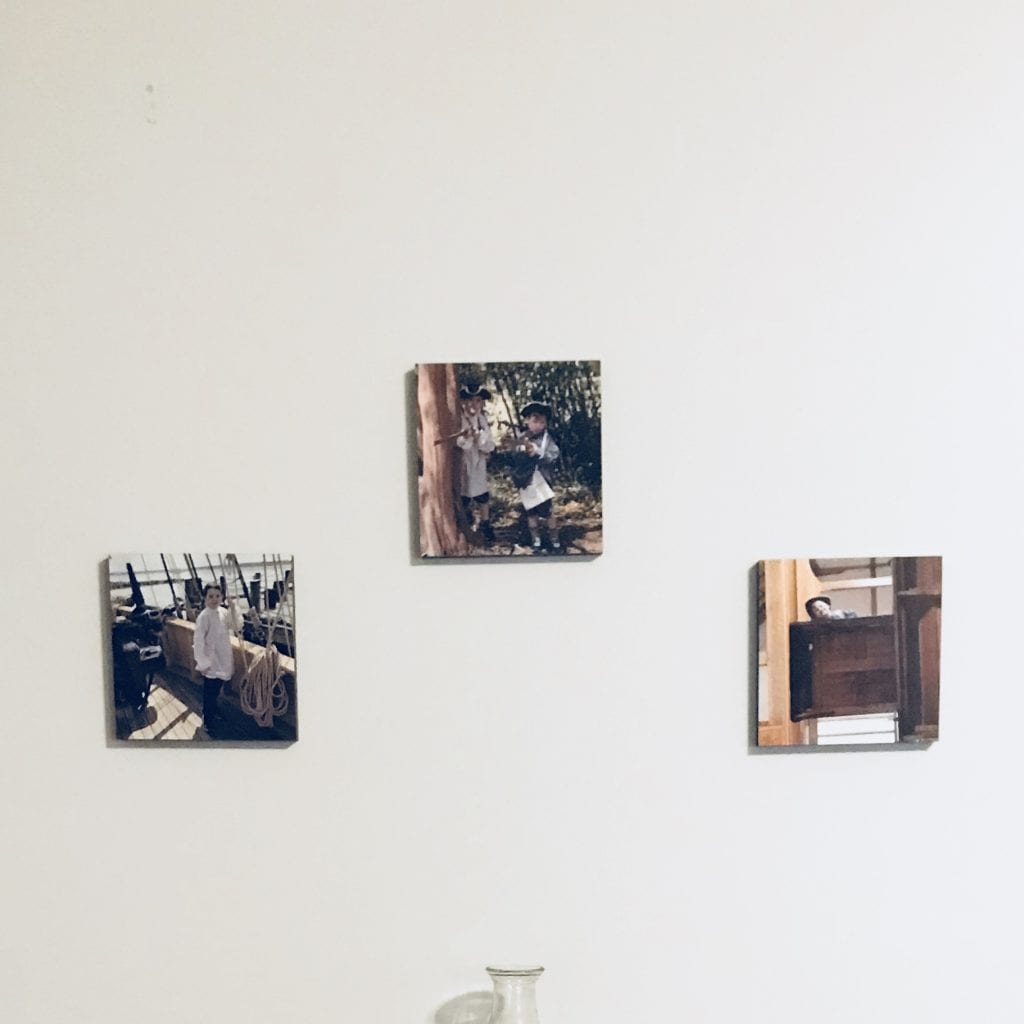 And I didn't like the placement with the one in the middle higher up. So I fixed them.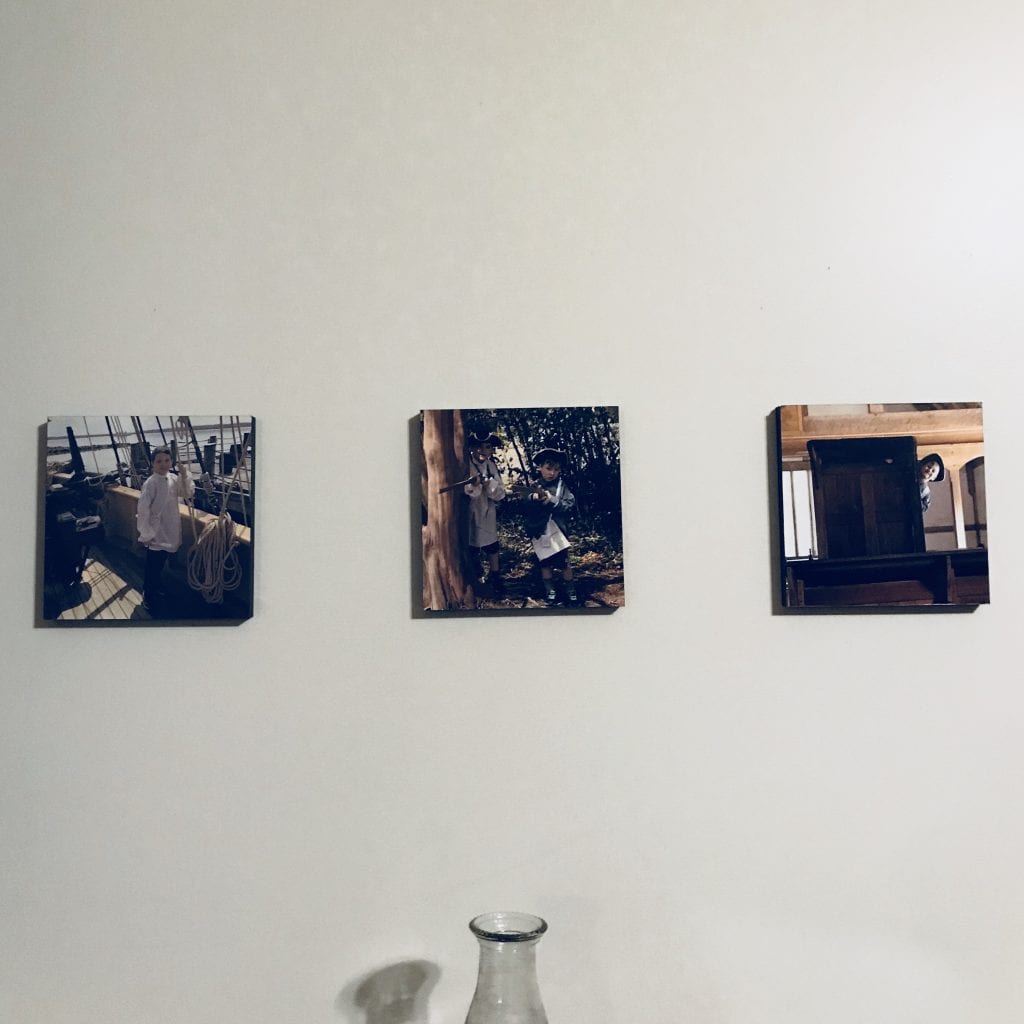 Much better, right! But I really think I'd like to add 2 more sets.
Now for the downside, one sticky dot out of 8 (I only moved two of the pictures) took a little paint off the wall. But I'd have to spackle and sand and paint over a nail hole, too, and since the others did just fine, I don't think it's a big deal (and it could be because our builder used awful paint and what we put over top was so light we only used one coat. Who knows?).
I think StickUpPix it absolutely worth trying out. It would also be great for families living in apartments or getting their house market ready to sell. You still have art on the walls and no holes to deal with.
Ready to try StickUpPix out?!? Use the code EverydayGraces20% to get a special discount on your first order!
What is StickUpPix?
StickUpPix is an Apple iPhone app that enables a customer to quickly and easily order 8"x8" photo squares using the photo library on their phone.
TLDR StickUpPix in a nutshell:
Quick
Easy to use
High quality photos mounted on ¾" thick gatorboard, which is a lightweight but more durable than foam core board.
The photo squares can easily stick to and be removed from walls with no damage using the sticky dots included.
How much is shipping?
UPS Ground Shipping is free to the 50 United States.
Do you ship internationally?
No, StickUpPix are only available in the 50 United States.
What are the dimensions of a StickUpPix?
StickUpPix are 8 inches by 8 inches and 3/4 inch thick.
How do StickUpPix adhere to the wall?
Each StickUpPix has four sticky dots that are made to easily attach to any smooth, painted surface without damage. StickUpPix can be moved and rearranged over and over again.
How quickly will my order arrive?
Most orders should ship within 5 – 7 business days.
Can I choose Rush shipping?
No, StickUpPix are only available via UPS Ground shipping for customers in the United States.
Can I modify my photo for printing?
Yes, click on any selected image to zoom in or out as well as focus in on one part of the picture. StickUpPix will print exactly as you see them in the app.
Can I apply filters and other settings to my photos?
Yes, use any photo app to modify your image. Then save it to your iPhone photo library.
What is the minimum resolution for my photo?
A minimum of 800 x 800 pixels. The StickUpPix app will let you know if your photo doesn't meet our minimum resolution.
What is StickUpPix mounted on?
Your photo is mounted on Gator Board, a black and very rigid poly surface. It is moisture- and warp- resistant, unlike foam board which is foam covered with lightweight paper stock. Gator Board is an extruded polystyrene foam encased between layers of a melamine and wood fiber veneer.
Try StickUpPix now! Use the code EverydayGraces20% to get a special discount on your first order and let us know on Instagram what adorable pictures you finally had printed by using #lovestickuppix to show off your new photos!