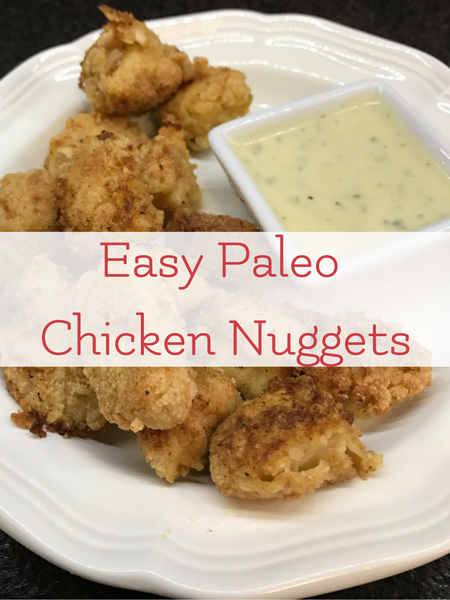 Easy Paleo Chicken Nuggets
Have you ever had the glorious experience of a Chick-fil-A chicken nugget? Fried to perfection, tangy, almost sweet with a delightful crunchy coating that tickles your taste buds and delights the nugget loving child inside?
Well, my two darling boys have never had anything but the grilled nuggets from Chick-fil-A due to food allergies. Now, the grilled nuggets are good, but they aren't the original. It's a travesty that needed to be corrected.
Because of their (and unfortunately my own) allergies, we eat mainly paleo. Currently I'm in the first week of Whole30, so I wanted something I could eat, too. That is how this delightful recipe came to be!
Here's the recipe and Chef Teddy!
 To begin, you need 1 pound of chicken breast cut into 1 inch cubes. Brining is optional, but does make the meat more tender and moist. You can do this with a salt water brine or, for a copycat CFA nugget, use dill pickle juice. There are a few brands that are
Whole30
compliant and we used Simple Truth brand from Kroger. No sugar, no weird chemicals, and a delightful flavor.
Funny story, if you watch the video you can see Mr. T flinch when he touches the raw chicken meat to put it in the egg wash. He is capable of dicing the chicken, but hates touching it, so I did it for him. It is sort of squishy, so I get why he doesn't like it.
I digress.
After your meat has marinated 30 minutes, drain out the liquid and lay the meat on paper towels and pat dry. You can marinate for up to 2 hours with a saltwater brine, but I don't recommend over 30 minutes for pickle juice. The chicken will taste too much like pickle and be a little tough when cooked.
Next, grab a gallon sized ziplock baggie and mix the flours and spices: 1 cup of almond flour (this one is my favorite!), half a cup of tapioca flour (sometimes labeled starch), 1 teaspoon of smoked paprika, 1/2 teaspoon garlic powder, 1/2 teaspoon onion powder, 1/2 teaspoon salt, and pepper to taste.
Crack your egg into a medium sized bowl and whisk it well. Add the chicken and coat it all thoroughly with the egg wash. Use a slotted spoon or your hands to move the chicken to the bag with the flour. Zip the bag up and shake it well until all the chicken is well coated in flour. *Note- you can do this by dredging small batches of the chicken in the egg wash and coating with flour in a bowl, we just find the bag to be less messy and faster. 
Heat your skillet over medium heat and add in 1/4 to 1/2 cup of coconut oil and sauté half the chicken nuggets at a time for 2-3 minutes per side until cooked through and the coating is golden and crunchy.
Drain the cooked nuggets on a paper towel and serve hot. For dipping sauce, we love Primal Kitchen Ranch (Whole30 compliant) or Honey Mustard (not Whole30 compliant) dressing.
Enjoy!
Chef Teddy Recommends:
 Start to Cook

 Curious Chef 3-Piece Nylon Knife Set

 Curious Chef 17-Piece Measure & Prep Kit

 Curious Chef Kids Child Chef Mitt Set

Don't forget to share your little chef's pictures with #everydaygraces and get our free Kids in the Kitchen Recipe Binder here by adding it to your cart and completing the checkout process. 
[amd-zlrecipe-recipe:10]
Linked up with iHomeschool Network's Teach Kids to Cook linkup.