We share lots of our day-to-day pictures on
Instagram
and
Facebook
. But I have a lot of people ask me how we manage therapy, food allergies, etc., and homeschool. So let me tell you my secret to managing "it all".
One day at a time
. And no, I don't get "it all" done, whatever "it all" is.  So here is a little look into the day-to-day homeschooling here.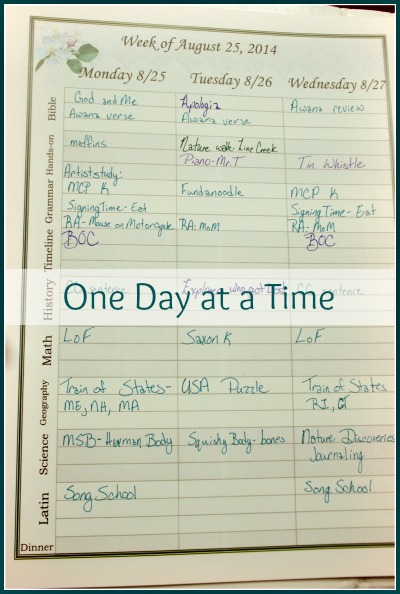 This is an actual picture of today's schedule in my Homeschool Mother's Planner. (And Tuesday/Wednesday) It's all pretty well planned out, and since we are Abecedarians, each subject only gets about 10 minutes except for our
Book of Centuries
, which can take a few minutes extra with drawing and gluing, and the read-aloud (code RA) and that's 15 minutes or more if the boys are still hanging in there with me. Mr. T loves
The Mouse and the Motorcycle
! We really only have an hour and a half to two hours of "school" time a day.  Add in the hands-on fun like cooking and
Kiwi Crate
, nature walks, and field trips, and the boys are getting more than enough guided enrichment each week. They need play time, too!
You can see Signing Time there, which is for Mr. F, who is behind on his speech. When one sibling has Apraxia there is about a 50% increase of a speech issue of some sort in other siblings. We are going back to using more ASL, which is great! I will be incorporating it into Mr. T's lessons as well with flash cards and review sheets as his foreign language this year.  If you've never tried Signing time, rent one on Amazon to check out. They are perfectly wonderful for all little scholars from birth to 9/10.
Our speech practice at home gets worked in to our conversation most of the time now. We do still use a lot of toys for therapy, and we have had a lot of gains from using an actual phonics program.  We count our Monday/Tuesday/Wednesday/Saturday therapy as school time, too. Mr. T also has a dance class on Tuesdays, we have Awana on Wednesdays, and we have community day on Thrusdays if you were wondering about socialization. 😉
We listen to our SongSchool Latin in the car on the way to and from speech therapy on Mondays and Wednesdays. We will work on our Classical Conversations Latin memory work beginning Friday after our first official community day Thursday. (I'm so excited I can't stand it!)
We have small blocks for piano and tin whistle since Mr. T and Mr. F both love playing any kind of musical instrument. We are using Music for Little Mozarts for Mr. T along with some fun key identification stickers. But after a few years of toddler-playing, our piano is in dire need of tuning! Mr. F plays along with our Melissa and Doug band instruments. The recorder is his favorite.
Homeschool Schedule
When it comes to our actual day, it looks something like this:
6:00 am – the boys wake up ready to play. Which they are allowed to do quietly until 7 when mom is ready to get moving.
7:30 am – breakfast, and this varies from day to day depending on how much of a mess we feel like making.
8:00 am – playtime with Daddy till he leaves for work.
9:00 am – Begin doing our actual school work for the day, in whatever order Mr. T wants. Mr. F's learning is all play based so he just does, he's a very active little guy! We take breaks as needed for wiggles, jiggles, and dance parties. We are sometimes able to break for laundry folding, but only in emergency situations 😉
11:30 am – off to the kitchen to make lunch.
12:15 pm – Mr. F goes down for his nap and Mr. T get out his "tinly little" LEGOs or other toys he can only play with when brother is not around. These small pieces help with fine motor skills as well as creativity. I join him if he asks, but leave him to play if he wants quiet time.
2:30 pm – if the weather is not sweltering we take a walk, collect neat things, sometimes take an afternoon field trip.
4:30-5 pm – begin dinner prep.
6:45 pm- begin bedtime prep.
7:30 pm – Mr. F goes to bed (most of the time)
8:00 pm – Mr. T goes to bed (some of the time, he's not a great sleeper, which is common for children with SPD)
8:30 pm – I wind down after cleaning up and get to work here during the week, and on the weekend I plan out our school week.
Not terribly glamorous, huh? But it works and we love it!
Be sure to check out all the other great Day in the Life posts at iHomeschool Network today!