The first official day of Kindergarten for Mr. T. Wow, I can't believe it. Our Classical Conversations community begins the end of August, but we are already doing our school time each day. You can see our Classical Kindergarten curriculum here. My favorite thing right now is Mr. T's imagination and creativity. I love how much he plays. His favorite outfit is his hippotherapy cowboy gear. And he introduces himself as Buffalo T when he's wearing it. Complete with "Howdy ma'am". It's precious to see him blooming, and I wouldn't trade this time for anything. This may be my most favorite photo of him this year!
And then there is Mr. F. My red-headed whirling dervish. He won't hold still long enough for a good picture, so here are a few of his usual antics. He loves to pretend pirate, and he really loves to growl "Arrrrrrgh". Especially if he can chase big brother with his foam sword. His pet cat (don't worry, it's stuffed not real) is one of his favorite animals right now. And he manages to leave a trail of play-time-desruction wherever he goes. You can also see the picture of this year's first official field trip. We visited Daddy at work to see a wonderful Elvis tribute. Mr. T get's a lot of fun theatre time this year! You can tell the show went a little past his bedtime, though.
My goal is to really enjoy this year. To just soak up all the goodness of not having to do a lot of planning because our Classical Conversations Foundations manual does it for me. To play more and enjoy more time just learning with my boys. And to not stress as much over getting things done. This summer I have been astonished at how much Mr. T knows in spite of the copious amounts of time we spend in the car traveling around to therapy, the time we spend in the kitchen accommodating his and Mr. F's diet due to multiple major food allergies, and the time that seems to just fly by so very fast in general. This year, I want to homeschool from a place of rest.
In hopes to help another homeschool family begin their year with less stress, don't forget to scroll down and enter the Bless a Homeschooler giveaway!
This posts linked up with iHomeschool Network's Not Back to School Hop!
Enter the Bless a Homeschooler Giveaway! Several of us homeschool bloggers decided there was no nicer way to begin our homeschool year than by sharing with you, our homeschool readers! One lucky reader will win $500 in PayPal cash to buy new curriculum, fix up that computer, or whatever else your family needs. The giveaway runs from August 18-24, 2014.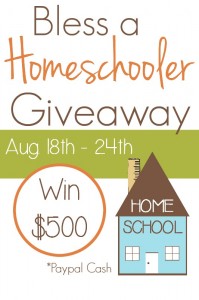 *You must have a PayPal account to win!*
a Rafflecopter giveaway