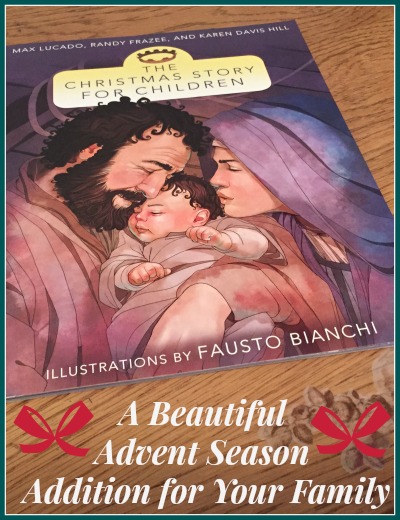 The Christmas Story for Children by Max Lucado
Advent is a beautiful time for reflection and preparation. We adore the quiet of the season that begins just after Thanksgiving. Books, traditions, and being together make this season my favorite!
 Disclosure of Material Connection: I received this book free from the publisher through the BookLook Bloggers book review bloggers program. I was not required to write a positive review. The opinions I have expressed are my own.
The Christmas Story for Children by Max Lucado and illustrated by Fausto Bianchi is a beautiful retelling of the birth of Jesus through His baptism and the beginning of His ministry. The story begins with the prophesy of a King greater than King David. Then you meet Mary, Gabriel, and Joseph. The language is simple and engaging, telling the Biblical accounts through narratives. The illustrations are absolutely remarkable. They add so much detail and drama and are beautifully bright to catch your child's attention.
We have really enjoyed this book are are very happy to be adding it to our Advent collection of books!
Speaking of Advent
Don't forget Advent begins just a few short days after Thanksgiving! There's still time to get the books and supplies for our favorite Advent activities, Truth in the Tinsel! (be sure to check out the printable ornaments, too, for the days when crafting isn't an option!)