How to Teach Early Literacy the Charlotte Mason Way
Listen here:
Lara:
Hello, friends. We are here today with my friend, Leah, from My Little Robins and she's going to talk with us about Charlotte Mason and early literacy, so Leah, would you introduce yourself to us, please?
Leah:
Sure. I'm Leah. I'm a mom of three and I live in Colorado. I think I left teaching about five years ago, but before that, I taught in public schools for seven years, and then I taught in an Ambleside school for two years, and then with more babies on the way, I decided to stay home with my kids and eventually decided to homeschool, but somewhere in the mix of teaching, I got my Master's Degree in Reading Curriculum and Instruction, so now I really enjoy writing about that in My Little Robins and talking about it and just figuring out how Charlotte Mason's way fits in with modern research.
Lara:
That's so fun. Do you find it a challenge, though, that you went from public teaching? I guess that the Ambleside school was probably a good transition to going from public to homeschooling in the Charlotte Mason method.
Leah:
It was, definitely, and that's actually what led us to homeschooling is learning about Charlotte Mason and knowing there was a much better way to educate children than the public school was doing, so it was a long process of letting go, I had learned. When I was in my interview, they said, "Well, this is great. You have a master's degree and you've taught for seven years, so can you forget everything you've learned?" and I said, "Oh, that's kind of weird, but yeah, probably."
Lara:
That's so funny.
Leah:
It was a big relearning process.
Lara:
So you specialize more in the early learning right now?
Leah:
Yes, my kids are young.
Lara:
Your oldest, she's she still Form 1?
Leah:
She's seven, so yes.
Lara:
All right, that's awesome! You're still kind of really heavy in the middle of all the Form 1 and early childhood literacy that's so fun.
I'm sure you are familiar with the concept everybody thinks that Charlotte Mason swears off all instruction until age six or seven. What did she actually say about early learning?
Leah:
She has a couple of quotes that I think I could use and share about this topic, but one thing that I really like to share is that she said that "Children are capable of starting lessons earlier than six or seven, but why would you want to when you can present them with all this living beauty in nature and these living ideas that surround them", so that it's not that we're going to really stunt their development or hurt them if we present ideas to them, but that we already have to present in the world around.
When I think of my little boys who are now in the early years, I think of what ideas can they present and that's a way of teaching, but I'm not specifically doing preschool worksheets with them. I'm thinking about, "What can I show them that will interest them and engage their minds?" and in the same way, Charlotte Mason talked about literacy because she said that even when a child is two, if they're interested in their letters, you can teach them. It's okay to specifically teach them their letters.
We don't need to just watch them and sit silently as they show interest because she said not to teach because she said it was okay that it was interesting to them. That was a living idea that they will be interested in and so we can help them along with that, so it's really a balance of presenting those ideas in a way that's appropriate to a child.
Living books are appropriate, playing with things, that's appropriate, and being in nature, those are all appropriate ways to teach a young child.
Lara:
Yes. When you're talking about early literacy, what did she specifically recommend? What have you found through your research as far as what you would do with your younger children? If you were to do letter lessons and literacy activities with your two and your three and your four-year-old, what would that look like?
 Home Education

 Parents and Children

 School Education

 Ourselves

 Formation of Character

 A Philosophy of Education

Early Childhood Literacy Activities – Charlotte Mason Style
Leah:
I think I alluded to play, very playful, fun lessons, or just ideas of picking up the letter and saying, "Oh, look at this, do you notice the shape?", really drawing their attention to it. "This is an M. Mm, M. What can you think of that sounds like that? Mm," just playful guidance.
But even as they get a little older, they can build words with those letters and that's not reading instruction. She gave a long section that said things that you can do with letters and words and playing with them and building new words and that it's not actually reading instruction at this point, that it's just building up. "It's paving the way," she said, so we had fun just playing with letters and making up words together and when my daughter was that young, my son is not interested at this point, he's almost five and I'm not going to push it, but if he were, too, we would play with the letters and make new words together and that's not reading instruction yet.
Lara:
Right. Now, Charlotte Mason's reading program was basically called "reading by sight." Most of us would be thinking in terms of modern pedagogy when we're thinking sight words and things like that, but she actually had an entire sort of structure where you would start with your nursery rhymes and then build off that, didn't she?
Leah:
Yeah, so for her, reading by sight was looking at a word and memorizing the look of it and the shape of the word and then you have that word by sight, a child would know what that word was, and so she used nursery rhymes at first to introduce those words to a child and because nursery rhymes are engaging and they're rhyming and they're fun.
It was almost like a code they had to crack, like, "I know this word," but they didn't know the nursery rhyme was, so it was a little surprised to discover what the nursery rhyme would end up being, so kind of a fun reason to learn those words that they got motivated and then also just a way to introduce words so that they were reading almost immediately.
It's not like they're going to have to learn 500 phonics patterns before they can read anything with substance, on that first day of reading lessons, they're reading a nursery rhyme and they feel so proud of themselves and so confident, so it's very different than the sight words method, which is probably just a row of unrelated words written on flashcards and then flipping through.
Lara:
Like with all the dolch words, right?
Leah:
… Yes, exactly, just flipping through and I say, "drill and kill," so that's not what this is, this is reading by sight and it's a really neat method, I used it with my daughter. She just loved being able to read immediately.
Lara:
Awesome. Now, that doesn't mean you forego phonics instruction, though, right?
Leah:
No. Charlotte Mason has in her section in Home Education about reading, she has reading by sight and reading by sound and she doesn't use the word "phonics" because it hadn't been cleaned at that point, it was just starting to show up in dictionaries a little after she wrote Home Education. But reading by sound, if you pay attention to what she's saying, it's phonics, she's talking about breaking the word down into pattern and spelling different words in the phonics pattern and so these lessons alternated from reading by sight to reading by sound.
Lara:
Right. Now, I've seen a lot of moms stress over their kids not knowing letter names. When you're using the Charlotte Mason method to teach literacy, it's more important for them to know the sound, isn't it?
Leah:
Yeah, definitely. The sound is what does the work in the English language. The name doesn't really do anything, it's pretty irrelevant for most letters, especially most consonants. And vowels – knowing the name is pretty much all you need to know, I mean, there's two sounds, but in consonants, the names don't mean anything, so it is more important for them to look at the letter and know the sound of the letter than the name, but it always amazes me.
My daughter was reading at five-and-a-half, she was really eager, but I realized that she didn't know The Alphabet Song, so she is already doing great with reading and I thought, "Wow, I think I should probably teach it," because it's such a cultural staple that everyone thinks is what's going to pave the way for their learners and she was already reading by the time I taught her that song.
Lara:
That's awesome. It's so funny how those things work.
My 10-year-old, he's severely dyslexic, so actually, he learned the letters. We tried to teach him letter names, but he learned them by sound initially anyway because I guess that just translated better for him and it was so funny because he'd try to point to a letter and he'd, "Mm, Mommy. It's the mm." "Oh, the M? Yes, yes it is," and so it was just really interesting, the more that I started digging into Charlotte Mason's methods to see, even though we had to have very specialized instruction for him, a lot of her base methodology was so helpful – even with that challenge – in teaching him how to read, and so it was really cool to see how far ahead of her time really some of her methods are and how balanced it is.
Leah:
Yeah, definitely. That's really neat that it worked so well for him.
Lara:
Yes. I think people now, we're so trained, like our generation grew up and we were taught all of all the sight words and then the generation behind us was taught all the phonics and now they're finally getting back to the point where they're teaching a little bit of both. I feel like Charlotte Mason always had that balance going there and so it's a really wonderful system and I think, too, especially moms that are coming from the public school mindset into homeschooling, they really need that reassurance that this is enough, you don't have to add on top of that. I think you have a series on reading on your blog and I think maybe you mentioned when you started with your daughter, you thought you were going to need a curriculum with it, but you didn't.
Leah:
Yeah. A mom encouraged me and said, "Hey, you can do it without a curriculum," and so I thought, "Okay, I'm going to try it," and I just did it exactly how Charlotte Mason said and it worked out really well, so we did phonics as secondary, but did include them, and it amazes me that my daughter can read. She can read very well, but she can also spell, and that's something I think we usually think takes a long time to develop using these methods, but because she's paying attention when she reads, she has figured out those phonics patterns that otherwise maybe I hadn't taught them all, but she pays attention, so she's been able to incorporate that into her spelling.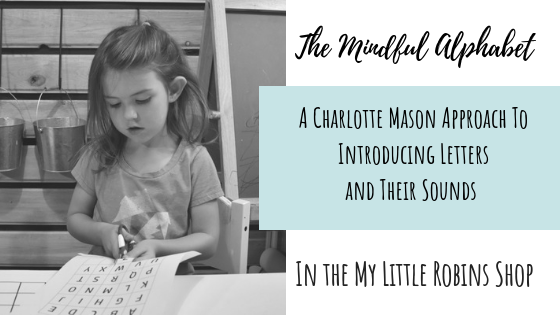 I do have these reading packs up on my blog and I just call it reading à la carte because I don't want people to have to buy a big curriculum if they're just trying to figure out what Charlotte Mason was saying, so I just have these little principle things that people can use to teach reading and that's what I used with my daughter and will use with my son if it's a good fit.
Lara:
Right. That's awesome. We know one of the biggest things in Charlotte Mason education is narration and that's how we develop comprehension, it's how we develop their speaking skills. When in the learning process does narration really come into play and what does it look like from your very early literacy to like later on when you get into, say, Form 2?
Leah:
Sure. Well, Charlotte Mason didn't mention narration in this learning to read part. I think that their attentions at this point are focused on the actual reading and once it becomes more automatic or once they're being read to, even, then narration can be brought in, but when you first start narrating, I think the key is to start small, to start with a very short amount, a couple of sentences, maybe even if that's too much, one sentence.
I say if that's too much, you can even ask a pointed question just to start, "Oh, who is this about? Who is this in the first sentence?" and then they can say it, but if they can narrate a couple sentences, you would just say, "Hey, tell back what you just read," and some of the language I think is hard to understand at first for them, like, "Tell back, what do you mean?" so sometimes I will explain, like, "Hey, will you tell me what you read about in this?", elongating in a phrase and not just saying, "Can you narrate this for me? Can you tell back?", which is what I would have done at Ambleside school, so I had to start explaining and sometimes even modeling.
If she just looked at me blank face, like, "I don't know what you're talking about, lady," then I just would say like, "Oh, well I remember that we read this and this and this," and obviously, when our kids get older, you don't want to jump in and save them like this, but when they're young, they truly just don't know and need a little bit of modeling, I think, sometimes, so I like to model and I like to start small when they're younger, but as they get older towards that Form 2, they can narrate longer passages, usually, maybe a couple paragraphs or even a couple pages.
At that point, that's when we really have to bite our tongues, I think, and not jump in and tell them what they missed or what else they could share. It's amazing. Even without the prompting, a lot of times, they'll say, "Oh, wait, oh, wait, I missed this," even after you've moved on to something else. I don't know if you've experienced that before.
Lara:
Only all the time. My seven-year-old is actually quite precocious, and I have just started the last two weeks having them read their Bible to themselves while I read my Bible and then I have them narrate back to me what they've been reading and he is hysterical. I mean, he came to me this morning and he says, "Mommy, I was reading about Samson and he made some very bad choices," and then he proceeded to list the choices and what really surprised me, though, is I know we've read about Philistines, I don't remember him ever actually reading or seeing a passage that had that word in it, but he was able to decipher it because he's got that slight familiarity with the oral version of the story, so he was able to put that together because he knows enough of the phonetics now and I was like, "Oh, that's so cool you were able to read that word."
Leah:
Oh, that's really neat. Oh, I love that.
Lara:
It's fun when they start doing the narrations, as long as they don't go into the whole complete retelling that's 12 times longer than the story.
Leah:
I know.
Lara:
Do you have one of those yet? I have one of those children.
Leah:
That is so funny. I haven't had one at home, but I think I probably had one or two in the classroom.
Lara:
Mm-hmm (laughter).
What would your biggest tip be to a mom just starting diving into the Charlotte Mason method, other than don't flip out over how many books people will tell you to buy? Living books, not curriculum.
Leah:
That's so true, there's so many books.
I think regarding reading instruction, I would say that you don't need to rush. There's no rush when your child is young to get them reading. There's no rush. When you're teaching reading, you don't need to get your child reading as fast as possible because we're not taking a test at the end of the year that rates your effectiveness as a homeschool mom by how well your child reads, so I think this process is probably slower than the phonics process of learning all those phonics.
Like I said, my daughter was reading right away, but at the same time, it's just word by word, bit by bit and not just having all these phonics that you're doing for hours a day, so I would say, "Just enjoy the process," and I think that's the whole point of Charlotte Mason's approach is that it's supposed to be enjoyable, it's supposed to be something that your child looks forward to, and not these dull lessons that only involve phonics and not even meaningful books.
Lara:
Right. I think there's a joy that comes from children learning to read on things like A.A. Milne and Frog and Toad. Snake and Lizard is an older Usborne that's very similar in that sort of Aesop fable kind of vein. They have so much more interest in what they're reading than a lot of their same-age peers that are having to read B.O.B. books, for lack of a better comparison. Even the McGuffey readers, we've had a lot of fun with those, they progressed up, but it's just really interesting to me to see how joyful children are about reading when they're learning this way. It's really awesome.
Leah:
It's so true. It's really neat to watch and right away, you're setting the purpose for them: "Read this nursery rhyme," or, "Read this book that you love." It's really neat. I think this is really how we raise readers.
Lara:
Definitely! Well, thank you so much, Leah. It has been so fun to chat with you today.
About Leah
Leah Martin was called to be a teacher at a very young age. She taught in public schools for 7 years, before teaching at an Ambleside School, where she learned about Charlotte Mason's philosophy. After leaving her teaching career, she decided to homeschool. She started My Little Robins in 2016 as a way to challenge herself to keep learning about Charlotte Mason's philosophy, and as a platform to continue to teach others. Leah lives in Colorado and enjoys an outdoorsy lifestyle with her husband and three children.
Find Leah online: