Education is an Atmosphere
Listen to this post here:
Welcome, friends! Grab yourself a cup of tea as we dig deep into our next principle. Charlotte Mason Principle 6: Education is an Atmosphere. It's one of my favorite principles and why I'm such a devoted Charlotte Mason advocate.
Most of us have been indoctrinated with believing that children learn best in classroom settings. It couldn't be further from the truth! We discussed this a bit in Charlotte Mason's 5th Principle, now we're going "further up and further in" to share with you why a natural environment is best for children.
Charlotte Mason 20 Principles
Are you ready, friends? It's going to be enlightening, invigorating, and encouraging to talk about all the possibilities we can gift to our children with Charlotte Mason homeschooling.
If you need to rewind a bit or are a Charlotte Mason newbie, you may want to review our Charlotte Mason 20 principles before moving forward.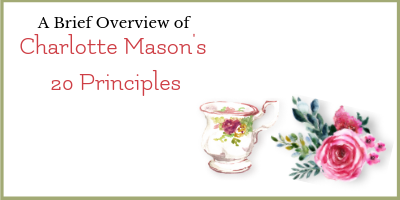 Principle 6
When we say that "education is an atmosphere," we do not mean that a child should be isolated in what may be called a 'child-environment' especially adapted and prepared, but that we should take into account the educational value of his natural home atmosphere, both as regards persons and things, and should let him live freely among his proper conditions. It stultifies a child to bring down his world to the child's level.
Let's dissect this fabulous principle and focus on 'education is an atmosphere'. This phrase, put simply, means that a child's environment is his or her best learning center. We belong to a beautiful world that holds a host of amazing creatures, exotic plants, and marvelous bugs – each a lovely thought of God given us to inspire wonder. Why do we need a stiff desk and seat, tedious workbooks for homeschooling, and a wall filled with useless information?
We need neither to create a "school" environment in our homes or to create a "child sized" world full of safety scissors, 2 foot tall brooms, and books brought down to a silly level.  Our homes are meant to be a refuge from the world – filled with beauty, goodness, grace, and Truth. When we, as the mother, work to make the sacred space of our homes into an environment that nurtures the hearts, minds, souls, and imaginations of our children – we are creating an atmosphere that naturally makes learning a delight.
Environment affects Character
"The indwelling of Christ is a thought particularly fit for the children, because their large faith does not stumble at the mystery, their imagination leaps readily to the marvel, that the King Himself should inhabit a little child's heart." ~Charlotte Mason
When we respect our children, born as persons created in the image of God, we have a strong desire to cultivate an environment that will help propel them into their Kingdom purpose. We want the home environment, which is the natural environment of the child, to be a haven that inspires curiosity, values relationships, builds character, and fosters the development of good habits.
The very tiniest and earliest of these seeds are planted through the careful curation of the home environment by the parents. We are the first care-givers that show a glimpse of the love of the Father to our children. What a very important task that is, too!
Everything from how we cook our meals, wash our dishes, clean our floors, scrub dirty feet, select books to read and movies to watch – it all points the attentions and affections of our children. We must be diligent in pointing them towards our Creator – we have a responsibility as the gate-keeper of our homes to hold fast to the guidance that only "whatever is true, whatever is noble, whatever is right, whatever is pure, whatever is lovely, whatever is admirable—if anything is excellent or praiseworthy" (Philippians 4:8)- these are the measures that whatever attitudes, books, movies, music, etc. need to pass in order to cultivate an environment worthy of our children.
Charlotte Mason Books
 Home Education

 Parents and Children

 School Education

 Ourselves

 Formation of Character

 A Philosophy of Education

Parents Create the Atmosphere
The destiny of the child is ruled by his parents, because they have the virgin soil all to themselves. The first sowing must be at their hands, or at the hands of such as they choose to depute.

What do they sow? Ideas. We cannot too soon recognise what is the sole educational instrument we have to work with, and how this one instrument is to be handled. But how radically wrong is all our thought upon education! We cannot use the fit words because we do not think the right thing. For example, an idea is not an "instrument," but an agent; is not to be "handled," but, shall we say, set in motion? We have perhaps got over the educational misconception of the tabula rasa. No one now looks on the child's white soul as a tablet prepared for the exercise of the educator's supreme art. – Charlotte Mason
Our incredible world has so much to teach us, so let us gift our children an education they'll never forget! What that means practically is this –
Children learn best from real life and real relationships, not an artificial setting.
The best thing we can do as parents is to create a home environment that is a safe haven for our children. A place where they can feel loved completely. A place where their faith can grow. A place where they are surrounded by beauty and goodness. A place full of laughter. A place where conversations are deep and relationships are solidified. A place where the Truth of our faith waters their roots and grows the foundational supports for their worldview.
Our broken world is full of ugly and dark things – by providing our children with a life-giving education and environment we are giving them a well of beauty and Truth to draw from and to take out into the world so that when they are wise they will shine like the stars as they hold out the glorious gift of the Gospel.
We are training them to notice the little glories like soft golden butterflies in spring and the way reflections shimmer across an autumn lake- these reminders of the grace and goodness and the promise of healing and redemption of our God in the midst of this broken world are the anchors that will help hold them when they face life's storms.
In the moments of training, discipling, and doing the day-to-day toiling, we often miss the blessings, but dear one, please hear me. This time and effort that you are pouring out – this work that sometimes bogs us down- this weight is the weight of glory. You are shaping the hearts and minds of the next generation to do great things. What an amazing task He has set before us in the home education journey. As Charlotte Mason so eloquently said –
"Truly parents are happy people – to have God's children lent to them." 
Practical Tips for a Learning Atmosphere
Here are some Charlotte Mason Inspired practical ideas that will help you build a home of peace, love, and education all at the same time:
Set Out a Feast to Encourage Creativity – The home should have plenty of living books available in high traffic areas. In addition, have a special place for hands-on creatives such as paintbrushes, paint, colored pencils, pencils, papers, journals, and other materials to stimulate creativity. Setting up corners for art, handiwork, board games, etc. are always an excellent use of space!
Be Consistent with Training – A Charlotte Mason home should also be a peaceful one. We have a resource here to help with how to train children in good habits starting in the home. This will give you peace and structure during your homeschool day.
Find education in your home and backyard – Whether it's serving grandma for tea or going on a scavenger hunt for earthworms to go fishing, education is everywhere. Teaching children to serve one another by taking care of household chores is also creating a peaceful and loving atmosphere with lasting impact on your young persons heart.
The most important point to education is an atmosphere is creating a home setting that's godly, disciplined and a desirable place to live for your children. How does your home stand up to Charlotte Mason's principles? Do you need to make changes? If so, it's never too late!
In closing, here are some Charlotte Mason resources for Mom to help you stay organized and focused during the most precious years of your life! Stay encouraged, friend. You have the best job in the world.
Charlotte Mason Mother's Homeschool Designer – planning sheets that include encouraging quotes, monthly planner, nature journal activities, home/life skills, attendance sheets, and SO much more.
Charlotte Mason Homeschool Planner – A beautifully illustrated printable PDF planner to encourage discipline and order. It's filled with quarterly and term planning sheets, journal page, child evaluation page, grocery list, meal planning and more.