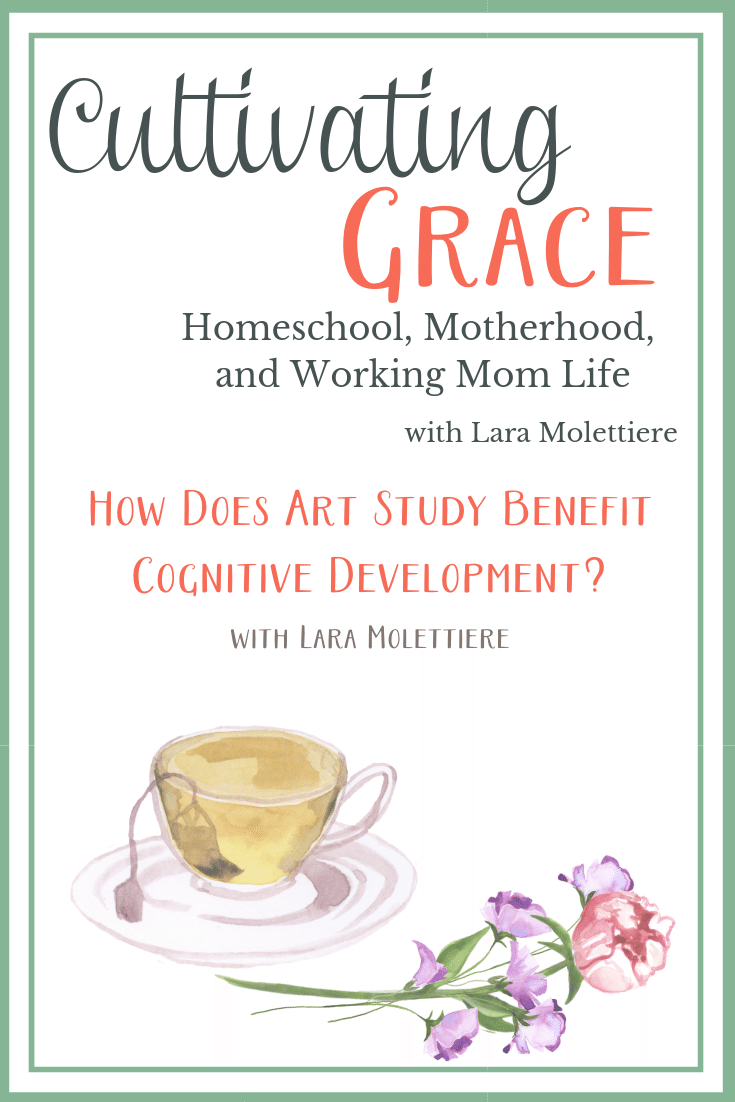 Today's episode of Cultivating Grace is sponsored by:
The Homeschool Garden Charlotte Mason Inspired Morning Time Plans for Busy Families
Listen here:
Charlotte Mason was Right about Art
Art study is a beautiful part of the Charlotte Mason Feast. We already know how beneficial art study can be to our homeschool. For a quick review:
Art study-
Cultivates an appreciation for beauty
Defends against overstimulation
Improves the power of observation
Induces empathy
Inspires creativity
Impacts other learning areas
Did you also know that the study of art can have an impact on cognitive development and your child's overall mental health? That one may have surprised me a little, too!
Your Brain on Art
Viewing and creating art impacts all of us differently, but what is undeniable is the fact that it does impact us in one way or another! Even our youngest students can reap the benefits of art study because of the unique way that art affects the brain. 
Here is what's happening to your (and your child's) brain while studying art:
Stimulation – The simple act of observing art puts our brains to work.
Immediately upon gazing at a piece of art, our brains recognize various familiar details. We take note of the texture of the paint and the lines, and the various shapes that make up the design, forming a complete piece. While recognizing a human being in the artwork may seem like a simple task, our brains go through quite the process to formulate that recognition. It goes into overdrive to organize and make sense of all the patterns and details we're observing and then reforms them into a complete image.
If viewing art stimulates the brain to such a degree, imagine what creating artwork can do! 
Increased blood flow – According to one study, viewing works of art can increase blood flow up to as much as 10%. That's similar to what happens to your brain when you gaze at someone you love! Observing art is scientifically proven to be enjoyable. This same study also found that the impact of pleasure can be immediate. All those feel good chemicals in your brain can literally reset your day. 
Having a rough homeschool day? Look up a Picasso or Cassatt, pull out your favorite artist studies, or head to your nearest art gallery.  
Embodied cognition – This is just a fancy way of saying that our brains take what we're seeing in art and turn it into emotion.
Embodied cognition begins the moment you look at a piece of art, but you'll experience greater, stronger, more vivid emotion as you spend time admiring the piece. This concept goes even further than that, adding to the emotions a sense of being a part of the artwork. 
Examine – Try spending one art study time on The Scream and another on Water Lilies. What sort of words do your children use to describe the feeling of each?
Art has a way of drawing a person right into the painting itself, taking the phrase "art appreciation" to a whole new level. When you find that piece that you truly feel a part of, now you know why!
Plasticity – Science gurus will tell you that your brain can change over your lifetime. It creates new connections as you engage in new or complex activities. It is called brain plasticity, and creating art plays a role in the plasticity of your brain. As you and your student practice creating art, you're stimulating communication between various parts of your brain. As a result, you're becoming more intelligent.
If that's not a good enough reason to ditch the worksheets and grab a paint brush, I don't know what is!
Pablo Picasso once said, "Every child is an artist. The problem is how to remain an artist once we grow up."
What a privilege it is to homeschool our children and encourage them to give art a special place in their hearts, or more accurately their brains. Not only will their developing brains benefit from the study and creation of art, but they will continue to reap those benefits for many years as they grow up with a love of art and develop a proficiency for creating it.
It's such a delight to be able to include art in our homeschools. We can't wait to hear which artist your family is studying this term! Leave us a comment below so we can look them up.
If you want to include more art lessons in your homeschool and have the riches all planned out for you, we have one art lesson during each session of  The Homeschool Garden. Try out a free sample here!