STEAM: Science, Technology, Engineering, Art, and Math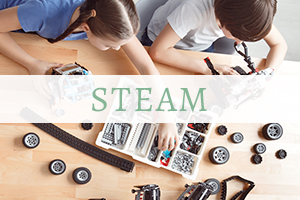 What is STEAM?
STEAM is STEM with Art added in. I come from a creative background and so does my husband. We feel that art is the thread that pulls all the other hard sciences together.
Science - We love learning about many branches of science. We include nature study, tinkering, electricity studies, astronomy, and whatever else catches our fancy.
Technology - In this digital age we are learning about electronics, coding, and technology time management during our elementary studies.
Engineering - Building, creating, learning how electrical systems work, and project based exploration for young scholars.
Art - Art is mathematical and mathematics are lovely in their intricacies. We celebrate our creativity with many art studies that tie into our science, technology, engineering, and math studies, too.
Math - We enjoy learning math through manipulatives and living books currently. This part of our studies is always evolving because both boys love math, and well, I don't.
Have you ever had trouble figuring out what to buy for a LEGO loving child? There are so many…
Read More
We've been moving slowly through our human body unit and having lots of learning fun. This t-shirt has been a…
Read More