Homeschool Bible Study
One of the most often asked questions we see is overwhelmed mamas looking for a simple and sure way to add more to their homeschooling curriculum Bible study wise.
I have a lot of thoughts on why this may be such a harrowing topic for many of us, but I won't go into those here. Suffice it to say that I believe we all should be working to be the best Bereans and theologians that we can be. We should be ready and able to defend our faith in every circumstance. And the Church should be training up parents to feel better equipped to train their families.
And since so many of us feel ill equipped, we also feel afraid of broaching the subject with our children. Of choosing the "wrong" resources, of not being able to discern bad or false teaching wrapped in a pretty bow.
First, let me encourage you to remember to pray. In all our homeschool choices we should be praying for the Lord to bless us with wisdom to choose rightly what will bring our children closer to Him and what will serve them well.
Seek extra time in the Word. Try and find a godly mother further along in the homeschool journey to counsel you.
And above all- remember that the Holy Spirit fills in for everything we lack. Mercies are new every morning, friend.
For our family adding in Catechism and Creeds to our homeschool Bible study is one way I can confidently combat my own insecurities in this area and I can learn alongside my boys.
What is a Catechism anyway?
In its barest form, catechism is a simple question and answer format to help believers be able to articulate what they believe in an oral fashion. But it is much more than that.
There are several Catechisms available and it is not just something the Roman Catholic church practices as I mistakenly thought as a young person. It is an excellent addition to your family and homeschool Bible study! In fact, I'd say it's the best of all bible study tools for beginners.
As far back as Exodus the Lord commands the Israelites to teach their children about the institution, the instructions, and the benefits of the Passover. Multiple times in Deuteronomy parents are told to repeat the Law and the history of the Law, to teach their children about the unity of God, and to instruct their children in the path of righteousness. In the New Testament we are given a shortened version of all the commandments in the all encompassing "Love the Lord your God with all your heart, with all your soul, and with all your mind." and "Love your neighbor as yourself."
Learning catechisms is a way to help instruct children and new believers in the knowledge of God. We want our children to know Him and have faith in Him and to desire to earnestly seek Him. (John 17:3, Hebrews 11:6) We want our children to be fertile soil for the Holy Spirit to work on and in. This happens from hearing and understanding the word of God. Using catechisms to help facilitate understanding of the Scriptures is a wonderful way to begin their training.
In the same way a Christian is not a man who never goes wrong, but a man is enabled to repent and pick himself up and begin over again after each stumble–because the Christ-life is inside him, repairing him all the time, enabling him to repeat (in some degree) the kind of voluntary death which Christ Himself carried out. – C.S. Lewis, Mere Christianity
Using Catechism and Creeds with Bible Study
As an example this is the first question from the catechism we are using this year, To be a Christian: An Anglican Catechism. One of my favorite modern theologians, Reverend Canon J.I. Packer, was part of the committee that put it together.
1.What is the human condition?
Though created good and made for fellowship with our Creator, humanity has been cut off from God by self-centered rebellion against him, leading to lawless living, guilt, shame, death, and the fear of judgement. This is the state of sin. (Genesis 3:1-13; Psalm 14:1-3; Matthew 15:10-20; Romans 1:18-23; 3:9-23)
So you get the question, the explanation, and Scripture references to examine as proof.
Simply work on memorizing the question and answer utilizing copywork, memory games, fill in the blank sheets, etc. Then look up the Scriptures, discuss them, and consider having your children put them into their Scripture journals.
Some catechisms to consider:
To be a Christian: An Anglican Catechism
The Ology – excellent for younger children and to get a good foundation before moving on to bigger discussions.
We use creeds the same way. Creeds also have the double blessing of allowing you to throw in lots of Church history. 
The Apostle's Creed came from Roman Christians in the second century, possibly as a critique against the heretic Marcion.
The Nicene Creed was originally created in 325 to address the Arian controversy of the substance of Christ vs the substance of God the Father. In 381 the council met again and revised the Creed to address Apollinarism, another Christological heresy.
The Chalcedonian Creed addresses the nature of Christ and the Athanasian Creed focuses on the Trinity doctrines and Christology.
Not only are the Creeds worth knowing to help defend faith, but they offer a deeper and more defined heritage of faith to your children. Learning about them is like looking at a family photo album of the Saints who have gone on before us.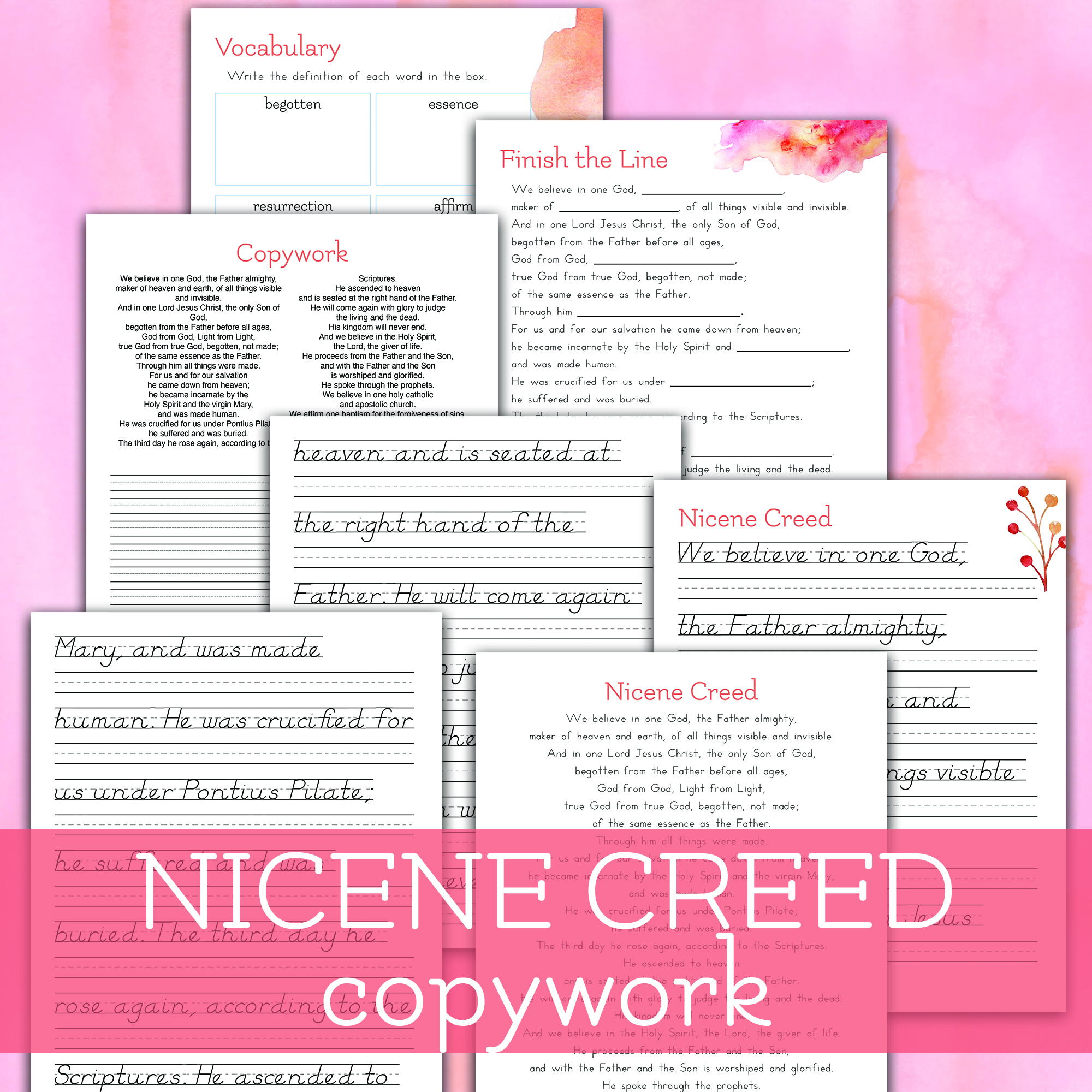 Resources for Building Your Family's Faith
First and foremost, you need the Bible. If you don't have any other resources the Holy Spirit will not withhold anything from you just because you can't purchase a study guide.
In fact, sometimes I think we wind up short of funds so He can show us how great He is and how our only real need is Him.
These are some of the resources our family has used and is using currently. We loop through studies, memorizing prayers, morning devotionals, and other resources. This is not a list of things we do each day 🙂
We use the copywork and memory sets from our shop. These include the Shema, the Nicene Creed, Psalm 23, and the Apostle's Creed as of this writing.
I have been using the Truth for Life devotional this year and really enjoy it. One or two days a week I have it scheduled to share the devotion and the Scripture reading with the boys during our morning time.
The Answers for Kids box set is an elementary apologetics curriculum from Answers in Genesis that is great for kids in the 1st-6th grade range.
Not Consumed Ministry – We love so many of the resources from Not Consumed! Here's a list of what we have used, are using, or have procured to use in the future:
Compass Classroom online resources – Modern Parables and How Should We Then Live are both excellent. Because we use several of their academic resources we do opt for the membership which is an excellent value for us.
Those are some of our favorite resources for the boys and I hope to compile a post with my favorite resources for my own faith education and growth soon. Share your favorites in the comments below and have a wonderful week!

2023 Back To Christ-Centered Homeschool Giveaway!
Thanks to our sponsors, we have an amazing prize package to give away worth over $833 in resources we hope will bless you in your homeschooling!
We live in perilous times where we as parents must disciple and teach our children diligently (Deuteronomy 6:7) and raise them up in the training and instruction of the Lord (Ephesians 6:4). And with the economy tanking by the day, finances can be a burden. Our prayer for this giveaway is to bless families by encouraging you in the Lord and help lift a financial burden through the giveaway!
Whether you homeschool year-round or have a traditional school year, using sound curricula and resources with a biblical worldview is of most importance. Winning a top-notch curriculum to use in your homeschool would help give your family the boost it needs to put Christ at the center of your homeschool!
I've teamed up with a group of Christian homeschool bloggers to bring you this 2023 Back To Christ-Centered Homeschool giveaway where we will be blessing THREE homeschool families!
The prize winners will receive:
Winner 1:
– One year Ultimate Annual Membership to SchoolhouseTeachers.com (value $269.97)
– All access pass to the 2023 God-Centered History Summit (value $97)
Winner 2:
– Bible Road Trip Printed Starter Pack of your choice (value $84 – $208)
– All access pass to the 2023 God-Centered History Summit (value $97)
Winner 3:
– Rabbit Trails Through The Bible Old Testament and Companion Journal (value $64)
– Family Faith Building Academy (value $97)
To enter, simply use the King Sumo giveaway form below for your chance to win. Each blogger represented on the entry form has contributed to making this giveaway happen, so the more entries you make, the better chances you have to win!
This Giveaway ends September 19, 2023, at 11:59 pm CST. You must be at least 18 years old and a resident of the United States or Canada to enter. Selected winners will have 24 hours to respond to email notifications to claim their prizes or you will forfeit your prize to another winner. By entering this giveaway, you agree to be added to the email lists of the participating bloggers. (Please see the terms and conditions on the King Sumo giveaway form for the complete list)