What fun! What Fun! It's a birthday today!
Of that man, Dr. Seuss, and we are happy to say
With Seuss we will celebrate, play, and discover.
Don't worry, though, the boys are home with their mother.
We are sharing today with iHomeschool Network to celebrate Dr. Seuss' birthday, March 2nd, 1904. He's long been a favorite of mine, and may have contributed to Mr. T's name decision.
I Can Do That! games are a really fun part of our homeschool. We've been using the I Can Do That! Cat in the Hat game for some occupational therapy fun and for learning how to process steps. We begin by reading The Cat in the Hat or Dr. Seuss Pops Up. Mr. T always dresses for the occasion. You can get a child's Cat in the Hat set for lots of Seuss fun!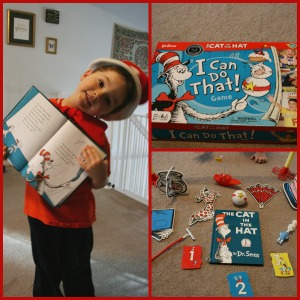 The way the game works is by flipping over a 1, 2, 3 card to get your "move". Then you follow the directions. The tasks are really silly and fun and help improve dexterity while encouraging creativity.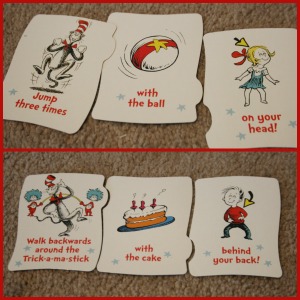 You can see that Mr. T really has a great time playing this. He asks for us to play Cat in the Hat multiple times a week! It's very easy to store and the parts are really resilient. A perfect game for young boys!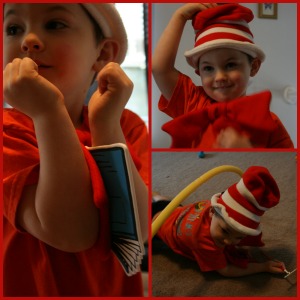 Another fun game is Super Stretchy ABCs! It works on coordination, letter recognition, taking turns, and phonics. Mr. T loves singing the ABC song and pointing to the letters are he sings. This game is even a good stretching exercise for mom 😉
The "coins" go into the tornado, which is run by Thing 1 and Thing 2, and then deposit around the board to tell you what body part need to go to which letter or item. They randomly threw in a spot for your ear, so be prepared for lots of silly moves and ensuing giggles.
You can see our Dye Free Green Eggs and Pancakes here! Enjoy celebrating Dr. Seuss this week! For more fun see Celebrate Seuss board on Pinterest!
Check out the iHomeschool Network Dr. Seuss link up here.