My Book of Centuries is a Timeline Notebook for PreK-3rd Grade. This printable notebook for young learners has alternating lined pages and timeline figures.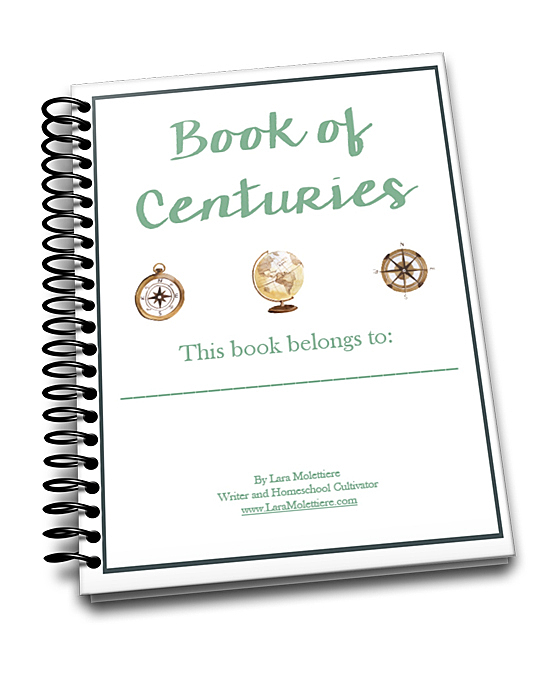 What is My Book of Centuries: A Timeline Notebook for PreK-3rd Grade?
My Book of Centuries:  A Timeline Notebook for PreK-3rd is a printable Book of Centuries PDF in Charlotte Mason style but  geared for young learners that is available in our shop. Newly updated and ready to make your homeschool easier.
A Book of Centuries is simply a timeline in notebook form, portable and compact, so your student can add to and review their history timeline any time and any place, even on vacation! A timeline notebook is also compatible with any history curriculum or any teaching method.
Who Needs My Book of Centuries: A Timeline Notebook for PreK-3rd Grade?
A typical Book of Centuries contains timeline notebook pages that can be used for 4th grade and beyond. Having a printable timeline notebook for younger students allows for them to learn how to record history in a way that helps them retain it. Because it is a PDF book, replacement or additional pages can be printed at any time.
Younger learners are able to learn alongside older siblings which lets home educators (mom) teach only one history lesson at a time since each student has a way to record major events and a way to review it later.
Parents who do not have the wall space for a large timeline or who simply do not want to have a timeline strung across the house.
Classical or Charlotte Mason homeschoolers who wish for their children to get into the habit of recording timeline events from the very beginning of their education.
The Details of My Book of Centuries: A Timeline Notebook for PreK-3rd Grade
Creation to 3000BC and the 1700's to present day contain 2 pages per century just as an older student's book would, all other centuries contain one page only.
There is a lined section on every other page for tracing, copy work, or dictation.
Included are printable timeline pages with figures that may be used for inventors, explorers, composers, and more!
Because it is a printable PDF e-product, you can use it for multiple students and can print and add extra pages if you need them.
Above you can see Mr. T , age 4, using our The Big Picture Interactive Bible Storybook from B&H Publishing to listen to the Creation Story and then adding in a timeline figure and drawing his version of Adam and Eve. I dash-printed out the Genesis 1:1 KJV for him in pencil to trace over since we are learning to write. An older student could copy the verse or write dictation in the space.
Get your My Book of Centuries here and share how your learners use this timeline notebook with the #everydaygraces hashtag so we can see!