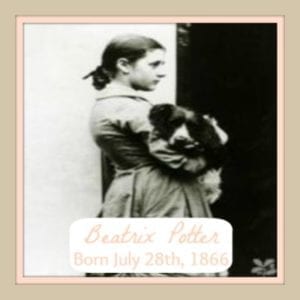 Beatrix Potter, born Jul 28th, 1866, in Kensington, London, was an author, artist, conservationist, and naturalist. Her life was remarkable, though marked with much loss. Her fame is mostly from her children's classics, like The Tale of Peter Rabbit, Jemima Puddle Duck, and others.
Mrs. Potter was homeschooled by governesses until she was 18. Her parents provided her with art lessons, travel, and many opportunities for learning. She and her brother, Walter, enjoyed many Summer holidays in Scotland exploring the landscape and enjoying nature.  When Beatrix was 16, her family rented a summer home in the English Lakes District, and Beatrix fell in love with the countryside there. She would later return and begin purchasing land there in conservation efforts which would grow with her future-husband, William Heelis, the solicitor with whom she worked to begin purchasing land. After her death, the National Trust used the land left to them by Mrs. Potter to open the Lakes District National Park.
In learning about Beatrix Potter, I found some really neat facts:
Beatrix kept a journal in a secret language she created at the age of 14. She kept the journal for 16 years.
She studied fungi, specifically mushrooms, in great detail and mycologists today still use her very detailed illustrations to identify fungus.
Peter Rabbit actually began as a series of picture letters to children.
Beatrix Potter's original illustrations are given credit for the popularity of her children's stories. She sold several of her art pieces to publishers before attempting to get her own stories published.
Peter Rabbit is based on a pet rabbit Beatrix owned.
Mrs. Potter was a prize wining Herdwick Sheep breeder. In 1942 she was named president-elect of the Herdwick Sheepbreeders' Association, but she died before taking office.
When Ms. Potter died on December 22, 1943, she left 4,000 acres, 16 farms, and herds of sheep and cattle to the National Trust. It was the largest gift they had ever received at the time. When her husband died 18 months later, he left the remainder of their holdings to the National Trust as well.
You can get a free Kindle book of Beatrix Potter Tales here. There is also a lovely live-action ballet type version of Peter Rabbit available on Amazon rental.
Resources for Studying Beatrix Potter
Peter Rabbit site: Lots of information, games, and more!