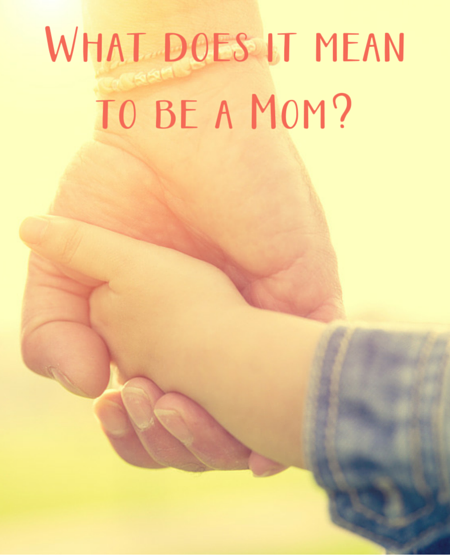 On the go? You can listen to this audio blog!
What does it mean to be a mom?
Once upon a time, a young girl dreamt of travel, of indulgence, of a life that glittered.
Those dreams got cast aside for days of avoiding glitter like the plague because have you ever tried to clean glitter out of carpet? The daily grind, fueled by coffee and prayer, often seems mundane but there is glory in learning to love what must be done.
Being a mom is trading glitter for sparkle.
The first sparkle of butterfly kicks growing a new life.
The sparkle of hearing that first cry.
The sparkle of relief when the first fever breaks.
The first giggle, the first steps, the first words.
We collect these tiny sparkles without realizing it more often than not. They become part of who we are. They light up the dark and lonely times of motherhood. They remind us to have hope on the difficult days. These pin pricks of light become the framework of the constellation of our lives.
To be a mom means letting ourselves go.
Letting go of the "me first" attitudes that prevail in our youth.
Letting go of our ideal body image for one of a motherhood scarred body.
Letting go of our perfect mom standards and embracing grace as the standard we bear.
Letting go of what we believe we "should" do for what makes our family thrive.
Letting go of the idea that motherhood is something we sacrifice our self for when in reality it is a blessing that makes us into so much more than we ever dreamt we could be.
Being a mom means never being off.
Never having sick days.
Never having vacation.
Your phone is always on, even if it's on vibrate.
You give up sleep for babies crying, for stomach bugs, for late night talks with teens, for late night talks with grown children who have children of their own.
To be a mom is to become strong.
Your arms become strong carrying your tiny child, then toddler, then young child until you just can't lift them anymore.
Your heart becomes strong because it bears the weight of responsibility for another life.
Your mind becomes strong from weighing every decision. Twice.
Your faith becomes strong because you realize so much of this life, this precious life you've been entrusted with, is completely out of your control.
Being a mom means being beautiful.
These sparkles we gather into our hearts become evident in our laugh lines, our silver hair, our grateful hearts. They shine through even when we feel like there is nothing left.
We are beautiful because we give so much, never expecting anything back. This love we have is so fierce and so full of fire that it refines us without our ever knowing until we are so completely changed.
We are beautiful because we are givers of life and cultivators of the next generation. We are tending to the garden of humanity for the glory of our Father in Heaven.
To be a mom is to change the world.
My friends, it doesn't get more noble than that.