A Back to Homeschool Basket of Grace for Mom
Friends, it's that time of year when things get crazy hectic and all the uncertainty of new curricula, new co-ops, new schedules, and more sink in and leave you feeling depleted before it even begins. So one of you lovelies will be the recipient of 4 of my favorite things. I hope they make your year begin with a deep sigh of "I can do this!".
Just enter the Rafflecopter post below and the winner will be selected on Monday August 24th. The winner will be notified by email and given 48 hours to respond before a new winner is selected. Bon Chance! *Giveaway is open to US residents 18 and older*
5 Things that Make Our Homeschool Thrive
Everyone has a quirk. We have several. Here are 5 random and slightly unusual things that make our homeschool thrive.
Chick-fil-A. Ahhhh. One of the few placed the boys can have grilled chicken and a fruit cup and all is right in the world of allergy mom. Plus, the Market Salad (minus the blue cheese) is amazing. When we have to eat out on therapy days or meet some friends for a lunch time play date, Chick-fil-A is a sure bet.
Stitch Fix. Yes, I know. Fashion seems like a silly thing to make our homeschool thrive. But between homeschool, therapy, being an online fitness coach, and life, I don't have time to shop, and there is just something amazing and girly and "just for me" about getting a box of gorgeous clothes and a sweet note from Tina. So yes, Stitch Fix is my "fix" each month and is sometimes the only real "mommy time" I get. I wish I were exaggerating.
Critters. Ants were the most recent Insect Lore friends, but we also had butterflies this spring. We have a fish tank, Peanut the hamster, Aslan the dog, and from time to time we house insects and amphibians we find outside. Having living things to watch, learn from, study, lap book, and handle (sometimes) keeps my boys happy and inquisitive. Critters as a part of our homeschool is not something I ever planned on, but even I enjoy it!
Morning time! We are such big fans of how morning time makes our homeschool thrive. It begins our days with grace and peace and really sets the tone for our day.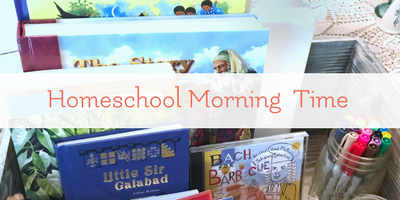 Those are our top 5. What are yours?