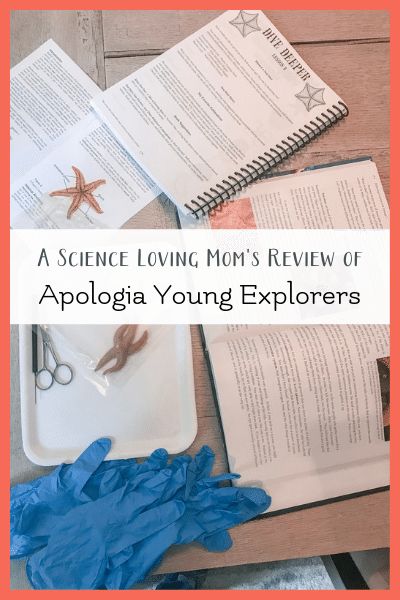 Creation Based Science Kids Love
In order to continue cultivating a love of learning in our children throughout their early years of education, we want to be sure that we are carefully choosing the best things for them. We want to engender a thirst for knowledge and an adherence to truth. With this in mind, choosing a science curriculum can seem a bit daunting.
When searching for a science curriculum we have these criteria: the curriculum must be creation based, help build a solid science foundation, and keep the children interested and engaged in the learning.
What elementary science curriculum stood out above all the rest? Apologia!
*** Because we love helping you find awesome curriculum and love giveaways, be sure to scroll to the bottom of this post for a fantastic Giveaway for Apologia Science. ***
Disclosure: This post is brought to you in partnership with our friends at Apologia. We were compensated for our time, but all opinions are our own and we were not required to post a positive review. As always, we only share the products our family has found to be valuable and hope will benefit your family as well.
I have always been a science geek. There are just so many amazing things in this world and their intricacies and complexities are such a testament to their incredible Creator and the care and thought that went into their design.
Even though I had a love of science through my school years, I never came across a science textbook that was living.  I was lucky to have some great science teachers, but until we found Apologia a few years ago, I never knew that a science "textbook" could be so much fun or could draw you into the information and make the subjects come alive.
Contrary to what many think, textbooks can be living! If the author is passionate about their subject and writes in an engaging manner, a textbook is absolutely within the scope of a Charlotte Mason education. I haven't met many authors as passionate about their subject matter as Jeannie Fulbright, the author of Apologia's Young Explorer series, and I'm so glad we have been able to include this curriculum in our homeschool!
Have you ever wondered why God created so many creatures that live in the water? How can you tell if an animal is benthic? What causes tide pools? We can learn the answers to these questions and more with Apologia Swimming Creatures of the Fifth Day.
Apologia Swimming Creatures is our choice for our current science spine and it is the second book in the zoology series. The Zoology series goes in order: Apologia Zoology 1: Flying Creatures, Apologia Zoology 2: Swimming Creatures, and Apologia Zoology 3: Land Animals – but you can choose to do them in any order that suits your family. You just need to download the sample chapter here (at the bottom of the page, the sample is chapter 1) to get a handle on Kingdoms and classification first before beginning Zoology 2 or 3 if those are where you start.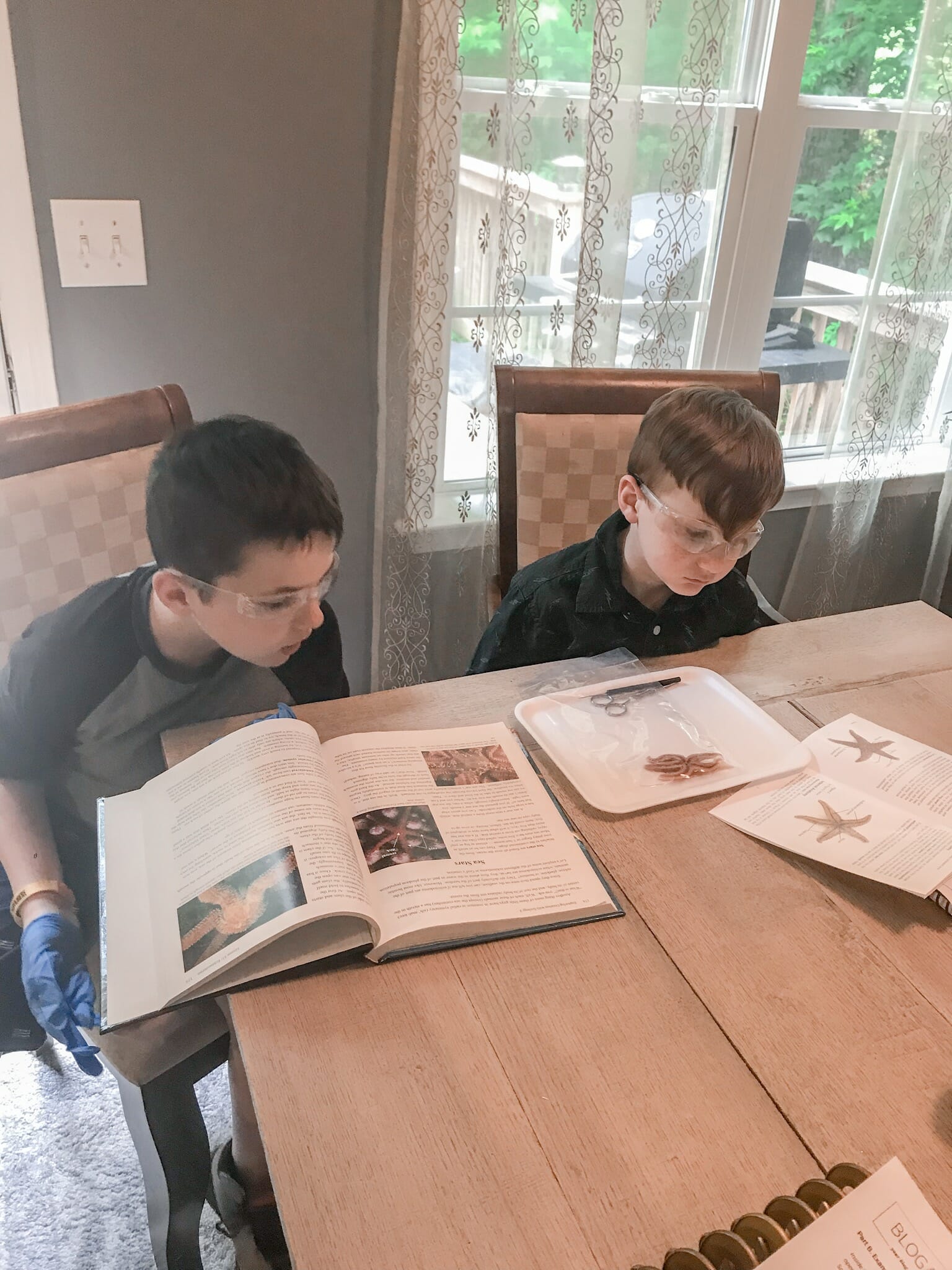 From the tiniest of microscopic swimmers to the largest of whales this book covers it all with beautiful images and delightfully written text that does not come across as a dry, boring textbook, but rather engages the student's mind and imagination.
When you have multiple ages, combining as many subjects as you can not only make the planning, organizing,  and time spent on teaching easier on mom it also gives you more opportunities to bond as a family. This series is perfect for teaching multiple ages, needs, and personalities.
The Apologia Young Explorer series is written for children from kindergarten through 6th grade. Everyone can learn from the same main spine but you can choose a journal to go along with it that is right for each child's learning level, while they do offer recommended age guidelines you can download a sample and choose whichever is right for your student.
The Apologia Junior Notebooking Journal is perfect for younger Elementary students such as K-3, and for older students with learning challenges -it has been very helpful for Mr. T with dyslexia and dysgraphia.

The Notebooking Journal is ideal for older children such as 4th- 6th,  it allows them to be challenged while staying on the same topics as the younger children.
What's in the Zoology 2 notebooking journal?
Suggested schedule.

Scripture copy work.

Review questions.

Field trip sheets.

Lapbook style mini books.

A final review of the book.
Swimming Creatures of the Fifth Day is a great way to learn about everything aquatic from seals and mollusks to the abyss and tides.  We love how scripture is woven throughout the book naturally as you learn about the aquatic creatures that God created.
At the end of each lesson, we work on their notebook, an experiment or project, and some days on the ocean box.  The ocean box is a fun ongoing project that we will add to as we go through entire book. Sculpting the different animals out of clay makes for a wonderful handicraft! We are enjoying building our own miniature handcrafted ocean.
We skipped ahead to the lesson on echinoderms just before we took our summer break so we could do the starfish dissection. This is optional, but we love all the kits we have purchased through Home Science Tools and this one was no exception! It works in perfectly with the lesson and was an optional recommended activity.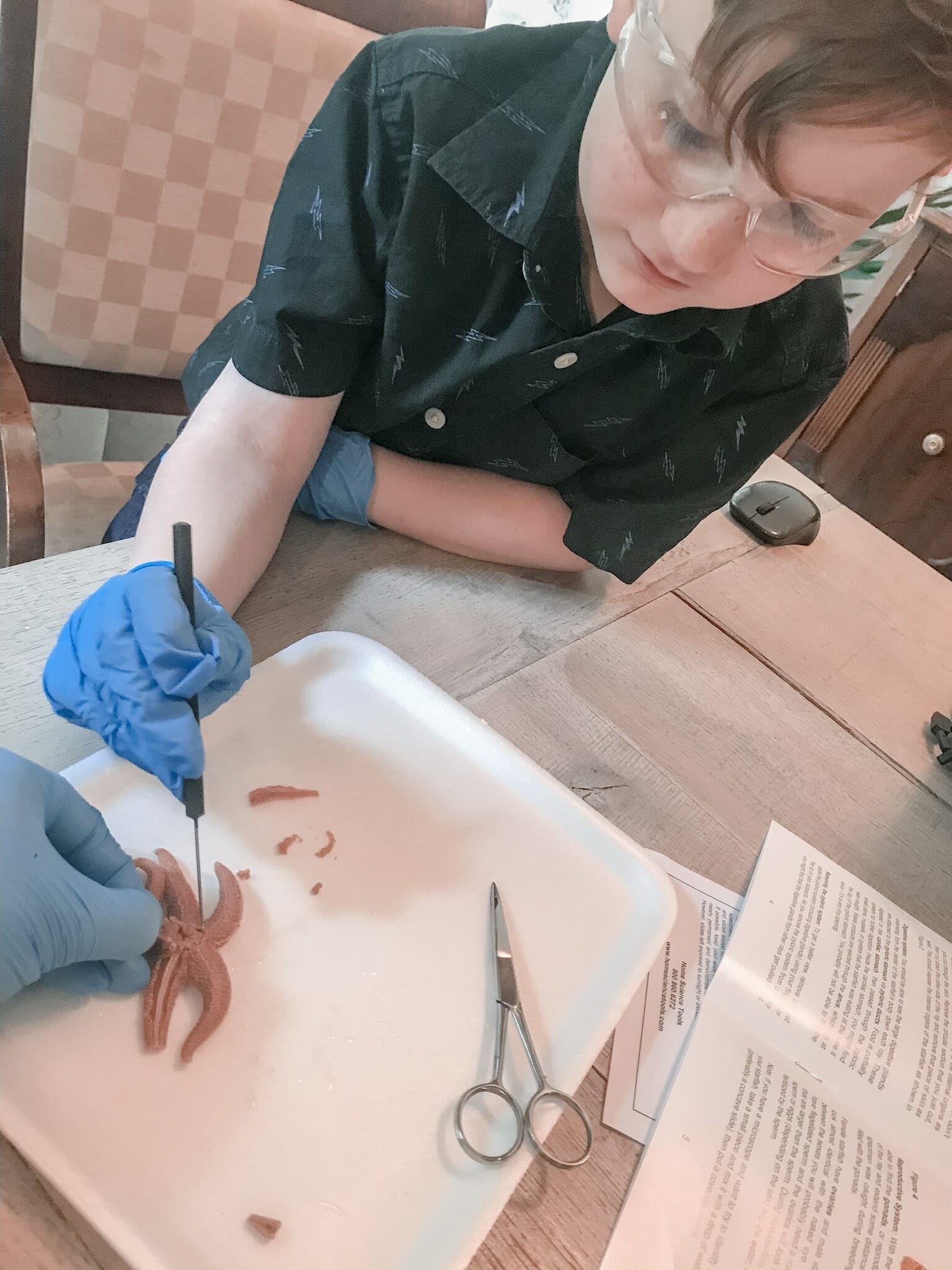 Using the Apologia Zoology 2 schedule they recommend, you'll be teaching science twice a week. This means it will take approximately a full year for you to complete a book. However, it is very flexible and you can go at your own pace. If your children are very interested and want to do science 4 times a week you could easily finish an entire book in a semester.
A few more important things to note about the Apologia Young Explorers Series
When you purchase an Apologia Young Explorers series book you also get free access to a website with information and links to dive even deeper into your study. Passwords are included inside each textbook. These are great tools for more self-directed learning.

You don't have to purchase a lab kit, most of the activities use common household items and you are given supply lists so that you can prepare in advance. We do find the lab kits from Home Science Tools and the Astronomy Kit from Apologia to be great time savers if they fit into your curriculum budget.

The books utilize immersion to really dig into a topic and help your child understand the how and why rather than just a memorization of random science facts, but the lessons are easily broken down into small segments of time so that even the youngest learners can stay attentive and enjoy the lessons.

There are audiobooks available to go with the textbooks. If you have a child with dyslexia or a child who just enjoys science, these are a wonderful addition.
Not sure which one is a great fit for your family? Apologia allows you to download the entire first lesson of each book so you can see if it is a topic that will pull everyone in but we are really enjoying Swimming Creatures of the Fifth Day and definitely recommend it.
Enter to Win!
If you're looking for a fun way to help your kids gain a love and understanding for science, look no further! This month, we are teaming up with Apologia to give away a science curriculum of the winner's choice. That's right – if you win, you get to choose your science curriculum package and level!
To enter, just fill out the entry card below. You can pick and choose which entry options you complete, and along the way, you'll find some fantastic new homeschool bloggers to follow!
In addition, by entering you will also receive a Digital Swag Bag valued at over $20 – so everyone who enters gets free curriculum resources! You can find the details of the Swag Bag below the entry.
It is your responsibility to read the terms and conditions upon entering. Entering this giveaway signs you up for the following email newsletters: In All You Do, My Joy-Filled Life, The Art Kit, Making Room 4 One More, Faith & Good Works, Simple Living, Creative Learning, Yellow House Book Rental, Clarissa R. West, Peace Creek on the Prairie, and Brookdale House if you aren't already subscribed. The winner has 48 hours to claim their prize before a new winner is drawn. Giveaway ends November 17, 2019 at 12 AM CST.
Swag Bag Details:
All entrants will receive the Swag Bag (valued at over $20) within 24 hours of the giveaway closing.
Your kids will have fun practicing their number skills with fun themed playdough mats and other goodies from The Art Kit!
Learn all about the anatomy of different animals with an Animal Anatomy Notebooking Set from Simple Living, Creative Learning!
If Apologia Swimming Creatures has piqued your interest, you might enjoy these posts as well!