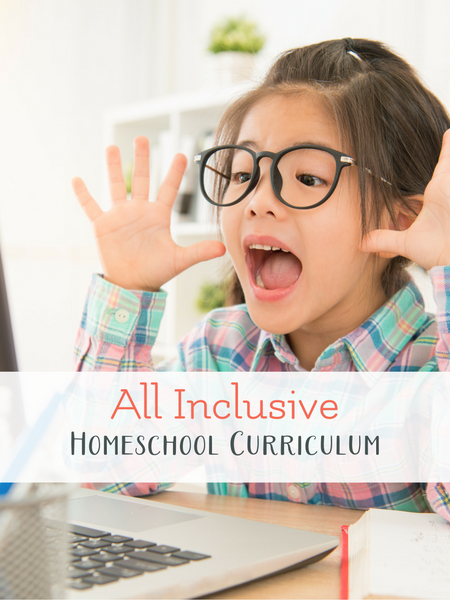 Homeschool Curriculum to Reduce Mom Stress
Homeschooling takes a lot of work. When you have multiple kids at multiple levels, having a little help in the way of online and all-in-one programs can make the difference between a thriving homeschool and a burnt-out mom.
Other times, life throws you curve balls and you just need that all-in-one programming to keep your homeschool going.
Whatever the reason, The Homeschool Buyers Co-op has many all-in-one and all-in-one online homeschool curriculums for you to choose from!
Disclosure: This post is sponsored by The Homeschool Buyers Co-op. I was compensated for my time and not required to post a positive review.
The Homeschool Buyers Co-op has an award-winning selection of all-inclusive homeschool curriculum, unit studies, supplements, and additional teaching resources. A few of the wonderful curricula available are listed here. 
Education City Grades PreK-6
Homeschool Buyers Co-op is pleased to welcome award-winning EducationCity!  Jam packed with fun animated colorful learning, EducationCity connects teaching and learning for PreK through 6th grade students across six different subjects.
Using one set of credentials in a single portal, EducationCity supports standard aligned teaching and learning in the following subjects:
Language Arts
Mathematics
Science
Computing
Matemáticas (Math in Spanish)
ESL (English, as a second language)
Your 1-year subscription gives you access to content for PreK to 6th Grade!
Monarch Online Christian Curriculum Graces 3-12
Monarch (from Alpha Omega Publications) is an interactive, Internet-based Christian homeschool curriculum for grades 3-12 that's compatible with most web browsers on a Windows® or Macintosh® operating system.
With Monarch, you get:
Dynamic, Media-rich Lessons: Bring learning to life with over 50,000 multimedia elements! Immerse your child in an enriching, multi-dimensional educational experience that includes video clips, audio files, challenging games, interactive exercises, and more.
Core Subjects & More: Monarch offers Bible-based online lessons in the five core subjects of Bible, History and Geography, Language Arts, Math, and Science, as well as a wide variety of enriching electives.
Automatic Grading: Enjoy freedom from paperwork! Automatic grading and recordkeeping conveniently record lesson assignments, test scores, and upcoming assignments for more hands-on teaching time.
Anytime access, no installation: Perfect for your on-the-go schedule, Monarch's Christian homeschool curriculum is accessible around the clock with a browser and Internet connection. With just a username and password, you're curriculum-ready in seconds.
Discovery Education Streaming Plus Grades K-12
It's easy to see why homeschoolers rave about Discovery Education Streaming Plus. It's probably the most extensive and feature-rich educational video streaming service in the world.
It's much like having the entire DVD selection of your local public library available to you from the convenience of your home, 24/7/365.
But it's not just a collection of videos that you can watch from beginning to end. This library has been organized into useable video clips, organized and categorized, close-captioned, and supplemented with lesson plans, teaching guides, interactive simulations, images, audio resources, and other resources and materials that you can incorporate into virtually every aspect of your homeschool curriculum.
Discovery Education Streaming Plus features:
Thousands of full-length videos from scores of producers, segmented into tens of thousands of content-specific clips tied directly to state and national standards.
Supplemental resources such as Assignment Builder, Quiz Center, Writing Prompt Generator, lesson plans, and more
Fast and accurate search functionality and dynamic navigation menus
The ability to customize and personalize lessons to different subjects, grades, and learning styles
Comprehensive K-12 curriculum coverage in six core subject areas.
Thousands of images
Membership in the Discovery Educator Network (DEN)
Interactive self-paced training
Exclusive Discovery programming such as Frozen Planet, Human Planet, LIFE, Into the Universe, Mythbusters, and Curiosity
Video series from trusted content providers such as BBC Worldwide, CBS News, Channel 4, Discovery Studios, Scholastic, TV Ontario, and Westin Woods
Hundreds of games, skill builders, and body atlas interactives
Thousands of self-paced math tutorials spanning concepts from basic addition to calculus
Thousands of audio files including podcasts, classic literature audiobooks, children's literature audiobooks from Scholastic, and numerous supplemental study aids for auditory learners
Plato Learning Comprehensive Grades K-12 and AP Courses
Lots of choices, TONS of content! Core curriculum and electives available (see courses inclusive in each package below in product descriptions):
Reading — Writing — Mathematics — American History — Geography — World History — Life Science — English 8 — English 9 — English 10 — English 11 — English 12 — Geometry — Economics — Vocabulary — Algebra I — Calculus — Trigonometry — Chemistry — Biology — Physical Science — European History
AND THE LIST GOES ON!
Packages available by grade level OR choose the AP Package:
Grades K-5 – Cover all your needs for your young learners! Reading, Writing, Math, Vocabulary, and More
Grades 5-8 – Your Middle School students are covered with American History, Math, English, Science, Writing, Civics, Geography, Vocabulary, and so much more.
Grades 8-12 – The LARGEST PACKAGE with THIRTY SUBJECTS INCLUDED! PLUS 16 CTE Elective Courses! Reading, Writing, English, 4 Science Courses, Geography, American & World History, several Math choices, Art History, Health, and even Spanish
AP Course Package – Have an advanced learner? We have you covered… This package contains advanced courses for English Lit & Composition, Biology, Chemistry, Calculus, and U.S. History.

*NEW*

– 8-12th Grade package now offers a robust CTE Elective BONUS! You get an additional 16 COURSES! Enjoy titles like Game Development, Intro to Fashion Design, Web Technologies, Accounting, and more!
 Plato is designed to track the individual student's progress, so we recommend one subscription for each student's use. HOWEVER, you are free to allow more than one student in the SAME HOUSEHOLD to share your family's subscription access.
Intellego Unit Studies for Grades K-8

The Homeschool Buyers Co-op is pleased to extend our GroupBuy for Intellego Unit Studes – for grades K-8.
Intellego's mission is "to provide engaging curriculum that meets the needs of the 21st century student. Using the best resources available on the Internet, Intellego Unit Studies unites technology, learning style theory, and multi-sensory activities to help children reach their true academic potential."(The Co-op received several samples of Intellego Unit Studies prior to launching this GroupBuy. We were taken aback by the enormous amount of study materials included within these unit studies!)
 So are you ready to find your perfect curriculum? Here's how!
How to Purchase Homeschool Curriculum from The Homeschool Buyers Co-op
Purchasing all-in-one homeschool curriculum couldn't be easier! Visit the curriculum pages of the Homeschool Buyers Co-op and the click on the curriculum you wish to utilize.
It is a co-op so it works as a group buying program. That means that as more parents sign up, the price can potentially drop even lower. Each buy has it's own set of rules so always make sure to read the entire buying policy before you purchase.
We have made several purchases from The Homeschool Buyers Co-op and have never been disappointed! Don't forget to take advantage of their free homeschool ID cards while you shop.
More Homeschool Curriculum Resources
 Characteristics of Learning Styles Classical Kindergarten Curriculum Morning Time for Homeschool Charlotte Mason Curriculum 1st Grade