Through the years of parenting two boys with childhood apraxia of speech, I have learned a lot. I am sharing some of these truths apraxia will also teach you and hopefully encourage you on your special needs journey.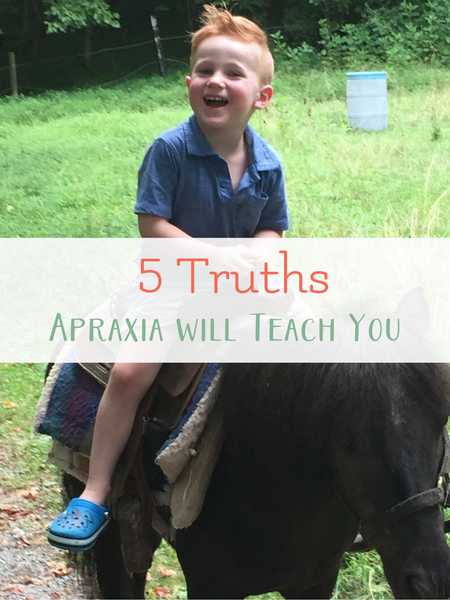 Apraxia of Speech
Apraxia is just part of our normal now. It's how we do this beautiful mess of a life together. There are changes that happen when you first get the diagnosis.
There can be other diagnoses that get lumped on your head before, at the same time, or after Apraxia. You learn as you begin to navigate the waters of parenting a child with special needs that there is power in the word yet.
And you learn truths about yourself, your child, and the world around you.
Truth 1
God gives us more than we can handle. He gives us more than we can take. He will pour so much on us that we break. All in love and grace so that we turn to Him. Our weaknesses are where He shines brightest.
When we admit "I can't", He says "I can" and then He does. Be OK with being broken. At the feet of Jesus is a great place to spend time being filled with His strength to continue on this journey.
Truth 2
Not everyone will understand. Apraxia of speech, also known as dyspraxia, isn't a visible challenge. Your child with special needs appears just like other children on the surface. You will want to punch someone in the face at some point for saying "they'll grow out of it." Please don't. See Truth 1 above if you want to know how.
People will say callous things, hurtful things, will brag to you about their child's speech before they think that it might sting, and you will have to try to explain what a neuro-motor planning disorder is more times that you ever thought humanly possible. Be gracious. Remember that most of these people just don't understand dyspraxia symptoms. The ones that do and are just mean, pray for them. They will never know how amazing your child really is.
Truth 3
Your child really is amazing! Communicating differently than the people around them is a feat of amazing proportions. Learning ASL or PECS or Prologue is a huge accomplishment our children with apraxia of speech conquer.
The perseverance to go through session after session of special needs therapy is something a lot of adults don't have the drive to do, but we have these incredible kiddos who just keep going and going and making baby steps (occasional leaps) toward their goals. Remember that on the days when it feel more like 3 steps back than a millimeter forward.
Truth 4
Childhood apraxia of speech treatment – therapy, special needs education and working with your little one is a full-time gig. It. Wears. You. Out. Especially if it comes with meltdowns, frustration over lost words, or SPD/ADHD/RLD or any other not-so-great abbreviation diagnoses with apraxia of speech in children.
Remember to take time to spend with God, time for yourself, and together time with your spouse. Your spiritual tank needs constant refilling, and for me, I am a more patient and better parent when I don't neglect this.  A strong marriage will help keep you floating and not feeling so alone on the island of special needs parenting. A few hours all by yourself? That's like a tropical getaway for this weary mom. Refresh and refill so you can keep going!
Truth 5
We each have a different story. We have unique circumstances. We have beautiful children. We have the amazing gift of  perspective.
That mom you heard in the grocery store telling her friend how the toddler in her cart chattered incessantly and she just wished for some quiet? She will NEVER know the utter heart-twisting-explosion of hearing her 4-year-old say "I love you, too, mommy" clearly for the first time.  The absolute joy of finally hearing a phonetic "f" that brings tears to your eyes and an ear-to-ear grin to your face is a joy that non-Apraxia parents miss. When your sweet one comes up and grabs your hand to get your attention instead of shouting across the house, that's an extra precious moment of trust and love you might otherwise not have had.
This path of parenting special needs, while hard and frustrating, has a beauty uniquely its own. Learn to love the challenges that come from apraxia, because some of them are most certainly blessings in disguise.
Looking for more information on Apraxia?
What I Mean When I Say I'm Fine: Special Needs Parenting
Using a phonics curriculum to assist in speech development
Toys for speech therapy at home
What part of having a child with childhood apraxia of speech has been the most rewarding for you?