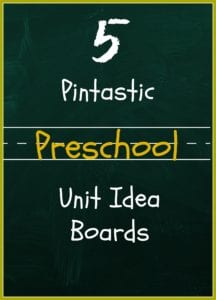 Pinterest is such an amazing resource (and time sucker if you're not careful!) that I use for our homeschool. All. The. Time. I'm sharing 5 of my favorite preschool unit idea boards today! Check them out, follow or repin, and leave me a link to your favorite preschool board!
Celebrate Seuss is full of ideas for making March all about the man behind The Cat in The Hat! There are a lot of great Dr. Seuss activity round-up posts here, too!
A Circus Unit is full of fun! Math, science, colors, sounds, history and more can be covered with a unit on a super fun and engaging topic.
We love Butterflies! You can see some of our previous butterfly unit study ideas here. This is a unit we will probably incorporate (even as a mini unit) each year until the boys tell me they don't want to.
We are in the middle of our Pre-K Human Body Unit right now! I just finished making Mr. T an organ puzzle t-shirt like the one on the board. If you follow me on Instagram, you've already seen it!
Weather is a great subject for all ages. We are going to be studying it in our co-op this spring with the 4 year-olds, so I'm thinking we will do weather at home after we finish with the human body.
Don't forget to visit to see all the other great Pinterest board posts!